© 2023 Blaze Media LLC. All rights reserved.
Liberals Go Off on Bernie Sanders for 'Sexism' After Tense Debate Moment With Hillary Clinton: 'I'm Talking!
"Can I finish, please? Alright?"
Vermont Sen. Bernie Sanders defended himself twice during Sunday evening's Democratic debate against Hillary Clinton, shushing his opponent when she tried to interrupt him.
"Excuse me! I'm talking!" he shouted at the former secretary of state.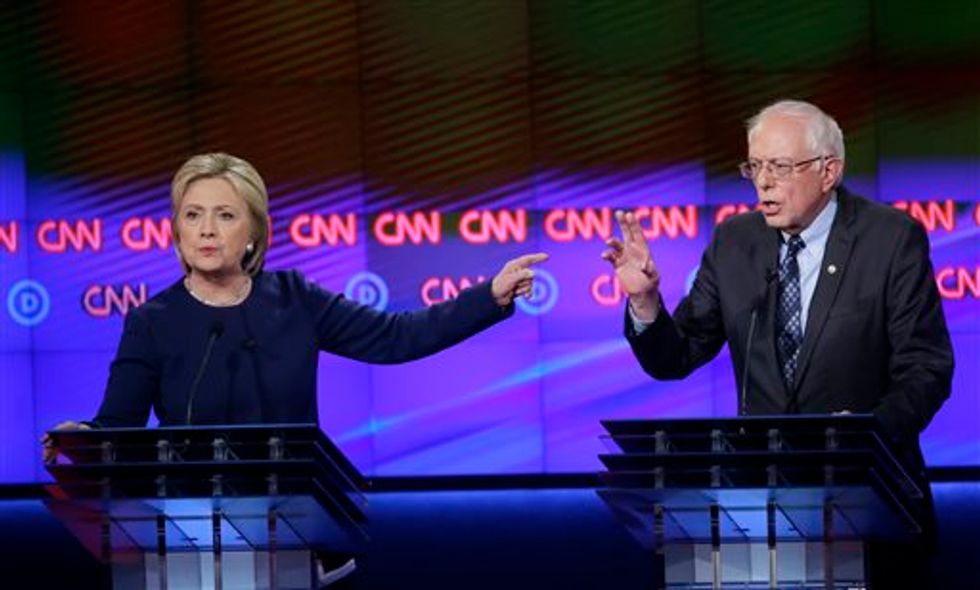 Democratic presidential candidates Hillary Clinton and Vermont Sen. Bernie Sanders argue a point during a Democratic presidential primary debate at the University of Michigan-Flint on Sunday. (AP Photo/Carlos Osorio)
The tension began to build when Sanders noted that the 2009 auto industry rescue and the widely critiqued Wall Street bailout were accomplished with the same piece of legislation.
Following the exhortations of President Obama, then-New York Sen. Clinton voted in favor of the bailout. Sanders voted against.
"In January of 2009 President-elect Obama asked everybody in the Congress to vote for the bailout," Clinton said. "The money was there. It had to be released to save the American auto industry and 4 million jobs and to begin the restructuring."
"We just had the best year that the auto industry has had in a long time," she continued. "I voted to save the auto industry. He voted against the money that ended up saving the auto industry. I think that is a pretty big difference."
"Oh!" an agitated Sanders exclaimed as the audience began to cheer. "Well, if you are talking about the Wall Street bailout where some of your friends destroyed the economy —" he began.
"You know –" Clinton interjected.
"Excuse me! I'm talking!" Bernie roared, drawing cheers from his supporters.
"If you're gonna talk, tell the whole story, Sen. Sanders," Clinton responded, interrupting again.
"Well, let me tell my story. You tell yours," Sanders said.
"I will!" Clinton replied.
Sanders was opposed to the 2008 Troubled Asset Relief Program, a federal initiative to rescue investment banks with taxpayer dollars that carried ancillary benefits for domestic car manufacturers.
"Your story is for voting for every disastrous trade agreement and voting for corporate America," he asserted.
"Did I vote against the Wall Street bailout?" he asked. "When billionaires on Wall Street destroyed this economy, they went to Congress and they said, 'Oh please, we'll be good boys. Bail us out.'"
"You know what I said? I said let the billionaires themselves bail out Wall Street. Shouldn't be the middle class of this country," the senator continued.
Sanders' temper surfaced a second time during a heated back-and-forth over legal liability for gun manufacturers.
He asserted that Clinton's position amounted to believing "that if somebody who is crazy or a criminal or a horrible person goes around shooting people, the manufacturer of that gun should be held liable."
"And if that is your position," he continued, "if that is the case, then essentially your position is there should not be any guns in America. Period."
"That is like the NRA position! No!" Clinton shouted.
Then, Sanders erupted.
"Can I finish, please? Alright?" he asked firmly as the packed auditorium fell silent.
"And you can – there are people who hold that view. And that's fine if you hold it," Sanders continued. "I think what you do is you hold those people who've used the gun accountable."
After Sunday's CNN debate, outraged viewers took to Twitter, defending the former secretary of state and accusing Sanders of being a sexist grouch:
@Shakestweetz My young daughter spit at the TV. I told her to stop. But it was her instinct. Even as a kid she's seen men do this to women.

— Sarah Kendzior (@sarahkendzior) March 7, 2016
Watch:
(H/T: Daily Mail)
Want to leave a tip?
We answer to you. Help keep our content free of advertisers and big tech censorship by leaving a tip today.
more stories
Sign up for the Blaze newsletter
By signing up, you agree to our
Privacy Policy
and
Terms of Use
, and agree to receive content that may sometimes include advertisements. You may opt out at any time.