After Republican presidential candidate Marco Rubio's communications director Alex Conant strongly rebuked CNN on-air Monday afternoon, the network reportedly cancelled a second interview with Conant set for later that night just minutes before it was to take place.
Speaking with Wolf Blitzer Monday, Conant slammed CNN for a story they were reporting, which alleged that Rubio's advisers had asked him to suspend his campaign before the Florida primary. Conant labeled the story "fiction" and said CNN "should stop reporting it."
He later took to Twitter to explain that CNN never even reached out to the Rubio camp for a comment on the story. "Unbelievably bad journalism," Conant wrote.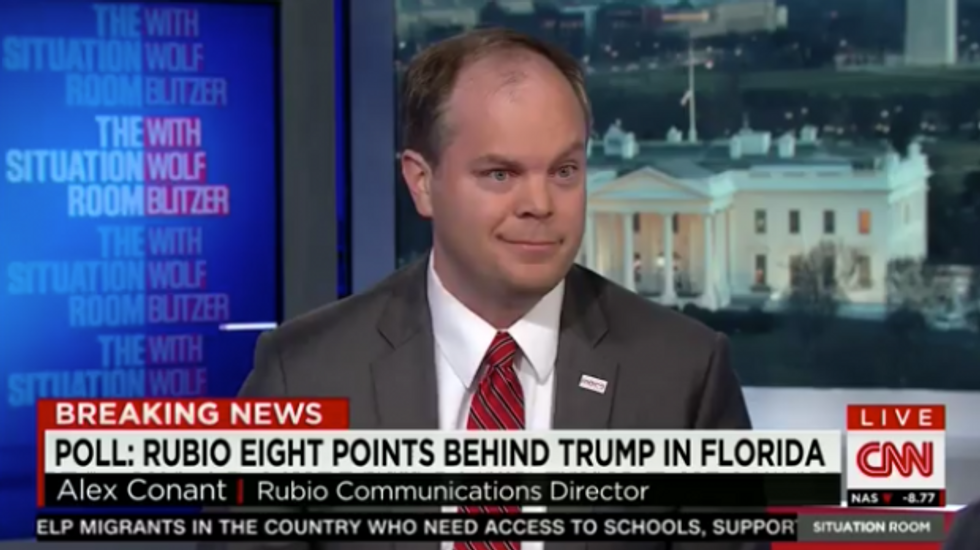 Image source: Youtube/screenshot
Conant was scheduled to later appear live with CNN's Anderson Cooper. But according to Conant, his appearance was cancelled just minutes before he was scheduled to go live.
So @CNN just canceled my previously scheduled interview on @andersoncooper tonight

— Alex Conant (@Alex Conant) 1457399020.0
Nevertheless, like any good campaign, Conant did not let the situation go to waste. Not long after his CNN kerfuffle, he circulated an email to campaign supporters attempting to fundraise off the incident.
"CNN just aired a completely 100% made up report on anonymous rumors," the email read. "They carried the story live as breaking news, on air, without speaking to a single person on our campaign. That's complete malpractice."
With just one week until Florida's presidential primary, Rubio continues to be criticized for staying in the race, as many believe he doesn't have a viable path to the Republican nomination, short of a brokered convention. Both GOP front-runner Donald Trump and Texas Sen. Ted Cruz have called on the Florida senator to suspend his campaign.
—
Follow the author of this story on Twitter and Facebook:
[facebook //www.facebook.com/plugins/like.php?href=