Chris Matthews, host of MSNBC's "Hardball," said Monday evening that he would like to use a lie detector on Republican presidential candidate Texas Sen. Ted Cruz over claims the senator made about the media.
Cruz recently claimed that members of the press are withholding unflattering stories about his GOP rival Donald Trump in order to run them in the general election should the Manhattan billionaire become the Republican nominee.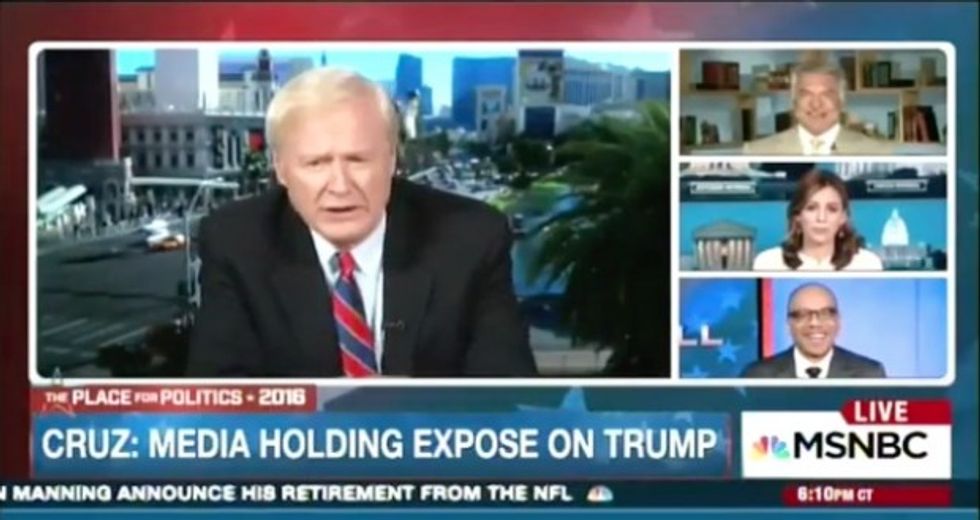 Image source: YouTube
"I think an awful lot of reporters, I can't tell you how many media outlets I hear, you know, have this great exposé on Donald, on different aspects of his business dealings or his past, but they said, 'You know what? We're going to hold it to June or July,'" Cruz said during an interview on CBS' "Face The Nation" Sunday.
"And all of the attacks on Donald that the media is not talking about now, you'd better believe come September, October, November — if he were the nominee — every day on the nightly news would be taking Donald apart," he added.
Cruz concluded, "Donald may be the only person on the face of the planet that Hillary Clinton can beat."
Matthews called it a "wild allegation" with "no evidence."
"I would love to know why we can't use, occasionally, lie detectors," Matthews said.
Matthews claimed that Cruz was asserting a "fact," not a matter of political philosophy. "Who is this major news organization group that's sitting on all the dirt?" Matthews asked.
"Have you ever heard of a major newspaper ... sitting on a really good story they got because it's not ripe enough politically?" Matthews asked show guest Eugene Robinson.
"That has never happened," Robinson answered, arguing that reporters "don't hold stories," because they don't want to be "beaten" to it.