Virginia Tech men's basketball coach Buzz Williams enlisted a group of veterans and war heroes to teach his team a lesson about respecting the national anthem.
Williams had reportedly noticed many of the players were not paying attention, swaying back and forth or fussing with their uniforms as the anthem was playing before their games.
So the coach brought the team together in the gym, and as the players lined up, facing the chairs where they would normally sit during a game, the veterans marched in, standing in a line, across from the young men.
Coach Williams positioned himself between the two groups and addressed his team.
"We didn't earn those chairs," said Williams pointing to the bench.
"These guys, when they were your age, interrupted their life, they paused their education, they changed their career, and they gave their life for those chairs," Williams told the team.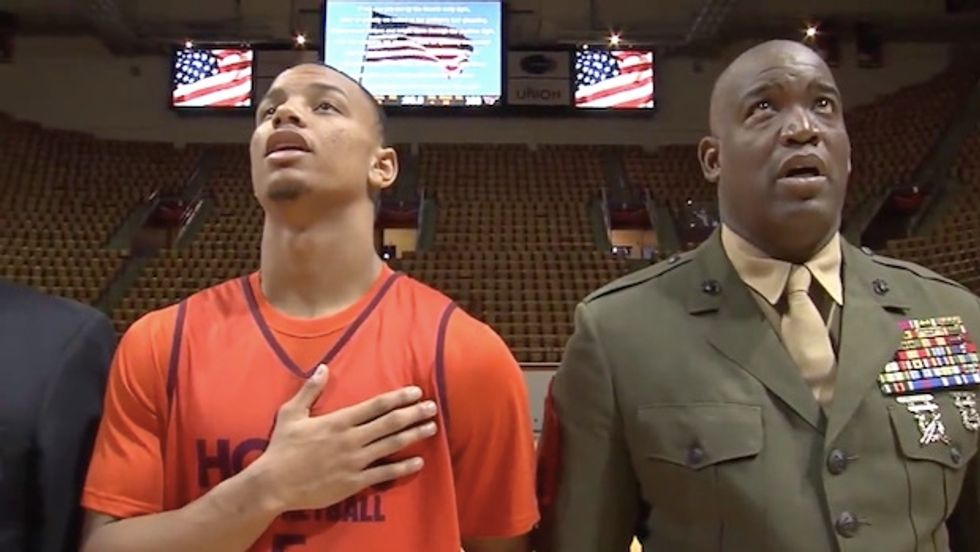 Image source: Facebook/Changing the Game Project
"So when the Anthem is played, we're going to stand like grown men, and we're going to honor men like this, that gave their life, so we can have a chair to sit in," Coach Williams told his players.
After Williams finished addressing the team, the players and veterans lined up, side by side at half court for an emotional playing of the national anthem.
Watch the video:
Virginia Tech Athletics - Patriotism

Kudos to Coach Buzz Williams, VT Basketball Coach. Given the ignorance or disrespect evidenced by most of today's athletes during our National Anthem, he decided to "have a talk with his players". All coaches need to do something like this with their players!Coach Buzz Williams, VT Basketball Coach Don't you wish all college coaches would do this? In a few years, there would a re-birth of patriotism on college campuses!

Posted by Changing the Game Project on Sunday, March 6, 2016
(H/T: Inspiremore.com)
—
Follow the author of this story on Twitter and Facebook: