Syndicated radio personality Meghan McCain believes the Obama administration has "blood on their hands," saying on Fox News' "Outnumbered" Tuesday that President Barack Obama's foreign policy in the Middle East has failed.
The five-member panel was discussing the mounting pressure on the administration to label the slaughter of Christians in the Middle East by the Islamic State and other terrorist groups "genocide."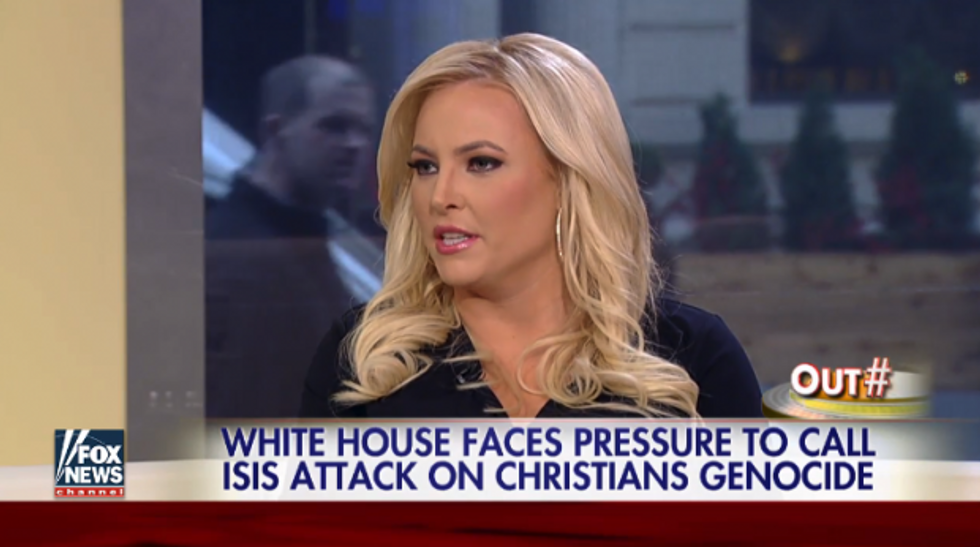 Image source: Fox News
"There's blood on this administration's hands," McCain said. "Ever since the 'red line,' these people have been chemically gassed. It's the biggest refugee crisis since World War II. History will reflect very badly on the United States' role in all of this."
"It's horrific — it is hard for me to even talk about this — because it's the worst kind of atrocity that exists," she added. "If we truly believe that America is the greatest nation, we should be helping these people — at least [label] it. That's all we're asking at this point, is for you to label it 'genocide.'"
The administration is facing a March 17 deadline to determine how to properly label the situation — basically whether or not it is, indeed, a genocide. Until then, White House Press Secretary Josh Earnest told TheBlaze on Tuesday that the administration will continue to take "aggressive action to protect religious minorities that are being targeted by ISIL."
The European Parliament has already recognized the slaughter of religious minorities in the Middle East — namely Christians and Shia Muslims — as genocide.
Watch the segment below:
—
Follow the author of this story on Twitter and Facebook:
[facebook //www.facebook.com/plugins/like.php?href=