Glenn Beck set his sights on online media mogul Matt Drudge Wednesday morning, slamming the reclusive journalist for his reporting on Republican presidential candidate Marco Rubio, which he believes is being "directed" by GOP rival Donald Trump.
Rubio, who failed to earn enough support to capture any delegates Tuesday night, placed fourth in both Mississippi and Michigan and came in third in Idaho and Hawaii.
As the contest results poured in, Drudge tweeted a photoshopped image of Rubio, depicting him as a "midget," along with the caption, "The incredible shrinking campaign."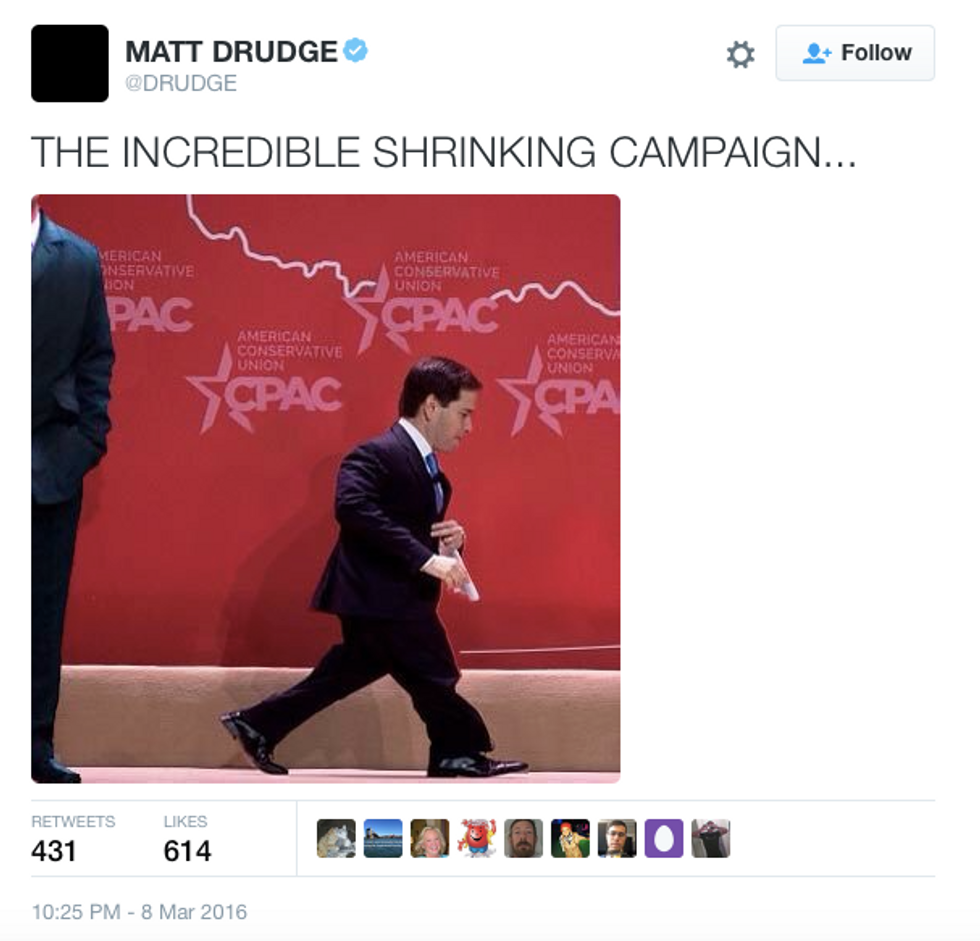 Image: Twitter @DRUDGE
In addition, the lead story on the Drudge Report featured the same photo, mocking Rubio's height and his poor showing in Tuesday's primaries.
March 9, 2016
According to Beck, who was frustrated by the image, Drudge lost credibility in his mind when he started "hanging out with" conspiracy theorist Alex Jones, a supporter of Trump.
"I don't know what the hell has happened to Matt Drudge, but it happened a few years ago, when he started hanging out with Alex Jones," Beck said. "And now he is in this weird conspiratorial Alex Jones kind of place, and now he has taken and started to Photoshop pictures."
Beck said that in the past, he used Drudge's reporting for his radio program, but no longer feels he can trust his popular news aggregation site.
"We used to use Matt Drudge all the time for broadcast," Beck said. "Because we would know that it was a pretty good source. You can't use Matt Drudge anymore."
Beck believes the image of Rubio is "payback" for the comments he has recently made at rallies about the size of Trump's hands.
"The small hands bothered Donald Trump so much, I can guarantee you that somebody in the Trump campaign said make him into a midget," Beck said. "Make him look little because I'm going to start calling him 'little Marco.'"
The conservative radio host concluded that Drudge's imagery "is clearly directed by Donald Trump."
Complimentary Clip from TheBlaze TV The full episode of The Glenn Beck Program, along with many other live-streaming shows and thousands of hours of on-demand content, is available on just about any digital device. Click here to watch every Glenn Beck episode from the past 30 days for just $1!
—
Follow the author of this story on Twitter: