If neither Republican presidential front-runner Donald Trump nor Sen. Ted Cruz (Texas) has amassed the required 1,267 delegates to secure the Republican nomination by the party's convention in July, Cruz says he would be OK with a contested convention.
Cruz confirmed as much during an interview with Fox News host Megyn Kelly, which is set to air Wednesday night, according to Politico. In the interview, Cruz explained what a contested convention would look like while reminding Kelly that the 1980 GOP convention was somewhat contested — and saw Ronald Reagan come out on top.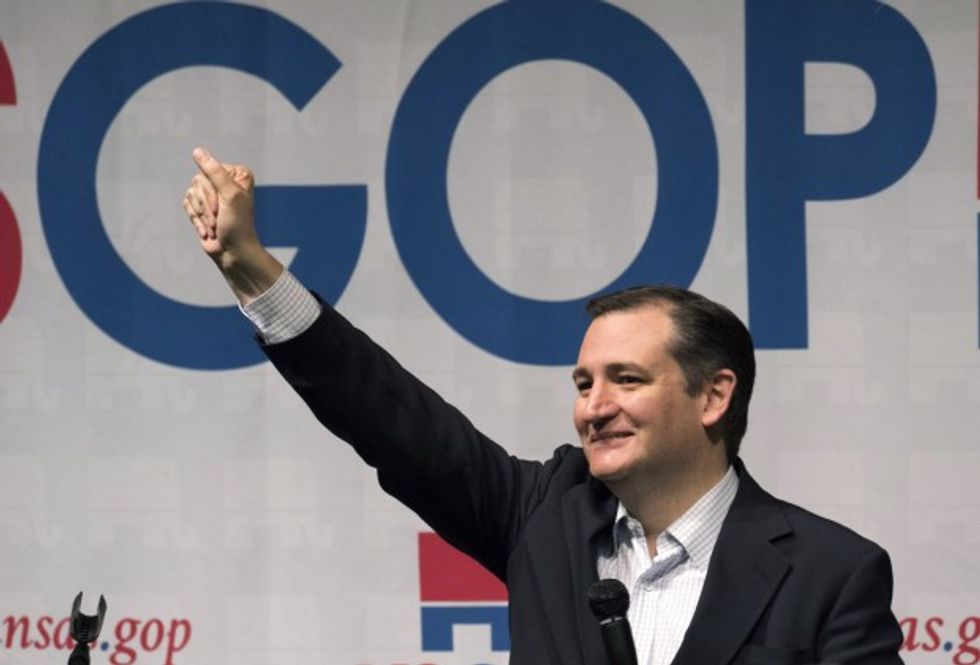 Ted Cruz makes a speech at a campaign rally in Kansas Saturday. (Getty Images/J Pat Carter)
"A contested convention is a different thing where you go if nobody gets 1,237 and you've got two front-runners," Cruz said. "Look, Reagan and Ford battled it out in a contested convention. That's what conventions are for."
"If you're fighting with the candidates that have earned the votes of the people and it's the delegates at the convention who elected to do that, that's the way the system works," he added.
Cruz, who has previously rebuked the notion of a contested or brokered convention, is within 100 delegates of Trump. Following Super Tuesday Two, which saw Trump win three states and Cruz win one, the Texas senator has secured 359 delegates while the real estate mogul has secured 458.
However, some in the so-called GOP establishment are signaling an eventual rally behind Cruz, who they allege is the Republican Party's only hope to defeat Trump. Former GOP hopeful Carly Fiorina, who announced her endorsement of the Texas senator Wednesday, said the same of Cruz.
—
Follow the author of this story on Twitter and Facebook:
[facebook //www.facebook.com/plugins/like.php?href=