A who's who of politicians, Hollywood and news media figures attended the funeral for former first lady Nancy Reagan Friday in Simi Valley, California.
Here are five of the most memorable and sometimes a little shocking tributes from speakers at the funeral.
1. Ron Reagan: 'Pain in the Ass' and 'Dedicated Friend'
Her son Ron Reagan explained how she and his father complemented each other so well during the White House years.
My father was inclined to believe that everyone was basically good and that certainly anyone who worked for him was pure of heart and could never be nursing a private agenda. My mother didn't share that inclination. In my mother's world, you were either helpful to her husband or you were not. I think we all know what side of the equation you want to be on.

Since we are among friends, we can admit that she was not always the easiest person to deal with. She could be difficult. She could be demanding. Truly she could be a royal pain in the ass when she wanted to be, usually only so that my father didn't have to be. You didn't want to get on my mom's bad side, particularly by hurting her husband. If you did that, you would earn yourself an implacable foe. If you happen to run into the ghost of Don Regan some day, just ask him.

On the other hand, you couldn't ask for a more dedicated friend.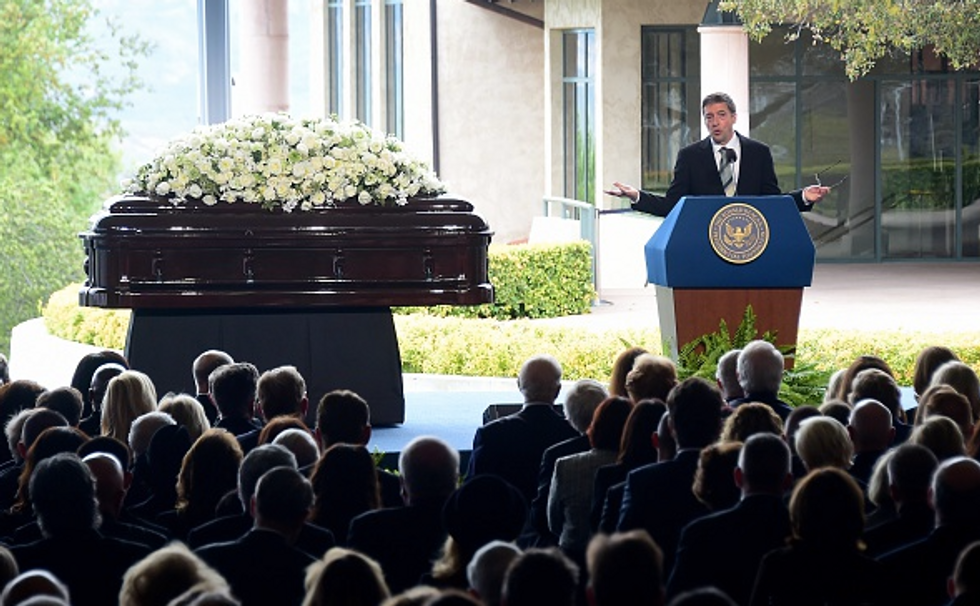 Ron Reagan speaks about his mother, former first lady Nancy Reagan, during her funeral service at the Ronald Reagan Presidential Library in Simi Valley, California, Friday. (Frederic J. Brown/AFP/Getty Images)
2. James Baker: 'Little Notes and Jellybeans'
Reagan Chief of Staff James Baker talked about the devotion the former first lady had to her husband — and the president's devotion to her.
When he was on the movie set or on the road for General Electric or as a candidate or as governor or as president, he wrote her every single day. When they were together, he hide love notes around the house for her to find. ... Nancy saved his love letters in a shopping bag in a closet. She reciprocated by slipping little notes and jellybeans in with the clothes in his suitcase. 'While he was away', she said, 'I'd drive home feeling very lonely and very sad.'

She also reciprocated by dedicating her life to him. 'I was, I suppose, a woman of the old school,' she wrote. 'If you wanted to make your life with a man, you took on whatever his interests were and they became your interests too.'
3. Patti Davis: 'My Mother Tip-Toed In'
Patti Davis, the daughter of the Reagans, talked about how she was with the former president when he died and the loneliness afterwards. But said her mother was fond of stories, one that she recalled got considerable chuckles from the audience.
My father used to get massages from a large Eastern European man who would come to the house and set up a massage table in my parents' dressing room. On one of these days, as my father lay face down on the table, my mother tip toed in, kissed him lightly on the back of his neck and tip toed out. He didn't know it was she. He went through the rest of the massage. Never said a world.

After the masseur left, he said to my mother, 'I don't think we can have him back anymore.' 'Why,' she asked him what happened. 'Well, he kissed me.'

When she told him it was her, he was flooded with relief and said, 'Thank God. I didn't know what to do."
4. Tom Brokaw: 'Terrible Seat'
Former NBC News anchor Tom Brokaw recalled another funeral he attended to describe an anecdote from his long friendship with the former first lady that dates back to his time as a reporter in California.
As a eulogist at President Ford's funeral, I looked down in the first pew at all of the luminaries and decided it was my duty to name them: President and Mrs. Bush, President and Mrs. Bush, President Carter, Vice President Cheney, President and Mrs. Clinton. I finished my remarks, went back to sit by Meredith, and she looked at me in a disbelieving way and said, 'You did not mention Nancy.' I said, 'She's not here.' She said, 'Yes, she is. She's hidden behind that column over there.' I had not seen her.

So I immediately called our mutual friend Stu Spencer who answered by saying, 'What were you thinking Brokaw?'

'Stu, do you think she noticed?'

'Are you kidding? Here's her mobile number, call her right now.'

Which I did, and I took my medicine from an aggrieved friend for the next full 15 minutes until she accepted my explanation and that it was back to square one again

And the way I got out of it is that I agreed with her: She had been given a terrible seat for that funeral.
5. Dianne Sawyer: 'Kept the Band Playing'
Former ABC News anchor Dianne Sawyer recalled interviewing Nancy Reagan and attending lunch with her.
She would bop journalists, and I mean bop any journalist in this room — and we know this — if she didn't like a report you had done. But unlike so many people these days, she never seemed to harden differences into dissension. She was way too interested in who you were and what you really know, all of us woven together in this life.

So we talked about politics and celebrities and very wicked stories about old Hollywood and the days when life would throw you a curve and you got up, you put on your lipstick and you combed your hair and you kept the band playing.