A CBS News journalist who was present at Friday's violent Donald Trump rally is claiming that he was arrested for doing his job.
Trump postponed the rally after multiple physical altercations between protesters and supporters broke out inside the Chicago arena where the event was set to take place. The Republican presidential front-runner stated security concerns as the reason for the cancellation.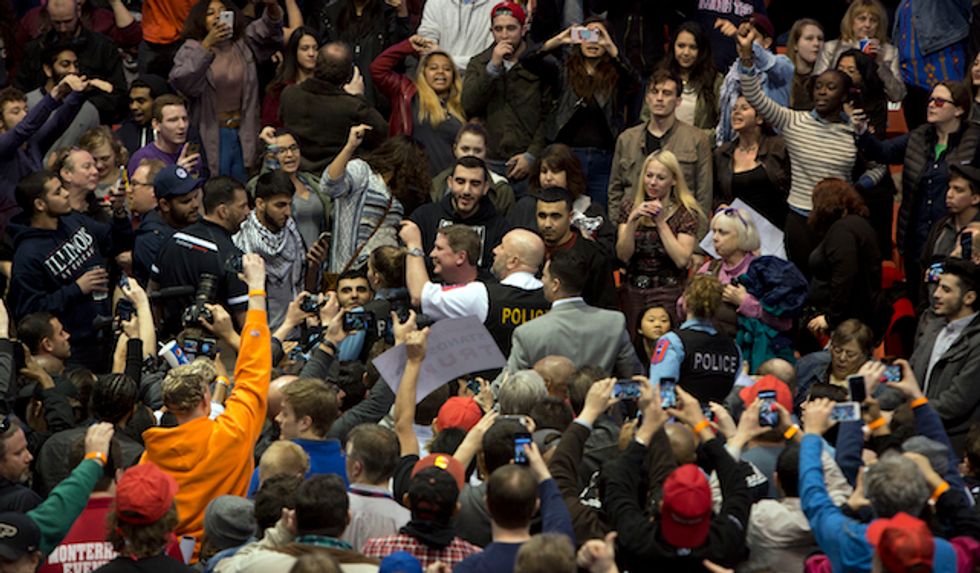 Anti-Donald Trump protesters and his supporters confront during a Trump rally at the UIC Pavilion in Chicago on March 11, 2016.
Republican White House hopeful Donald Trump cancelled his appearance at a Chicago rally Friday amid extraordinary scenes of chaos, with hundreds of protesters clashing with the frontrunner's supporters and police struggling to maintain order. (Photo credit should read Tasos Katopodis/AFP/Getty Images)
Sopan Deb, a reporter and comedian who has been following Trump throughout his campaign, was on the floor at Trump's Chicago rally Friday evening when the chaos erupted.
Deb left the arena to follow the protestors outside. That's when the trouble started.
The reporter claimed that he was thrown to the ground by Illinois State Police before he was arrested and charged with resisting arrest.
According to footage recorded by Deb and released by CBS, the reporter does not appear to be resisting authorities. He also clarified his reason for being at the rally, identifying himself as a member of the press and saying, "I have I.D. Press credentials I can show you."
Deb was put in the back of a police van but eventually released shortly afterward. His camera containing footage of the incident was returned to him.
Watch:
(H/T: CBS News)