New York Times public editor Margaret Sullivan penned a scathing blog post targeting her paper's top brass Thursday morning, after senior editors stealth edited a recent story on Democratic presidential hopeful Vermont Sen. Bernie Sanders, changing the tone of the story from positive to negative.
The original story, titled "Bernie Sanders Scored Victories for Years via Legislative Side Doors," was "glowing," according to Sullivan. But after the changes, the story became "disparaging," she argued. The headline was changed to: "Via Legislative Side Doors, Bernie Sanders Won Modest Victories."
The controversy stems from two paragraphs being added to the story following publication — without any editor's note informing readers of what changes had been made.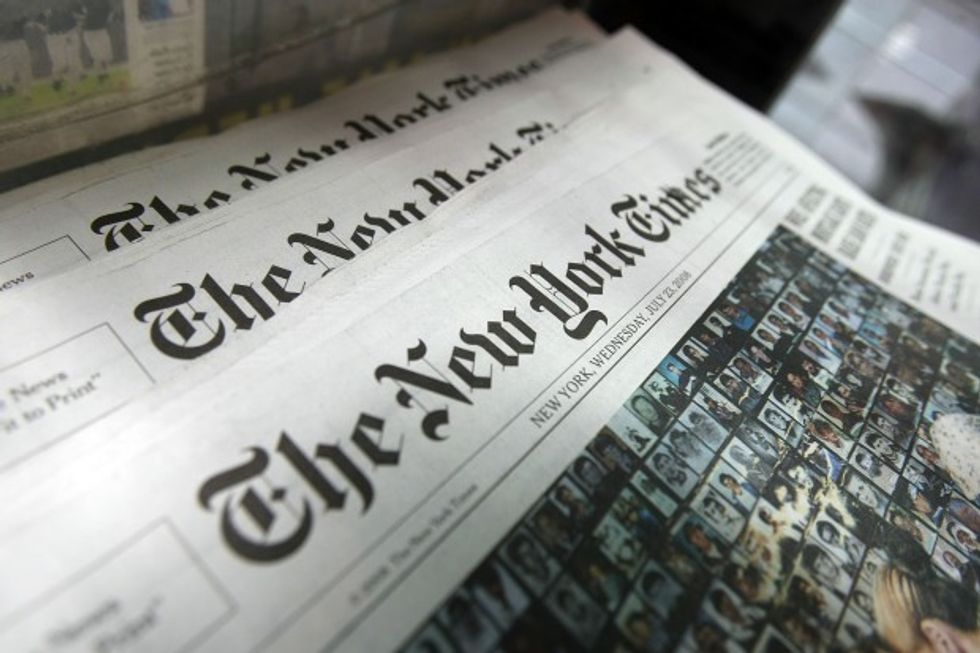 Getty Images/Mario Tama
"The changes didn't go unnoticed," Sullivan wrote. "Hundreds of Times readers expressed their disappointment or anger in emails to me on Tuesday and Wednesday, as well as on Twitter and Facebook."
"Many saw these changes as evidence that The Times strongly favors Mrs. Clinton's candidacy," she added.
When Sullivan approached her paper's top editors inquiring why the changes were made, they said because the additional paragraphs added more "nuance" and "depth" to the story. Unlike factual changes, which most agree need to be noted, the Times editors said they felt the edits, which changed the tone and "substance" of the story, didn't need to be addressed in an editor's note.
In the end, Sullivan, whose job is to keep the Times honest and ensure that editors are upholding proper editorial standards and ethics, believes at the very least, some explanation is due:
The changes to this story were so substantive that a reader who saw the piece when it first went up might come away with a very different sense of Mr. Sanders's legislative accomplishments than one who saw it hours later. (The Sanders campaign shared the initial story on social media; it's hard to imagine it would have done that if the edited version had appeared first.)

Given the level of revision, transparency with the readers required that they be given some kind of heads-up, and even an explanation.
Just prior to the Iowa caucuses, the Times endorsed Democratic front-runner Hillary Clinton in the race for the 2016 Democratic nomination.
(H/T: Mediaite)
—
Follow the author of this story on Twitter and Facebook:
[facebook //www.facebook.com/plugins/like.php?href=