For the first time in its history, New York City's St. Patrick's Day Parade decided to drop its gay pride ban and allow LGBT activists to participate in the parade.
This change in policy came after decades of protests carried out by LGBT groups that demanded to be allowed to participate in the parade while sporting their signs and paraphernalia championing their cause, according to Fox News. Although the parade's organizers always maintained that the LGBT advocates were welcome to participate in the parade, they did not want the advocates' signs and buttons proclaiming their sexual preferences to distract from the St. Patrick's Day Parade's actual purpose.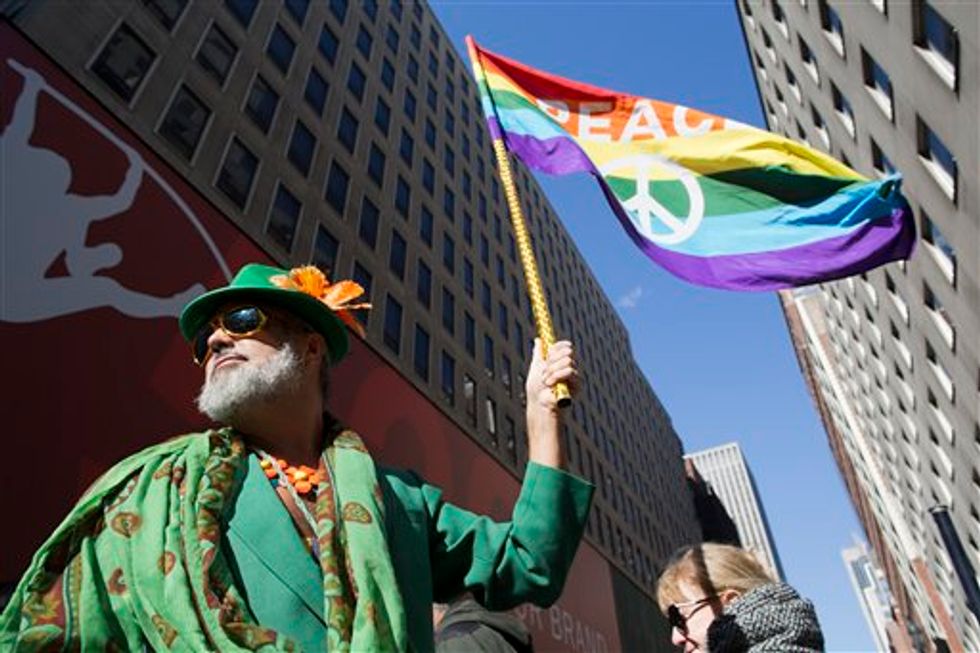 Steven Menendez, of Manhattan, waves a gay pride flag as he waits for the St. Patrick's Day parade to start on Fifth Ave Thursday in New York City. (AP Photo/Mary Altaffer)
Although the gay advocates began suing in the early 1990s, judges ruled that parade's organizers had a First Amendment right to choose participants in their event, Fox News reported. But as the years passed, activists and some politicians boycotted — including Mayor Bill de Blasio, who refused to march in the parade — and sponsors such as Guinness and Heineken withdrew their support for the parade. After making a few small changes last year, however, the NYC St. Patrick's Day Parade decided drop its ban entirely.
"This is a massive victory," said Irish-American Emmaia Gelman, 41, who had been repeatedly arrested at the parade during her 20 years of protesting, according to Fox News.
"Today, everyone is celebrating together," de Blasio said, according to WNBC-TV. "The city is at peace and unified."
But not everyone was pleased with the ban's lift.
"It's contemptible," Bill Donohue of the Catholic League, who stopped marching last year when the parade lifted a few bans, told Fox News.
The parade's organizers also refused to allow two pro-life groups to participate in the traditionally Catholic celebration, while still allowing the LGBT groups to participate, according to LifeNews.
—
Follow Kathryn Blackhurst (@kablackhurst) on Twitter