In a moment that could have been rife with divisive language and tense dialogue, Glenn Beck offered an unexpected response when confronted with a supporter of Republican presidential contender Donald Trump during a live audience question-and-answer show.
Upon learning that a Trump supporter, identified only as Sandra, was in the audience, Beck, a top surrogate for GOP candidate Sen. Ted Cruz (Texas) and a staunch critic of Trump, sought to understand why the woman liked the billionaire businessman.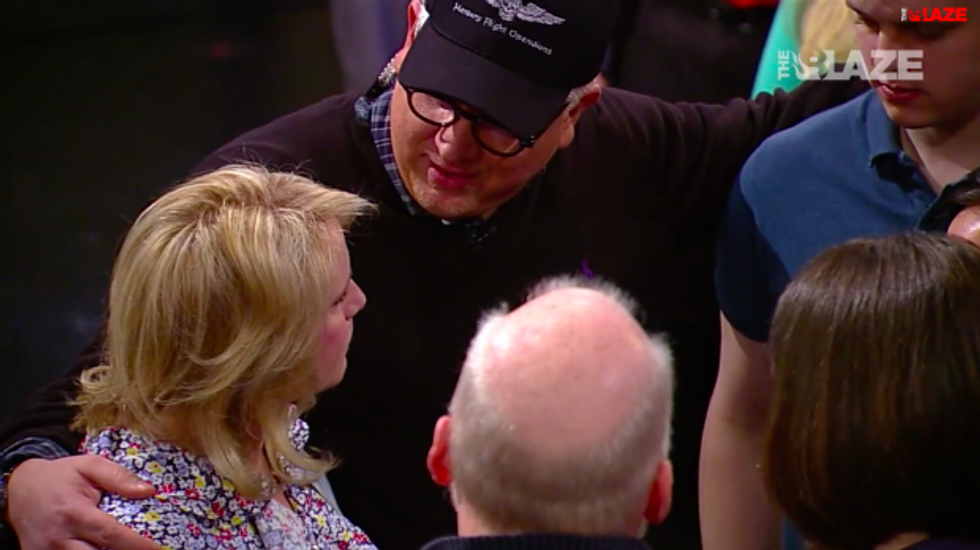 Glenn Beck talks about the future of the United States with a Trump supporter on The Glenn Beck Program Thursday, March 17. (Image: TheBlaze TV)
Clearly bashful in front of the outspoken conservative show host, the woman was not immediately willing to answer, so Beck prodded her along, offering up a comical jab at Trump: "Feel comfortable, this is not a Trump rally," a nod to the GOP front-runner's rambunctious — and sometimes violent — events.
Ultimately, Sandra told Beck she was "afraid" and only concerned with finding a Republican candidate who was "going to beat and wipeout anything that's been going on" in Washington, "that's who I'm going to go for."
"I wanted the nightmare over," she said of the last eight years. "That's how I felt, because I feel like — since 2008 — this has been a nightmare, and I feel like my life has changed a lot."
After she and Beck spoke for a few more minutes, Beck unexpectedly called the woman up to the front of the studio with him. "Come here, come here," he said.
Beck then asked the audience to stand up as he embraced Sandra, telling the crowd, "This is the way you solve it — not through anger, or violence, or any of that. But you're not alone, we're all in this together."
"We're all just as afraid as you are," he continued. "I look at my children, and I don't know what kind of world they're gonna have, I don't know what kind of country they're gonna have. I think of my daughters, who are in their 20s, and just getting started and I don't know what's going to happen to them."
The radio show host, who said he believes a "greater depression" is coming, told the Trump supporter that "as long as we're good to one another, as long as we depend on our neighbors, as long as we remain Americans, we're gonna be fine."
In a final attempt to sway her support away from Trump, and presumably toward Cruz, Beck told Sandra that the United States doesn't need a "strong man," telling her instead that "we need each other," which he said Americans have forgotten.
"That's what our society has left out," he said. "We've been taught to separate ourselves. We've been taught that, because we're different colors, or different financial positions, or whatever, that we're separate — we're not."
"We're OK, we're OK. I love you. I love you guys," Beck concluded.
Complimentary Clip from TheBlaze TV The full episode of The Glenn Beck Program, along with many other live-streaming shows and thousands of hours of on-demand content, is available on just about any digital device. Click here to watch every Glenn Beck episode from the past 30 days for just $1!
—
Follow the author of this story on Twitter: