Republican presidential candidate Donald Trump reportedly told an Israeli newspaper that his success in primary elections so far translates to "tremendous news for Israel."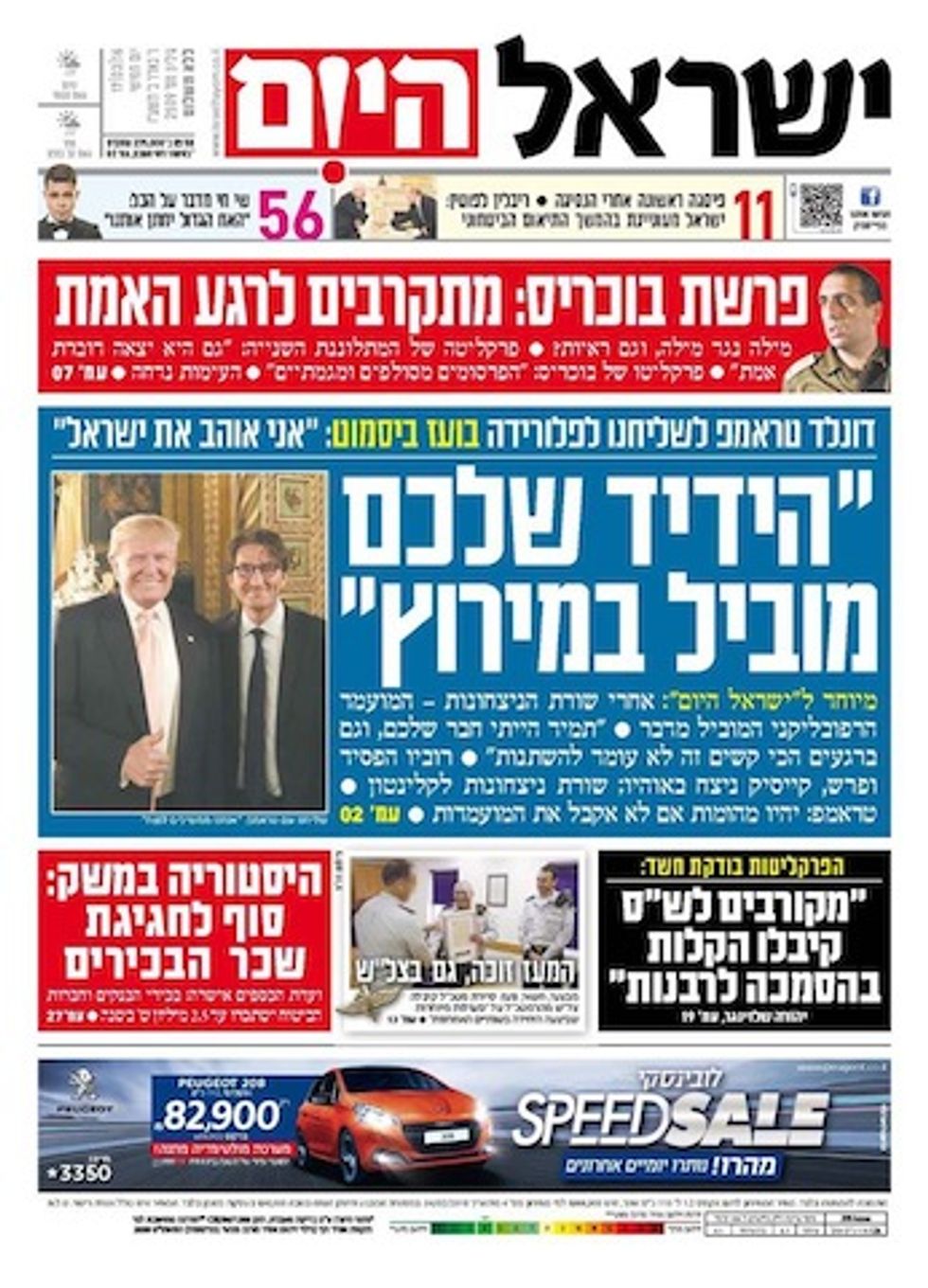 The front page of Israel Hayom told Israelis: "Your friend is leading the race." (Image source: Israel Hayom)
Israel Hayom reporter Boaz Bismuth, who covered the Florida primary election, reported Thursday that he ran into Trump at the entrance to the Mar-a-Lago Club in West Palm Beach following the billionaire's press conference.
Bismuth wrote:
"Is your success good news for Israel?" I asked.

"It's tremendous news for Israel," he said. "Your friend is leading in the primaries. I've always been your friend, even at the toughest moments. And that's not going to change. I love you."
It's unclear if the quotes were direct quotations from English or translations from the Israel Hayom article, which the paper later published in its English newsletter. Bismuth went on to write:
"You mentioned Iran in your remarks and the bad nuclear deal," I said.

"There are some things I don't want to talk about, it would not be wise," Trump said. "But if we're talking about good news for Israel, then of course it is less good news for those who don't like Israel."
Trump's comments came a month after he said at an MSNBC-hosted town hall that he aimed to be a "neutral guy" on the Israeli-Palestinian conflict.
"If I win, I don't want to be in a position where I'm saying to you and the other side now says, 'We don't want Trump involved,'" Trump said in February.
"Let me be sort of a neutral guy," he continued at the town hall. "A lot of people have gone down in flames trying to make that deal. So I don't want to say whose fault it is. I don't think it helps."
Israel Hayom is owned by businessman and major Republican donor Sheldon Adelson.