Democratic Sen. Elizabeth Warren somehow managed to dodge 11 questions in a row during an interview on "CBS This Morning" Thursday, refusing to say which Democratic candidate she supports for president and whether she would support President Barack Obama's Supreme Court nominee, Merrick Garland.
Host Charlie Rose started off by asking the liberal Massachusetts senator, "Are you enthusiastic in your support of Judge Garland?"
Warren dodged, choosing instead to explain how "solemn" of a task appointing a supreme court judge is.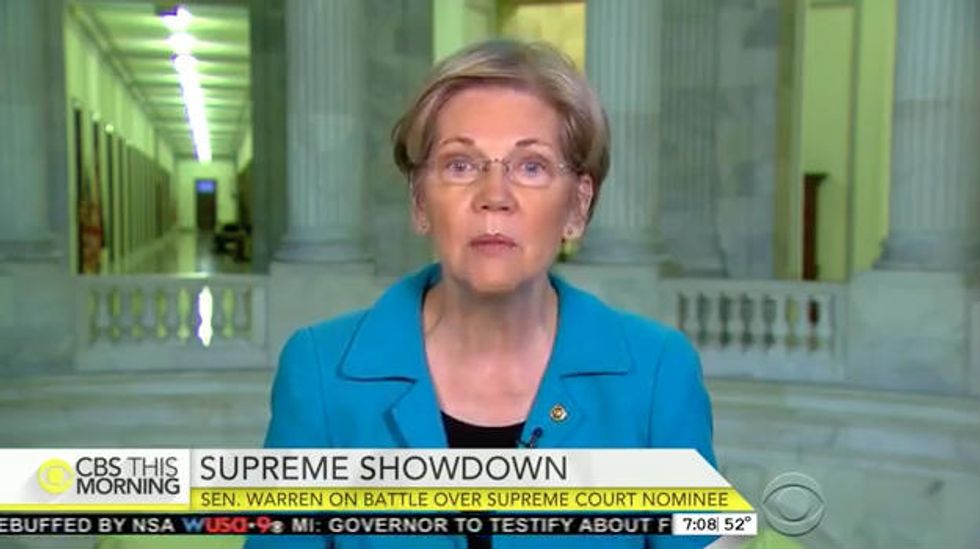 Image source: YouTube
Rose followed up: "With respect senator, the question I asked was will you support Judge Garland?"
Warren deflected once again, saying only that she "wants to look at his credentials," which the president laid out in his Rose Garden announcement Wednesday.
"But senator, the Republicans are now pointing to Joe Biden's comments back in 1992 when he said a nomination should not be put forward in an election year. So why is this different this time in 2016?," host Gayle King asked.
Warren refused to answer that question, too.
"Let's be clear, just go back and look at the history. Every single Supreme Court nominee to a vacant position has had its hearing and a vote," Warren said.
Then it was host Norah O'Donnell's turn to try to get at least one answer out of the five-minute interview.
"All of your female Democratic senators have endorsed Sen. Hillary Clinton. You have not yet made an endorsement. Will you do it before the convention?" O'Donnell queried.
Warren responded by saying, "I don't have a timeline for this," and went on to slam Republicans for the "circus" taking place in their primary and how that makes her "prouder to be a Democrat."
Asked if she believes that Clinton should release transcripts of speeches she has given to executives at Goldman Sachs, Warren said that Clinton and Sanders are doing exactly what they should be doing, and that is "debating the issues."
"You're not answering my question, senator," O'Donnell pressed, to no avail. For her part, O'Donnell tried one last time: "It's a yes-or-no question. Should she release the transcripts or not?"
King then jumped in and asked Warren what else she needs to hear to make an endorsement of either candidate. Again, Warren said she "doesn't have a timeline."
Rose concluded the interview by posing one last line of questions to Warren.
"Has the Democratic Party and has Secretary Clinton moved from being a Clinton Democrat to a Warren Democrat?" Rose asked. Warren dodged, saying the Democratic candidates have said "what they will stand for as president of the United States."
"Is it moving to the left?" Rose followed up.
"I think what it is is moving to where America is," Warren said.
–
(H/T: Mediaite)
Follow the author of this story on Twitter and Facebook: