Fox News responded in the strongest of terms Friday to recent attacks on host Megyn Kelly from Republican front-runner Donald Trump.
"Donald Trump's vitriolic attacks against Megyn Kelly and his extreme, sick obsession with her is beneath the dignity of a presidential candidate who wants to occupy the highest office in the land," a network spokesperson said in a statement provided to TheBlaze.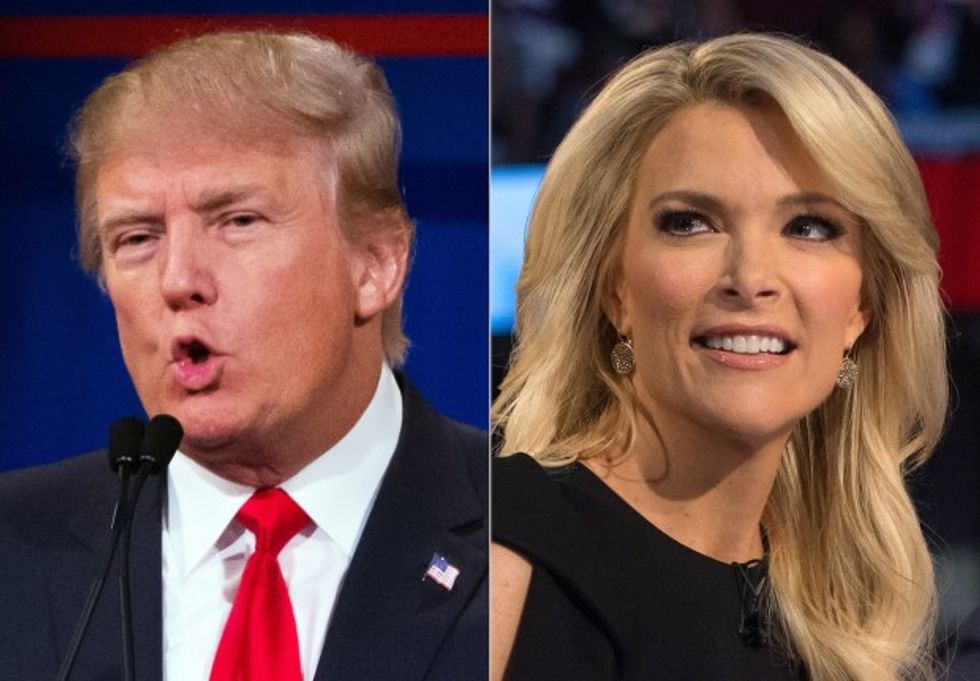 AP Photo/John Minchillo
"Megyn is an exemplary journalist and one of the leading anchors in America — we're extremely proud of her phenomenal work and continue to fully support her throughout every day of Trump's endless barrage of crude and sexist verbal assaults," the spokesperson added. "As the mother of three young children, with a successful law career and the second highest rated show in cable news, it's especially deplorable for her to be repeatedly abused just for doing her job."
[sharequote align="center"]"Megyn is an exemplary journalist and one of the leading anchors in America..."[/sharequote]
The forceful statement from the news network came after Trump reignited his feud with the primetime anchor, repeatedly referring to her as "crazy Megyn" on Twitter.
The final straw appeared to come Friday afternoon when Trump urged his supporters to boycott Kelly's show.
"Never worth watching. Always a hit on Trump! She is sick, & the most overrated person on tv," he tweeted.
After the statement from the Fox News spokesperson was released, anchor Bret Baier responded to Trump's tweet, telling him "enough."
Enough. @megynkelly is not crazy-she's not sick. We'll continue to cover this race fairly. https://t.co/8eKaVTLhd0 https://t.co/hiVJtV0zQN

— Bret Baier (@BretBaier) March 18, 2016
Trump's war on Kelly is nothing new. The brash billionaire has repeatedly slammed her since the first Republican debate last summer when he interpreted her sharp questions for him to be a sign of bias.
—
Follow the author of this story on Twitter and Facebook: