In an effort to "uphold justice," Rep. Ken Buck (R-Colo.) introduced new legislation to expand the federal hate crime statute to include law enforcement officials.
Buck's "Blue Lives Matter Act," H.R. 4760, would make "an attack on a police officer a hate crime," according to the bill's text. The name of the legislation, filed Wednesday, alludes to the "Black Lives Matter" mantra taken up by activists who protest police violence against black people, particularly the killings of unarmed black people at the hands of police.
"Despite the risk, our law enforcement officers put on their uniform every day so that they can serve our communities," Buck said in a statement. "Whether based on skin color or uniform color, a crime motivated by hate is not going to be tolerated in America. By adding law enforcement to the federal hate crime statute, we can protect those who protect us."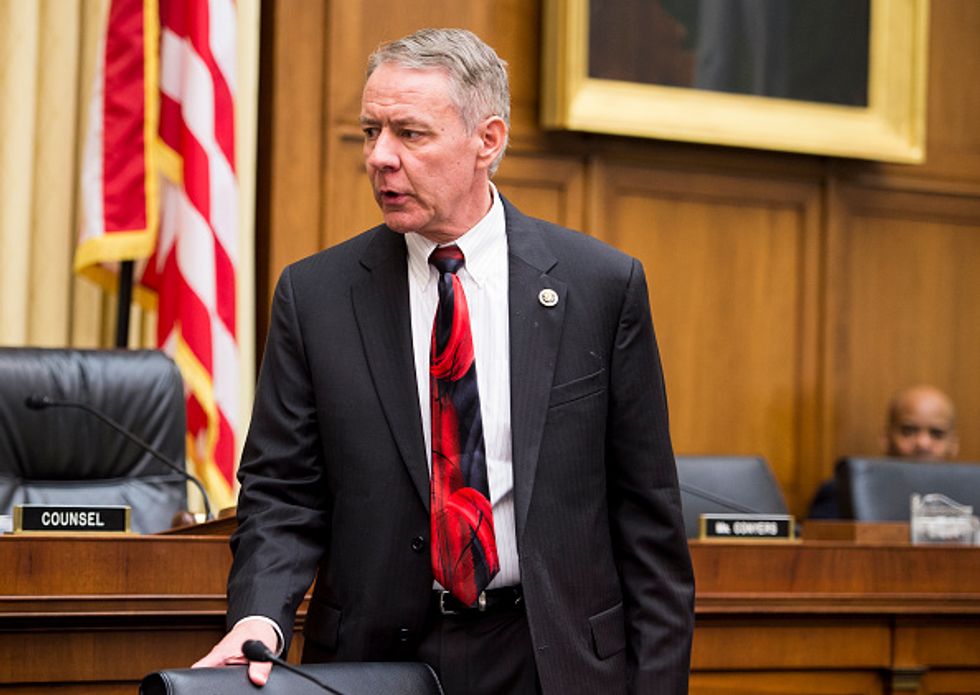 Rep. Ken Buck (R-Colo.) takes his seat for a House Judiciary Committee hearing. (Bill Clark/CQ Roll Call)
As it stands now, a hate crime is federally defined as:
Offenses involving actual or perceived race, color, religion, or national origin. Whoever, whether or not acting under color of law, willfully causes bodily injury to any person or, through the use of fire, a firearm, a dangerous weapon, or an explosive or incendiary device, attempts to cause bodily injury to any person, because of the actual or perceived race, color, religion, or national origin of any person.
Including law enforcement officials in the hate crime statute would allow for federal prosecutors and the FBI the ability to investigate and prosecute those involved in an assault or murder of a local police officer or sheriff's deputy.
In an interview with TheBlaze Friday, Buck said that, as someone who has worked in law enforcement for 25 years, he is "just very mad that we have police officers being ambushed" as he stressed the importance of "protecting those who protect us."
Buck argued in a "dear colleague" letter that hate crimes "cause societal discord and increase the risk of retaliatory violence" aside from emotional scarring for both the victim and the victim's family. 
"Law enforcement officers hold together the fabric of America, serving our communities and protecting us from criminals," Buck said in the letter. "But in the last few years, many criminals have committed or attempted the murder of police officers solely based on the color of their uniform."
Buck continued, "The law enforcement community sacrifices their lives to uphold justice in our nation. The Blue Lives Matter Act upholds justice for them."
According to the National Law Enforcement Officers Memorial Fund's preliminary report, 24 police officers have died thus far in 2016 — exactly on par with the number of deaths in 2015. However, firearm-related fatalities is up 225 percent since 2015 — jumping from four deaths in 2015 to 13 already this year. 
Buck's home state of Colorado is tied with Maryland for the state with the highest number of police officer fatalities (three), according to the data.
Ron Hosko, president of the Law Enforcement Legal Defense Fund, told TheBlaze that he and his organization "unhesitatingly support this bill and others that might afford police officers greater protection from unwarranted hate and violence and that might serve to deter those who contemplate attacks on police simply for the uniform they wear." 
"Too often in America, our police are violently assaulted," Hosko said. "FBI data suggests police are victims of assaults approximately 50,000 times or more in a typical year. Recent tensions resulting from controversial encounters between police and citizens are likely to drive those numbers upward, much as we've seen concerning rises in violent crime in many of our largest cities."
According to the Greeley Tribune, a spokesperson for the liberal group Progress Now Colorado suggested that Buck might have issues with his legislation within his own party as it "legitimizes" the theory of hate crimes.
"I think that Ken Buck is probably going to run into more problems with this in his own party, legitimizing the concept of biased-motivated crimes at all," Alan Franklin said. "As you know many conservatives are wholly opposed to that in theory."
While Buck told TheBlaze that it was "too early" to give credence to Franklin's assertion, Buck contended that he has already received support for the legislation "from a number of legislatures." He recalled that when he walked to the House floor a few days ago, he had four colleagues approach him in order to sign onto the bill.
"I understand the concern about hate crime legislation," Buck said, adding that he has used hate crimes laws himself when he was a prosecutor.
"When it was appropriate, I charged cases under the hate crimes laws," Buck said. "This is a situation where [it's] police officers, and I think as a federal government, as a Congress, we want to send a very strong message that this is wrong, and I think this sends the message."
The bill's cosponsors include GOP Reps. Trey Gowdy (S.C.), Pete Sessions (Texas), Jason Chaffetz (Utah), John Ratcliffe (Texas) and Tom Marino (Pa.).
 —
Follow Kaitlyn Schallhorn (@K_Schallhorn) on Twitter