The rise of Republican presidential candidate Donald Trump and the seeming inevitability of Democratic presidential hopeful Hillary Clinton appears to have left voters angry at the prospect of a "none of the above" election in November.
"CBS This Morning" hosted a focus group with Republican pollster Frank Luntz Friday with voters from Orlando, Florida, all of whom said they support neither Trump nor Clinton as their respective party nominees.
Last week, Clinton and Trump both won their party's primaries in the Sunshine State, giving each of them a big boost as they march closer to their party's conventions this summer.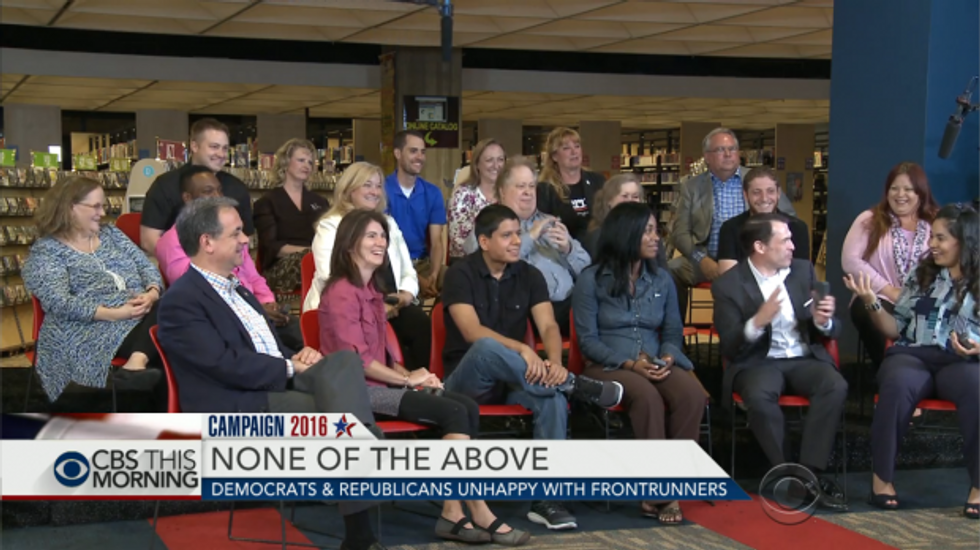 Frank Luntz focus group on "CBS This Morning" Friday. (Image: CBS News)
"I would rather not vote than vote for either one of these candidates," one focus group member told Luntz. "And it pains me to say that because I feel it's my right, as a member of this democratic society, to be able to vote, but given those two candidates, I can't vote for either one of them."
To that, Luntz asked the 19-member group, "Who's mad as hell?"
After everyone raised their hands, one Florida voter sought to clarify her frustration: "I'm mad at the voters. I'm not mad at the candidates. People are voting for them. And I'm angry for people that settle for sound bites for their information."
Speaking of current GOP front-runner Trump, one man said, "The only way I want to see Donald Trump in the White House is on a guided tour."
The group didn't have kind words for Clinton, either.
"All of her flaws are verifiable and provable," one man said. "Because we see one scandal after another that followed her husband and now is following her, between Benghazi and also the Clinton Foundation, the money that's coming in, the email scandal. It's all there."
Though there seemed to be great frustration with the current candidates, one woman in the focus group offered a glimmer of hope for a possible insurgent candidate.
"There is a great opportunity for someone," she said. "And that person had better come forward fast, because if the Republicans put Donald Trump up, and if the Democrats put Hillary Clinton, it will be the worst turnout election ever."
Another man said it's time for a third-party option: "I cannot support the Republican Party as it currently exists. It's time. I'm fed up. It's time. You wanna do something about it? It's truly time to start a third party. This election is gone. I will not vote for Hillary, I will not vote for Trump."
According to Luntz, the only way for Clinton to salvage her image is to "come clean" about her record "and just show your heart, and show some authenticity, because that's what they're mad about — is that they don't believe her."
For Trump, the pollster said he "absolutely has to show humility." However, Luntz said the billionaire is just about as likely to do that "as I am to pass up a buffet."
—
Follow the author of this story on Twitter: