A box labeled "human remains," covered in what appeared to be blood was found near a ditch last Thursday in Myrtle Beach, South Carolina, WBTW-TV reported.
But when police arrived to investigate, they made a bizarre discovery: The box's contents appeared to be nothing more than a bunch of rotten vegetables.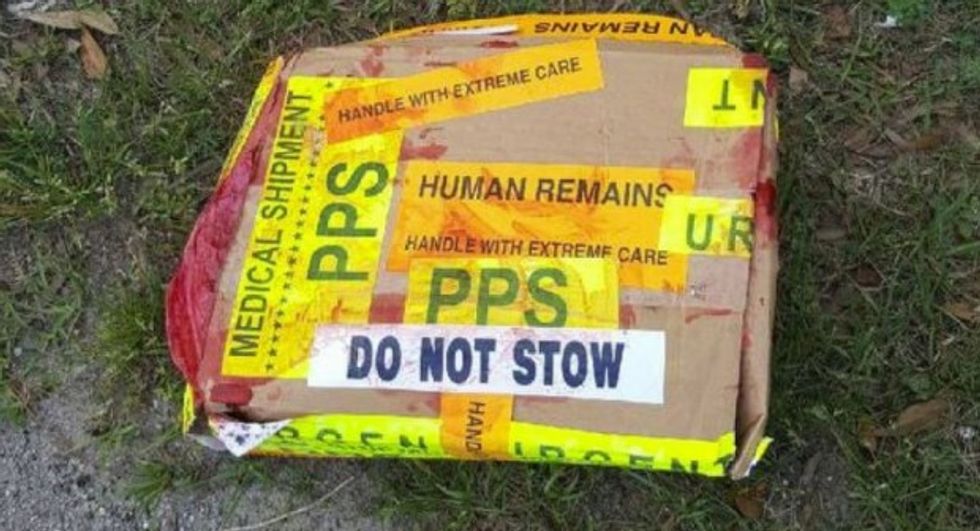 Image source: Horry County Police
Horry County Police Lt. Raul Denis told WBTW-TV the box was discovered Thursday morning at around 9:30.
Denis said EMS officials bagged the box and submitted it to the Horry County Coroner's Office for further investigation.
Horry County Coroner Robert Edge told WBTW-TV that the gruesome find ended up being nothing more than rancid tomatoes and onions.
And the blood? Edge explained that what appeared to be "blood" was actually something like food coloring.
Police had the box tested for bodily fluids, but nothing was discovered.
"I suppose you could've made a tomato, onion sandwich," Edge joked.
Whether the box was planted as an elaborate joke, a decoy or an omen intended for someone else is still a mystery.
(H/T: WBTW-TV)