A group of Colorado high school students surprised a 5-year-old girl by creating a custom accessory for her doll so that the doll could look a bit more like her.
Students at Mesa Ridge High School were saddened when Martha Snipes, the little girl's grandmother, told them about 5-year-old Marley Darrington's leg braces. Snipes, who works for the school as an educational assistant, told the students that Marley was born with clubbed feet and must wear leg braces as she awaits further corrective surgeries, according to KUSA-TV. But when the students heard that Marley does not enjoy wearing her leg braces and feels uncomfortable with them on her, they decided to take action and create a matching set of leg braces for her favorite doll, Rosie, to wear alongside her.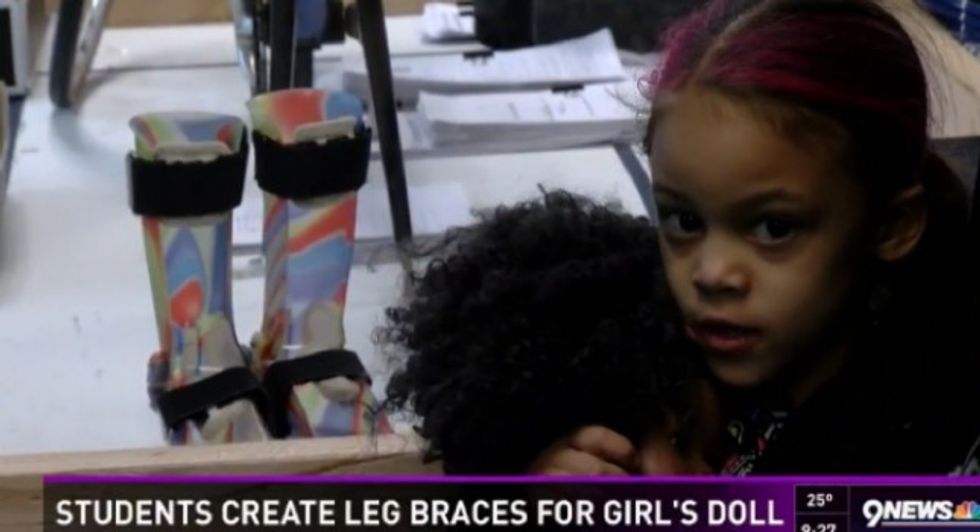 Image source: KUSA-TV
"We've had a hard time getting Marley to wear her braces, so we're hoping this will help," said Snipes said, according to the Colorado Springs Gazette. "We're thinking she'll be more accepting of wearing the braces if her doll had braces, too."
Five students from the high school's advanced computer-aided drafting and design class spent six weeks applying what they had been learning in class to designing Rosie's leg braces to match Marley's own pair as closely as possible, the Gazette reported. The students used a 3-D printer to design the braces, and on Friday, they met Marley and Rosie for the very first time as they presented the girl and her doll with their gift.
"My first thought was this is a great project because it has actual application and benefits a real person," the students' teacher, Nathan Sobin, told the Gazette.
"It makes me feel like I'm actually doing something good," senior Zachary West said, adding that designing the project was a "grueling process" that required six different attempts before the students succeeded.
"It's a great experience to impact someone's life and help her feel accepted," junior Real Williams told the Gazette.
Marley was thrilled with the students' gift to her and her doll.
"Thank you," Marley said as she waved the doll's arm at the students, adding, "It makes Rosie happy," according to the Gazette. "The braces will help her walk."
—
Follow Kathryn Blackhurst (@kablackhurst) on Twitter