The Trump Campaign spoke out against a video that appears to show campaign manager Corey Lewandowski grabbing the collar of a protester during Saturday evening's Trump rally in Tucson, Arizona.
The video, which shows a male protester being yanked backwards as attendees attempt to remove him from the event, came less than two weeks after Lewandowski was accused of assaulting a Breitbart reporter at a press conference.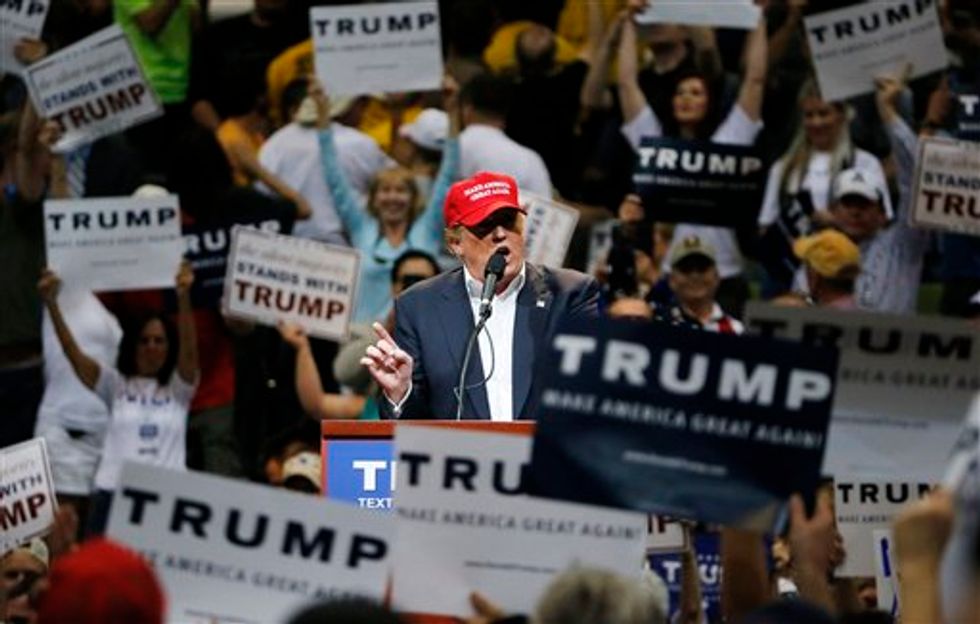 Among the waving of campaign signs, Republican presidential candidate Donald Trump speaks during a campaign rally Saturday, March 19, 2016, in Tucson, Ariz. (AP Photo/Ross D. Franklin)

Following the incident, Trump's campaign issued a statement claiming that Lewandowski was not the one grabbing the protester by his collar. Instead, the campaign blamed the entire incident on a different man, who also appears to be yanking the protester's collar in the video with Lewandowski.
Trump appeared on ABC's "This Week" Sunday, where he again denied that Lewandowski grabbed the protester.
Will be interviewed on @ThisWeekABC this morning. Enjoy!

— Donald J. Trump (@Donald J. Trump) 1458474927.0
After the interview, "This Week" tweeted a quote of Trump giving Lewandowski "credit" for going after the protester, who was allegedly carrying signs that were critical of Trump.
.@realDonaldTrump says campaign manager Corey Lewandowski "didn't touch" a protester at yesterday's rally. https://t.co/CWUXoKKDDr

— This Week (@This Week) 1458479496.0
"I give him credit for having spirit," Trump said. "He wanted them to take down those horrible, profanity-laced signs."
"Corey Lewandowski was speaking with a protester at today's rally in Tucson, Arizona when the individual he was speaking with was pulled from behind by the man to Lewandowski's left," Trump Campaign Spokeswoman Hope Hicks said Saturday in a statement.
"The video clearly shows the protestor reacting to the man who pulled him, not to Mr. Lewandowski. Mr. Trump does not condone violence at his rallies, which are private events paid for by the campaign."
Trump also suggested on "This Week" that, at some point, protesters have to be held accountable for the violence surrounding these rallies:
WATCH: @realDonaldTrump on @ThisWeekABC: "At what point do people blame the protesters?" https://t.co/7YBe72r71Ahttps://t.co/vO8510iKfP

— This Week (@ThisWeekABC) March 20, 2016
When questioned about his comment that there would be "riots" if he were denied GOP nomination, Trump said he doesn't know what is going to happen, but assured, "You're going to have a lot of very unhappy people."
.@realDonaldTrump on comment that there would be "riots" if he were denied GOP nomination: https://t.co/QgemMoWFfD

— This Week (@This Week) 1458483067.0
Listen to Trump defend Lewandowski on "This Week":
.@realDonaldTrump defends campaign manager after alleged incident with protester in Tucson https://t.co/IzQRnfPCuHhttps://t.co/ng3Uiita3c

— This Week (@ThisWeekABC) March 20, 2016