NAIROBI, Kenya (AP) — The Kenyan military said Sunday its troops killed 34 fighters from the Islamic extremists of Al Shabaab in clashes in Somalia.
The latest fighting raises the number of militants the Kenyan army says it has killed in the past week to 53.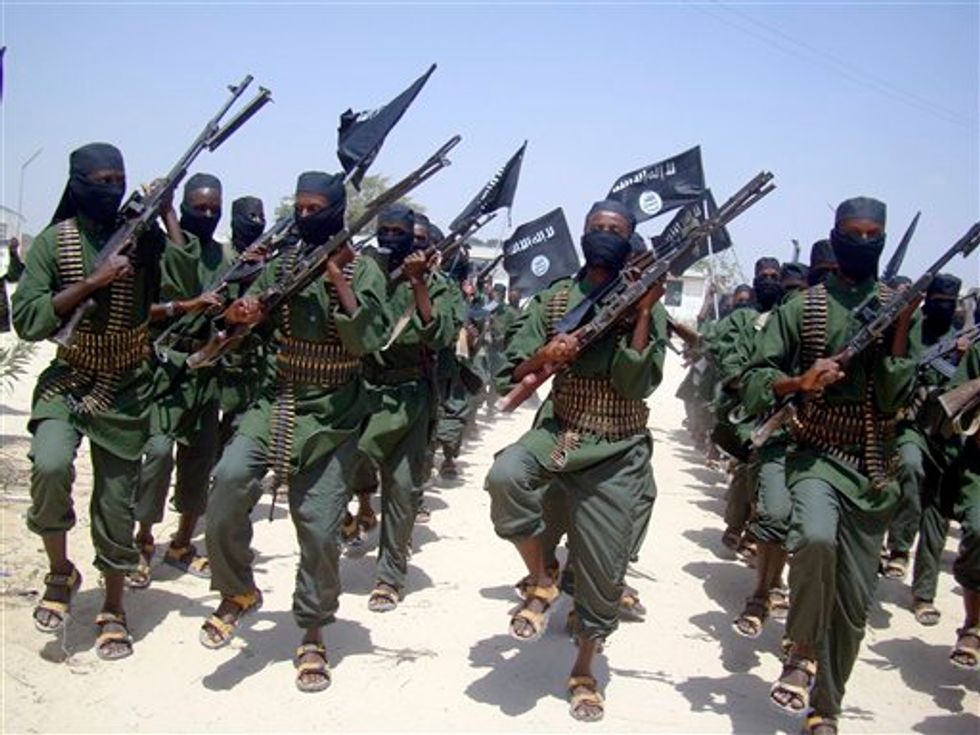 In this Thursday, Feb. 17, 2011 file photo, al-Shabab fighters march with their weapons during military exercises on the outskirts of Mogadishu, Somalia. (AP Photo/Mohamed Sheikh Nor, File)
Twenty one militants were killed in fighting in the southern city of Afmadow on Saturday, military spokesman Col David Obonyo said. He said two Kenyan soldiers were killed by a roadside bomb in the incident. Al Shabaab, according to SITE Intelligence Group which monitors Jihadi groups, says it killed a dozen Kenyan soldiers and captured two of them in the attack, but they have made exaggerated claims in the past.
Obonyo said the Kenyan soldiers killed another 13 militants Sunday near Ras Kamboni in southern Somalia.
Kenya is among five countries contributing troops to an African Union force that is bolstering Somalia's government against Al Shabaab's insurgency and of the troop-contributing countries has borne the brunt of retaliatory attacks from Al Shabaab.
Obonyo said on Wednesday Kenyan troops on patrol Tuesday night, in the southern city of Afmadow, killed 19 militants suspected to have been preparing to attack a Somali National Army camp.
Al Shabaab, which is allied to Al Qaeda, is waging an insurgency against Somalia's United Nations-backed government, carrying out deadly attacks on military and civilian targets in and out of Somalia.
Al Shabaab killed up to 200 Kenyan soldiers in a January attack, according to Somali President Hassan Sheikh Mohamud.