Would you get Donald Trump's face tattooed on your back if it meant winning free tickets to every country music concert coming to town for the next year?
Monday morning, a man named Travis from Apache Junction, Arizona, allowed a tattoo artist to adorn his lower back with the face of the billionaire Republican presidential candidate. The entire event played out live during "The Ben and Matt Show" on Phoenix radio station KNIX-FM. In exchange, Travis will be able to see every concert coming to town.
Here's the kicker: Travis is not even a fan of the GOP front-runner.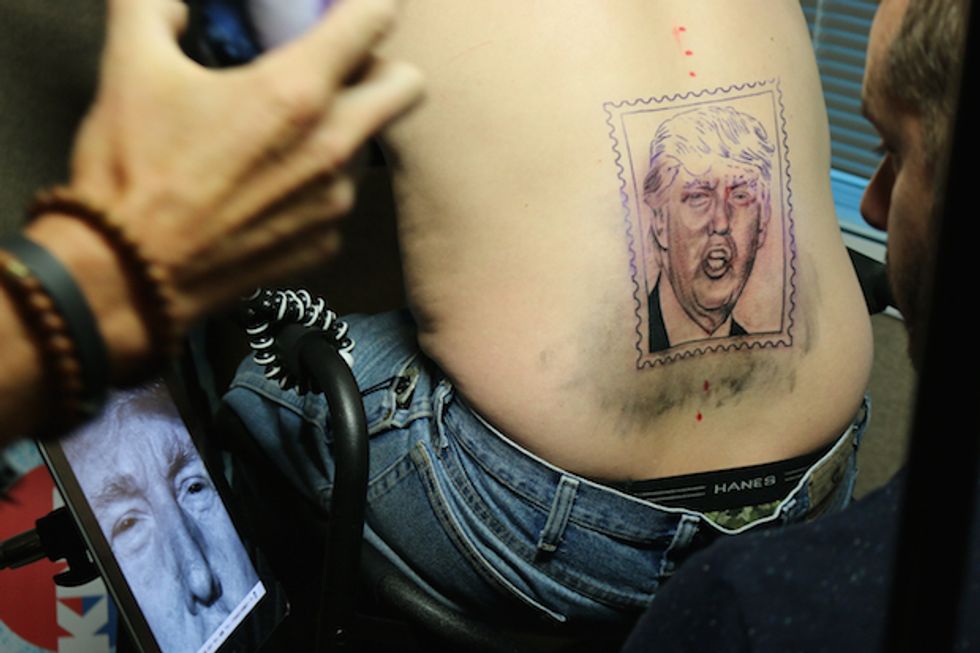 Image source: KNIX-FM
A representative for the radio station told TheBlaze, "We were debating on the air whether one of Trump's passionate supporters would be willing to get a 'Trump Stamp' tattoo — a portrait of Donald Trump with a postage stamp border in the traditional 'Tramp Stamp' location."
The station would foot the bill for the tattoo and added some incentive. "We decided to help motivate them with a pair of 'country mega tickets,' which is a pair of tickets to every country concert at a specific venue here in Phoenix," the station representative said in an email.
Initially, four people signed up for the Trump tattoo. However, when it came time to start injecting ink into skin, only one person was brave enough to have a possible future president permanently inked onto his back.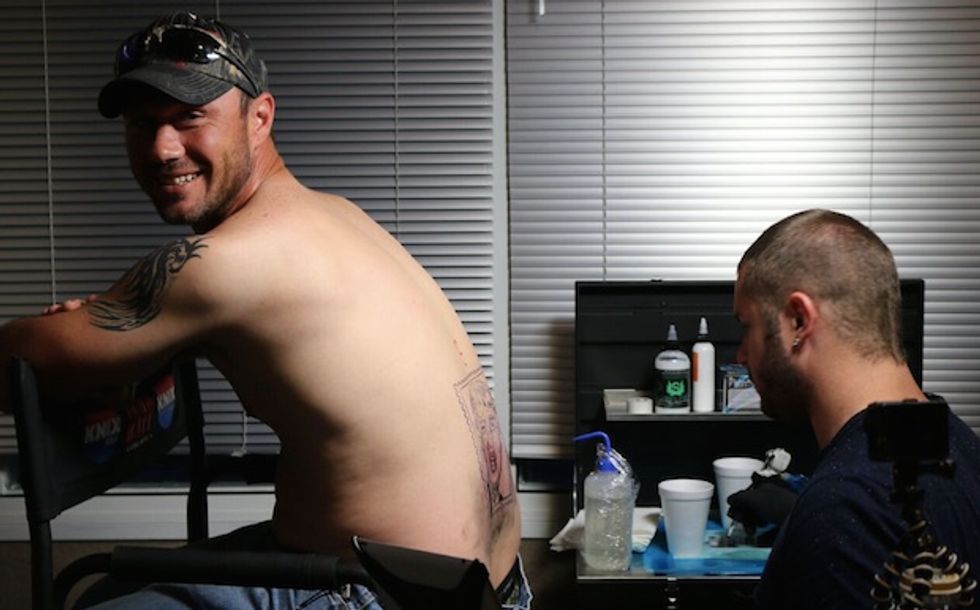 Image source: KNIX-FM
The entire process took more than five hours. During the course of the show, the radio hosts decided to call Travis' mother and warn her that her son was about to "go viral."
Listen to the segment where Travis' mother get the news of her son's new tattoo from "The Ben and Matt Show":
Watch a time-lapse video from start to finish.
Click here to see more photos from "Travis Getting Inked."
—
Follow the author of this story on Twitter and Facebook: