Brandon Mateo, a student at Pitt County Community College in Winterville, North Carolina, got it in his head a few days back that it would be fun to stand next to a Greenville police car as he raised his middle finger while a photo was snapped.
Then he posted the photo to his Facebook page. Mateo's caption? #MakeMeFamous.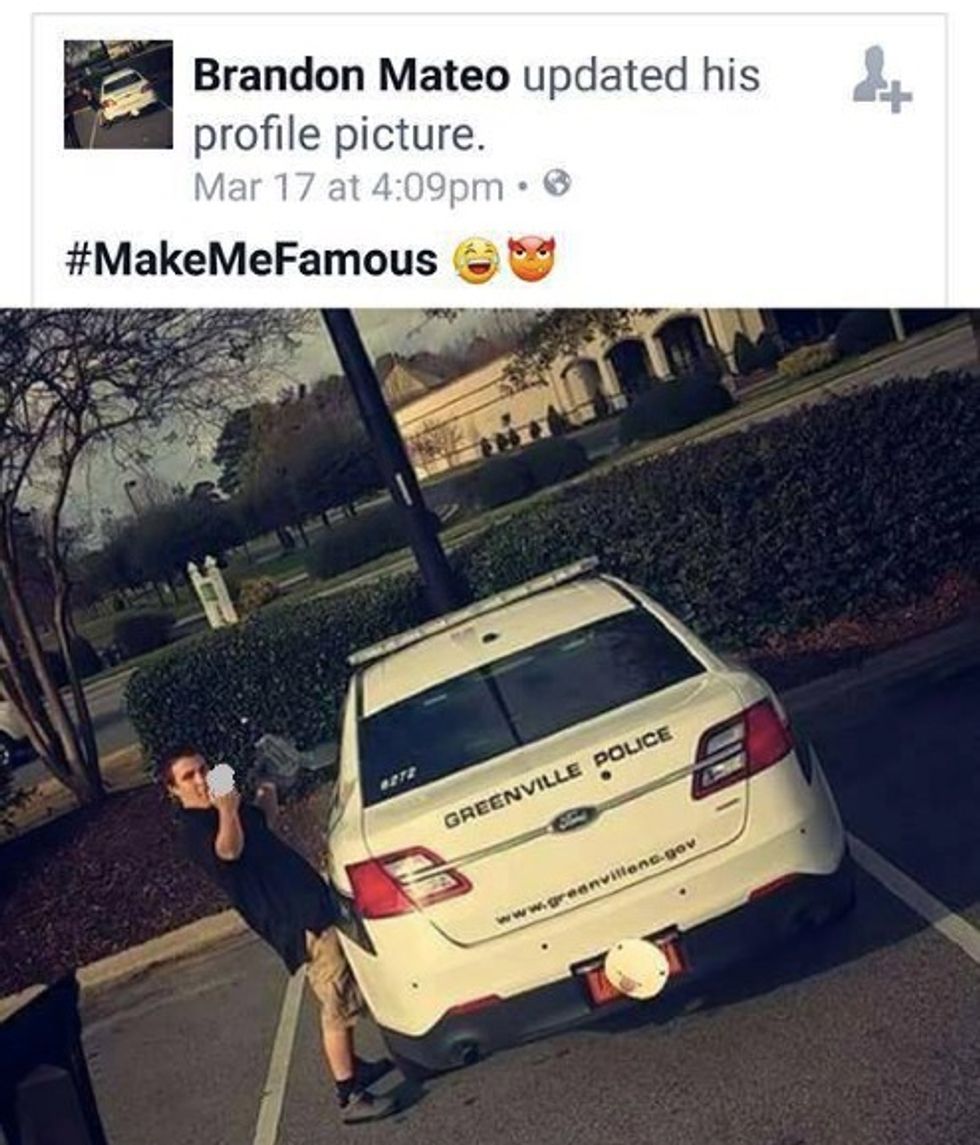 Image source: Facebook/Brandon Mateo
In an era when anyone can achieve notoriety with a few well-placed clicks on a cellphone or laptop, it wasn't long before Mateo also got his 15 minutes of fame: The photo went viral.
And it should come as no surprise that Greenville police saw it, too. But amid the heat that came down on Mateo from the social media universe over his disrespectful act, the police didn't respond similarly.
Instead they offered the kid a challenge: a ride-along.
Here's the police department's letter back to Mateo via its Facebook page:
Dear Brandon,

So you want to be famous, huh? Challenge accepted. Here at the Greenville Police Department we are all about public service...sooo...your wish is our command!

We chose to blur out your kind hand gesture as not to offend anyone who follows this page. You chose to blur out the license plate of this patrol car, but you probably didn't realize the car number is still visible. It turns out, the officer who drives this car is trained to recognize a few hand gestures himself...after all he is in charge of our Gang Unit and has dedicated his life to protect and serve the citizens of Greenville for the last 12 years. He is someone who is there on a daily basis as a helping hand during some of the most terrible moments of someone's life. That probably doesn't matter to you, but we felt it was important to note. After all, he is a human being...just like you.

You see Brandon, we probably have a lot more in common with you than you might think. As police officers in today's world, unfortunately, we get our fair share of criticism and ridicule...simply for doing our jobs. We hate that you chose to partake in that, but we'd also imagine you are probably on the receiving end of some of that right now, too. We feel you. Our advice: Keep your chin up. Some days you are the windshield and some days you are the bug.

Now, here comes OUR challenge to you.

Chief Holtzman would like to extend the offer to you to ride-along with one of our officers for the day. In the FRONT seat. Not the back. No questions. No charges. We hope it will open your eyes to what police officers actually go through on a routine basis.

As for the "famous" part...you are in luck. Our Public Information Officer just happens to be a former TV reporter and knows a lot of current members of the media who would LOVE to ride along with you and cover your experience.

What do you say? Do you have what it takes to be a true star?

If you choose to accept our challenge: give us a call. 252-329-4372. We hope to hear from you soon.

Yours Truly,

The Greenville Police Department
Holtzman told Fox News that he believes "it's time in our profession that we take a look at things a little bit differently. I thought we could come after the young man through social media, but that really wasn't the way to go. I felt, you know, let's just take it a different way — let's offer him a ride along and see if he'll take the challenge."
At the time of the Fox News clip, Mateo hadn't yet responded to police — but he did have a bit to say about the offer on Facebook:

Image source: Facebook/Brandon Mateo

Image source: Facebook/Brandon Mateo

Image source: Facebook/Brandon Mateo
Then he finally got back to the chief on Monday and accepted the ride-along offer.
"I'm glad he has accepted our challenge," Holtzman told WNCT-TV, "and hopefully he'll see a different perspective of a police officer when he gets to ride along with one."
There's no word on when the ride-along will take place — but if Mateo goes through with it, he just might be singing a different tune.