Republican front-runner Donald Trump's campaign manager, Corey Lewandowski, has been in the news a lot lately for multiple alleged instances of aggression toward protesters and media attending Trump events.
Now, Lewandowski is fighting back against BuzzFeed, following a report the outlet published Monday alleging that he made unwanted sexual advances on female journalists.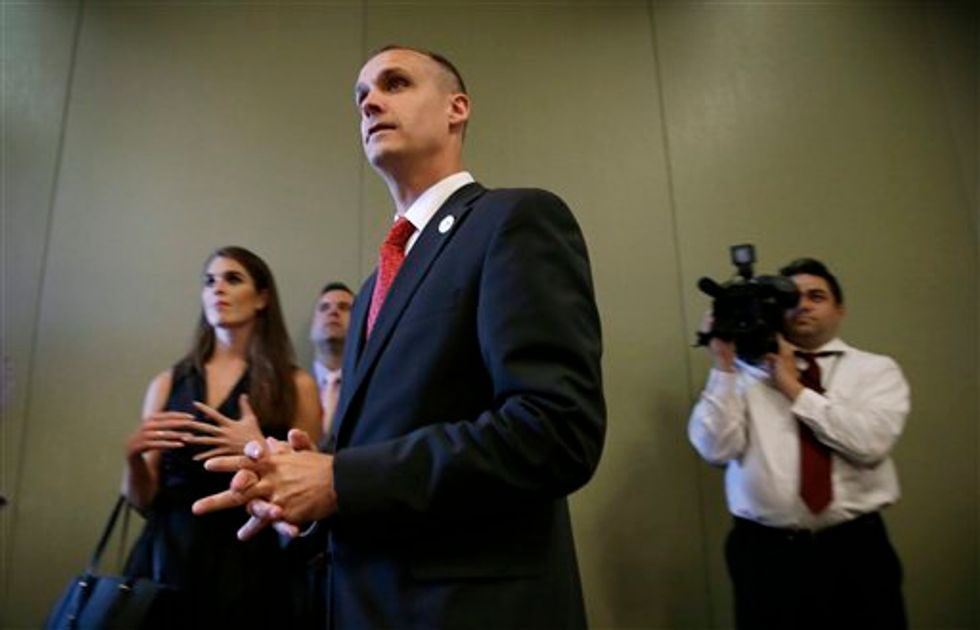 Corey Lewandowski (AP Photo/Charlie Neibergall)
"That's a question for the attorneys," Lewandowski told New York Magazine when asked about a potential lawsuit against the reporters who wrote the incriminating article.
The controversial article was co-authored by BuzzFeed political reporter McKay Coppins and BuzzFeed reporter Rosie Gray. The sources who reportedly made the allegations about the campaign manager's inappropriate behavior are described only as "more than half a dozen sources who have worked with [Lewandowski].":
In recent interviews with more than half a dozen sources who have worked with Trump's top aide, Corey Lewandowski, the strategist was accused of pushing a CNN reporter who tried to ask the candidate a question; physically confronting an aide for a rival campaign in a post-debate spin room; publicly shouting threats over the phone at a restaurant; making sexual comments about female journalists; and calling up women in the campaign press corps late at night to make unwanted romantic advances.
Lewandowski is now reportedly considering suing BuzzFeed for the piece, which he claims he told the authors not to publish.
"I'm not a public person. I told McKay Coppins that his story was inaccurate," he said. "I told him not to publish. And he chose to run the story anyway."
The original article even cited the campaign manager's objection, which he sent BuzzFeed in an email:
Asked Monday for comment on these allegations, Lewandowski emailed, "Your story is factually inaccurate." When BuzzFeed news asked him to clarify which portions of the story he was challenging, he wrote, "Be sure before you accuse me of something it's accurate. And, in these instances you are wrong."
"It's all conjecture," Lewandowski said. "Oh, an anonymous source said I did X? Does that mean I can tweet out 'Mr. Y has had inappropriate relationships with little boys'? Where is the line?"
If Lewandowski does file a lawsuit, it is likely that his boss would not object. Trump issued a threat to the media at a February press conference that, if elected, his administration would look into "opening up libel laws" to punish news organizations that publish "purposefully negative and horrible and false articles."