"What will be the color of the Eiffel Tower next?"
That is the question Islamic State sympathizers reportedly posed in an online poll posted hours after Tuesday's terrorist attacks in Brussels and the subsequent yellow, red and black illumination of Paris's Eiffel Tower in honor of Belgium, according to technology site Vocativ.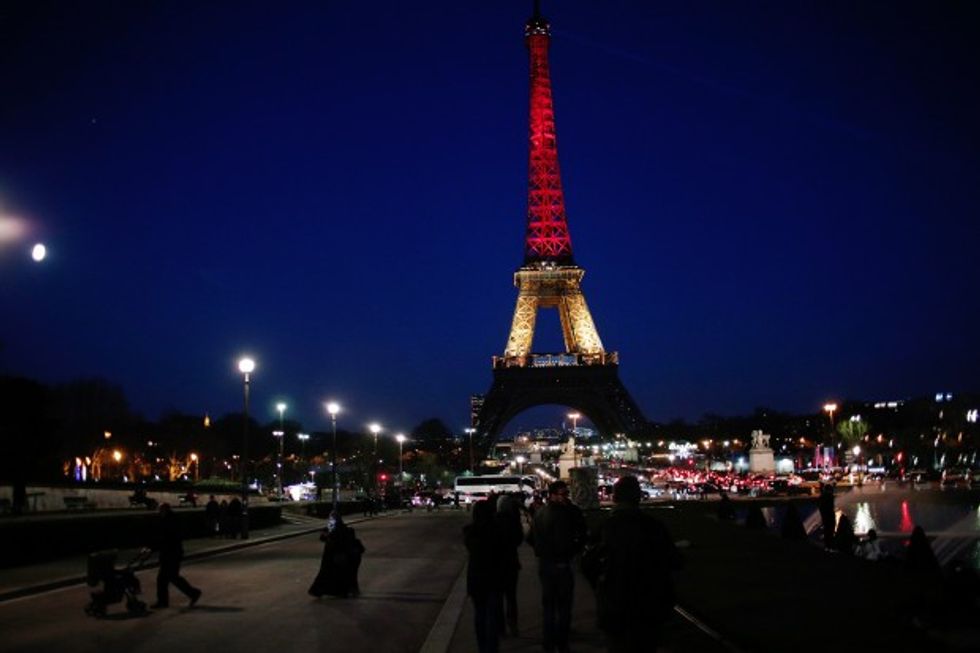 People walk toward Paris' Eiffel Tower illuminated with the Belgium national colors — black, yellow and red — in honor of the victims of the Tuesday's attacks at the airport and the metro station in Brussels. (AP Photo/Thibault Camus)
Other landmarks around the world also displayed the Belgian colors, just as they did in November when the Islamic State attacked Paris, leaving 127 people dead.
The poll, according to Vocativ, was published on al-Minbar, a prominent forum for Islamic State backers, and has garnered the votes of at least 20 individuals, who appear to have cast multiple votes.
The countries listed in the poll include the United States, Denmark, Germany, Italy, the Netherlands, Spain, the United Kingdom, Russia, Australia and New Zealand.
Nine have voted that the U.K. would be the next target, followed by six votes for Russia, three for the U.S. and four votes for Germany. Additionally, Islamic State supporters who posted on the poll's thread reportedly described the U.S., the U.K. and France as "the heads of infidelity."
There was a similar poll posted to Twitter, Vocativ reported, that asked, "What will be the next attack by the Islamic State?" Listed as choices in the social media poll were Italy, France, Belgium and the Netherlands.
The poll garnered 103 responses, but the results were available only to participants.
One user supporting the terror organization reportedly tweeted from a since-suspended Twitter account that "the Islamic State will attack London, Washington, Rome and all the infidels' capitals." Another posted, "The Crusaders are blundered and confused. Yesterday Paris, today Brussels, and they don't know where will be the next attack."
—
Follow the author of this story on Twitter: