Former New York City Mayor Rudy Giuliani (R), who presided over the major city during the 9/11 attacks, came out swinging against Democratic presidential candidate Hillary Clinton Wednesday night, claiming the former secretary of state should be considered a "founding member" of the Islamic State.
"She helped create ISIS," Giuliani told Fox News anchor Bill O'Reilly. "I mean, Hillary Clinton could be considered a founding member of ISIS."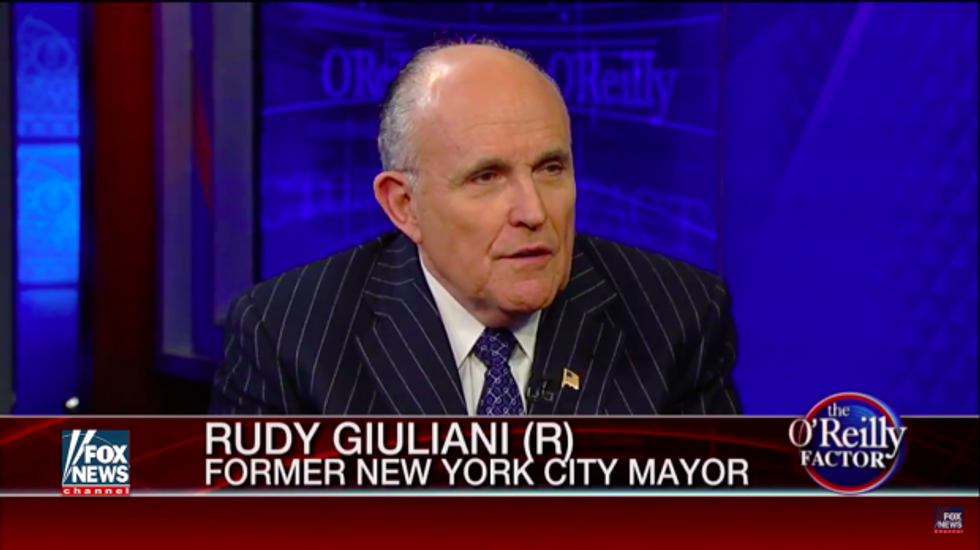 Former New York City Mayor Rudy Giuliani discusses politics with Bill O'Reilly Wednesday, March 23. (Image: YouTube/Fox News)
Giuliani said Clinton aided the radical terror organization by "being part of an administration that withdrew from Iraq" and for being part of a White House that "let [Prime Minister Nouri al-]Maliki run Iraq into the ground."
O'Reilly offered a slight defense of Clinton, telling Giuliani that, as secretary of state, there was little she could have done to sway the ideology of President Barack Obama.
But the former NYC mayor pushed back, saying Clinton should have resigned her post then because "that's what a patriot does."
Giuliani pulled no punches against Obama either, condemning the commander-in-chief for failing to return from Cuba to the White House after getting word of the deadly attacks in Brussels Tuesday.
"What he did yesterday embarrassed me as an American," Giuliani said of Obama.
Looking toward the general election in the fall, Giuliani told O'Reilly that Republican candidates Donald Trump and Ted Cruz "have been the most specific" on dealing with the Islamic State.
"There's no question, they'll take the war to ISIS," he said, adding though that they "probably don't know" exactly how they would do it yet.
Giuliani, who said he "prefers" Trump but has not yet endorsed, went on to say the president "should be shocked" at the attack in Brussels — which the former NYC leader said was "proportional" to 9/11 — because Obama "thinks he's defeated ISIS."
"It should say to him, 'My strategy is wrong,'" Giuliani insisted.
Watch the interview:
—
Follow the author of this story on Twitter: