Former professional wrestling star Hulk Hogan is speaking out after a jury ordered the gossip website Gawker to pay him $140 million for publishing a tape of him having sex with his friend's wife.
Hogan, whose real name is Terry Bollea, spoke exclusively with ABC's "Good Morning America" Wednesday, saying the gossip website "picked the wrong guy this time." Hogan acknowledged that, while he could have settled the case outside of court, it was important to "expose" Gawker for how it looks at the world.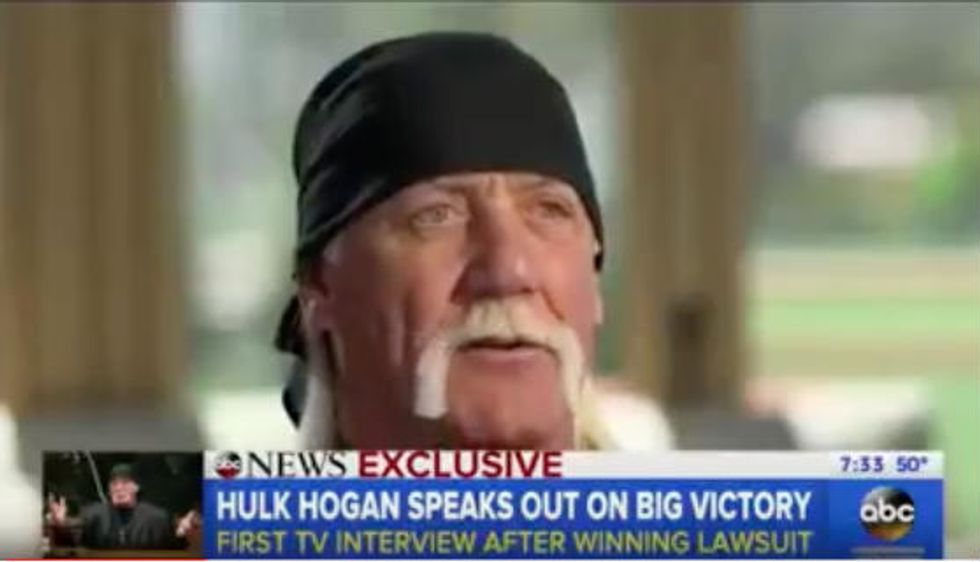 Image source: YouTube
"We were doing what was right. Even if we would have lost, it would have been good because everyone would have known what Gawker is all about," Hogan said. "To me, it is very, very scary."
Hogan recalled that at one point in the middle of the trial he went into the restroom and realized the only people in it were him and Gawker founder Nick Denton.
"My first thought is, 'What if he falls down and holds his neck or something? Who they are going to believe?' My second thought is, 'If this was WrestleMania, he was in the ring with me, wouldn't that be fun?'" Hogan joked.
Hogan went on to say he takes responsibility for his actions in having sex with his friend's wife, while once again pointing out the gossip blog went too far in publishing the tape.
"I will be naked forever, until my children's children's children die, because of the Internet," Hogan said.
A Florida jury concluded Friday that Gawker caused severe emotional distress and violated the former pro wrestler's privacy. Gawker is expected to appeal the decision, which could put the gossip blog out of business.
"We have had our day in trial court, and we lost. We will have our day back in appeals court, and we will be vindicated," Denton wrote Tuesday in a post published by his website.
(H/T: LawNewz)
–
Follow the author of this story on Twitter and Facebook: