In the wake of the Brussels terrorist attacks, Republican presidential candidate Donald Trump declared on British television that Muslims in the U.K. are "absolutely not reporting" their community members suspected of terrorism, saying they are "protecting each other."
"It's like they're protecting each other, but they're really doing very bad damage, and they have to open up to society, they have to report the bad ones, and if you report the bad ones, all of a sudden you are not going to have the kind of problems," Trump told interviewer Piers Morgan on ITV's "Good Morning Britain."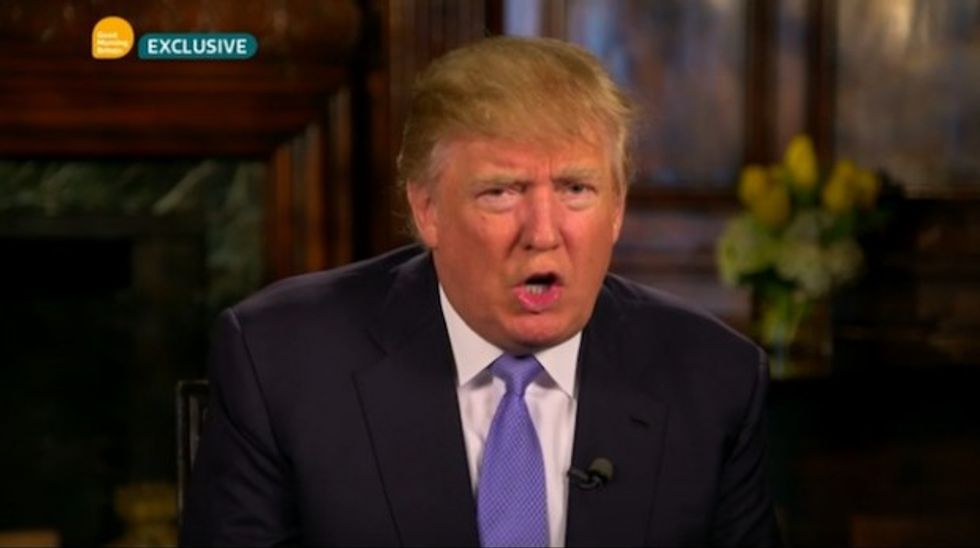 Donald Trump told ITV that Muslims aren't reporting terrorism suspects and that "they're protecting each other." (Image source: YouTube/ITV)
Addressing British and American Muslims, Trump said, "When they see trouble, they have to report it. They're not reporting it. They are absolutely not reporting it, and that's a big problem."
Trump vowed that if he were to be elected president, he would "hit ISIS so hard you wouldn't believe it."
Speaking about the capture last week of Paris attacks fugitive Salah Abdeslam, Trump said the fugitive "was in his neighborhood, where he grew up, and nobody even turned him in. Many people knew he was there, and yet he was the No. 1 wanted fugitive in the world."
"He was there and everybody from that area knew he was there, nobody turned him in. There's something going on and there's something wrong," Trump added, according to quotes posted on ITV's website.
Despite his criticism of Muslims, Trump told Morgan, "I have great respect for Muslims, I have many friends that are Muslims."
"I am just saying there is something with a radicalized portion that is very, very bad and very dangerous," Trump said, according to additional quotes posted by the Telegraph.