While former Republican presidential candidate Wisconsin Gov. Scott Walker said he won't make an endorsement until after Easter, he sure is singing one candidate's praises.
In an interview that aired on the Milwaukee-based WTMJ-AM Wednesday, Walker made the case that Texas Sen. Ted Cruz is the only viable candidate who can beat businessman Donald Trump for the nomination.
"If you're someone who is uneasy with the front-runner right now, there's really only one candidate I think if you're just looking at the numbers objectively," Walker said. "Sen. Ted Cruz is the only one who's got a chance other than Donald Trump to win the nomination, statistically, and my friend Gov. Kasich cannot."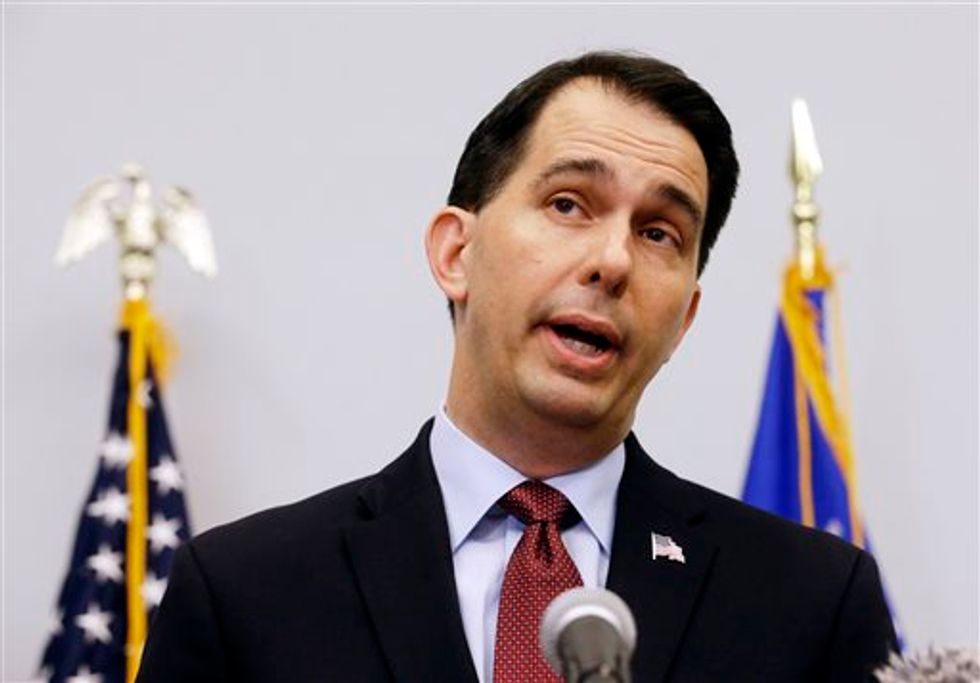 Wisconsin Gov. Scott Walker (R) speaks at a news conference in Madison, Wisconsin, where he announced that he is suspending his Republican presidential campaign. (AP Photo/Morry Gash, File)
Walker added that he's spoken to "each of the candidates other than Donald Trump a number of times" since he dropped out of the race himself in September.
The interview aired Wednesday morning after Kasich failed to win any states — or delegates — in Western Tuesday's primaries and caucuses.
"I think it's fair to say my views, my beliefs, my strategy overall would probably be more aligned with either Sen. Ted Cruz or Gov. John Kasich. That'll be forthcoming within the next week," Walker said.
Walker told the radio station that he will announce his endorsement ahead of Wisconsin's April 5 primary, adding that unlike Utah Gov. Gary Herbert (R), he will not wait until the day before the primary to make his endorsement public.
Walker also said that he does not believe an open convention is necessarily a bad thing for Republicans.
The Badger State has 42 total delegates at stake, which will be awarded on a winner-take-all basis.
Listen to Walker's interview with WTMJ:
—
Follow Kaitlyn Schallhorn (@K_Schallhorn) on Twitter