MSNBC's "Morning Joe" panel sharply criticized President Barack Obama Thursday for attending a baseball game and dancing the tango during overseas trips to Cuba and Argentina in the wake of terror attacks in Brussels.
.@POTUS dances the tango in Argentina. The #morningjoe panel reacts. https://t.co/XPfOqK1PoD

— Morning Joe (@Morning Joe) 1458814734.0
"The advance person who let him do the tango, that person ought to be looking for work on somebody's campaign very, very far away," Richard Haas, president of the Council on Foreign Relations, said.
Haas said that the president shouldn't have canceled his trips but dancing the tango was "a tremendous mistake."
"It's fine to go to Argentina, you want to do the work. But you have to be careful of these, these little photo ops and optics. Baseball games and tangos, that's inconsistent with the seriousness of the day," Hass added.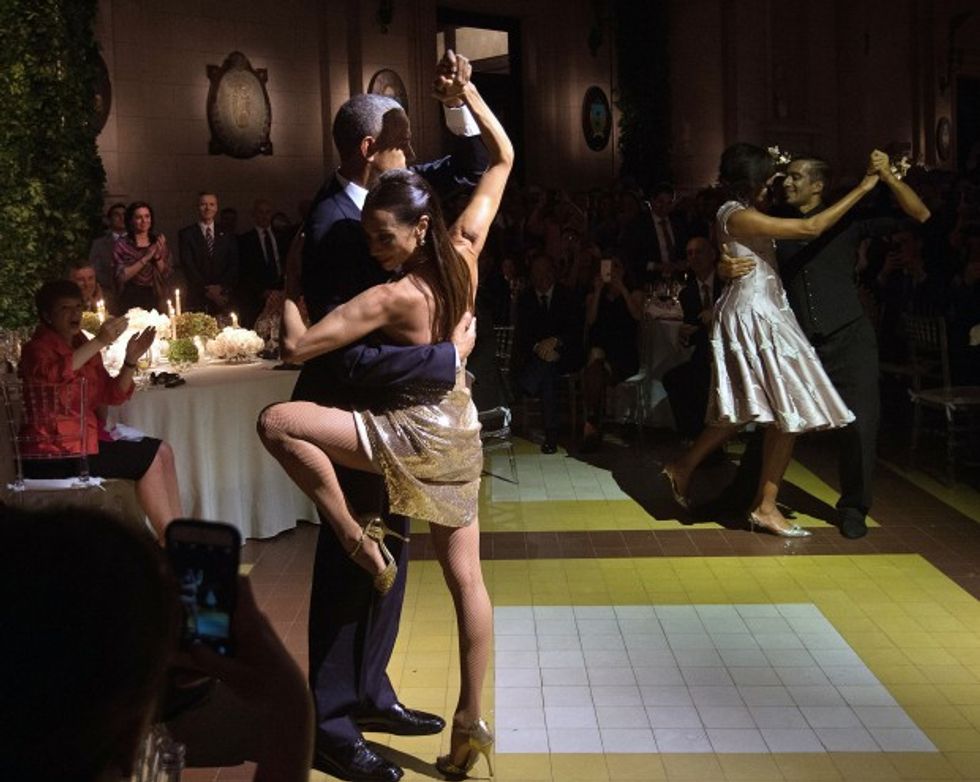 President Barack Obama and first lady Michelle Obama dance tango with dancers during a state dinner at the Kirchner Cultural Centre in Buenos Aires Wednesday. (Nicholas Kamm/AFP/Getty Images)
"I think the consensus for most people who watch this stuff is that the baseball game, the way he handled it was a mistake," Bloomberg Politics host Mark Halperin said.
Halperin added that there is "intellectual sympathy for the notion that life has to go on," but "there's no doubt" that the American people "would like to see a little bit more stagecraft and a balance towards decisive action, rather than business as usual from the president."
Host Mika Brzezinski added, "Who am I to say," but she felt the "optics" were wrong.
"I was critical yesterday I think of the optics of the baseball game, I'm not saying he shouldn't have gone, I feel like it should have been handled differently, everything about it," Brzezinski said.