Following the deadly attack at the Brussels airport and subway station Tuesday, Israeli security experts have offered their advice on how to more effectively protect airports.
The first piece of advice from one airport security expert: stop routinely checking the elderly and focus on the real threat.
"In Europe and the U.S., they invest insane amounts of money on hi-tech security systems, but they are fighting yesterday's war and they aren't investing in the human element," airport security adviser Shlomo Har-Noi told Reuters.
"Someone who focuses on taking a water bottle away from some old lady will never find explosives," Har-Noi, whose company, Shadma, advises on critical infrastructure security, added.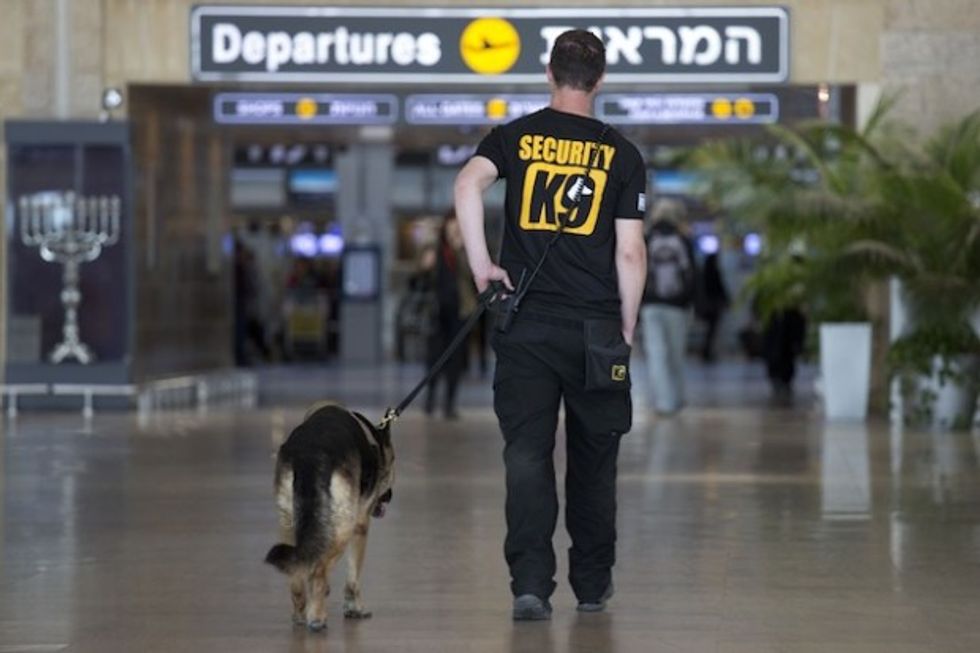 An Israeli airport security guard patrols with a dog in Ben Gurion airport near Tel Aviv, Israel, Tuesday. Pini Schiff, former director of security at Ben Gurion, said the attack in the Brussels airport was "a colossal failure" of Belgian security, and he said "the chances are very low" that such a bombing could take place in Israel's airport. Ben Gurion is considered among the most secure airports in the world, an outcome stemming from several Palestinian attacks on Israeli planes and travelers in the 1970s. (AP Photo/Ariel Schalit)
Ben Gurion Airport outside Tel Aviv is known internationally as the top in terms of airport security. Its former security director, Pini Schiff, told Israel Radio that the Brussels attack marked "a colossal failure" for Belgian security measures.
"Two terrorists who enter the terminal area with explosive devices, this is undoubtedly a colossal failure," Schiff, who also serves as CEO of the Israel Security Association, said.
Israeli airport security relies on different layers of security that begin outside the airport.
Reuters described some of the Israeli security measures absent in Europe and in the U.S. where great care is taken to avoid accusations of profiling.
"Security personnel have access to passenger lists, and are able to crosscheck those lists with lists of people under surveillance in order to know immediately who has to go through a stricter security check," Reuters noted, adding that the first security checkpoint in Israel is on the road to the airport.
Unlike in Europe and the U.S., in Israel, passengers and their escorts are also checked before entering the departures hall and check-in area.
Israel's Channel 2 reported Wednesday night that Israeli security experts had warned Belgium of the failings at the Brussels airport prior to Tuesday's attacks, finding "significant shortcomings" in security measures there.