Carly Fiorina is back — or at least Carly for America is.
In an email to supporters Wednesday night, the former Republican presidential candidate announced the relaunch of her Carly for America PAC, only this time, it's not she who is running for office.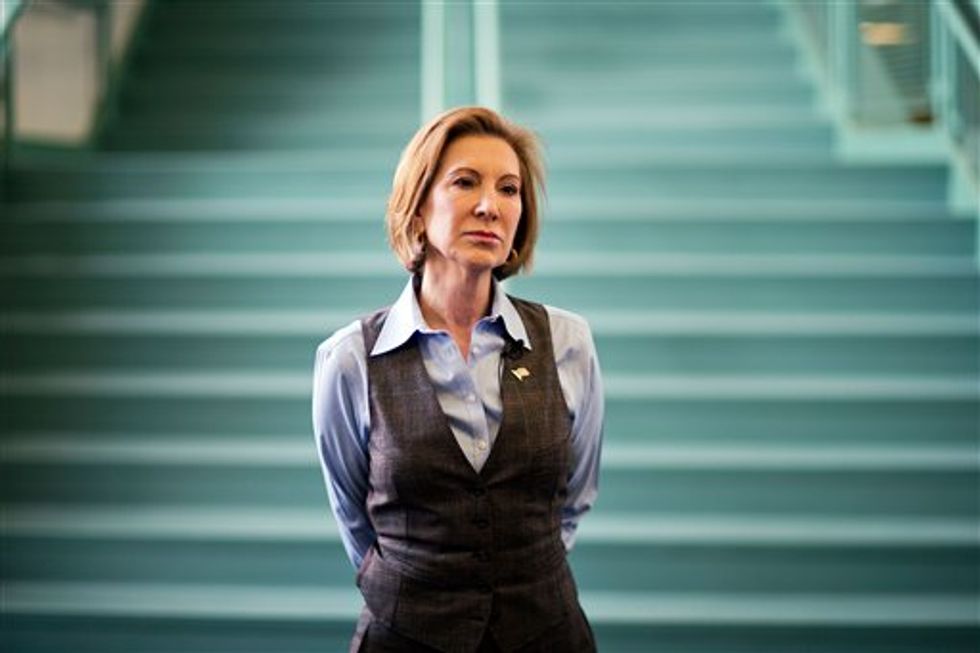 Former Republican presidential candidate Carly Fiorina waits to be introduced at a campaign event at Maple Avenue Elementary School Feb. 6 in Goffstown, New Hampshire. (AP Photo/David Goldman)
While it's billed as a "relaunch" in the email to supporters, those involved with the project are calling it a "new entity" — as it's a multi-candidate PAC — with a "new mission." That mission, according to the supporter email, is to use its "resources and our experiences to help conservative outsiders win in November, restoring citizen government at every level." As for what exactly that entails, the email said it will:
● Identify principled conservative candidates from outside the political class, who aren't afraid of a fight and aren't afraid to shake up the status quo — and we will introduce them to the American people.

● Give them the critical boost they need to win: by campaigning with them, supporting them, and fundraising for them. Anything we can do to make sure they have all the resources they need to amplify their voices, bypass the media and the establishment, and win over voters.
Sarah Flores, the former deputy campaign manager for Fiorina, has been tapped to play a senior role in the new organization. She told TheBlaze that Fiorina will play an integral part in the PAC as she "enjoys traveling the country and meeting the candidates that she believes can take back our country."
"Carly believes we need more conservative candidates who will engage citizens to take back our government and reject the political class that only serves the big and powerful," Flores said. "Technology allows us to engage citizens like never before. So she'll be finding and supporting these outsider conservative candidates who will fight for a return of citizen government."
And as Fiorina's email indicated — it's not only Democrats who will be the focus of the new entity's attention.
"It's about defeating the Washington establishment of both parties and electing real conservative leaders from outside the political class, who will engage citizens around the nation and lead the charge to take our country back," Fiorina said.
According to a recent report from the nonpartisan Sunlight Foundation, Fiorina's campaign committee still had $1,767,911 when she ended her campaign. The CARLY for America PAC had $1,405,799. Flores confirmed that the leftover money would be used in these future endeavors.
—
Follow Kaitlyn Schallhorn (@K_Schallhorn) on Twitter