South Carolina Sen. Lindsey Graham (R) may be supporting Republican presidential hopeful Texas Sen. Ted Cruz for president, but the two lawmakers don't see eye-to-eye on many issues.
Graham — who is more against Republican front-runner Donald Trump than he is for Cruz — said the Texas senator is wrong on carpet bombing the Islamic State, telling Fox News Radio host Brian Kilmeade that "it won't work."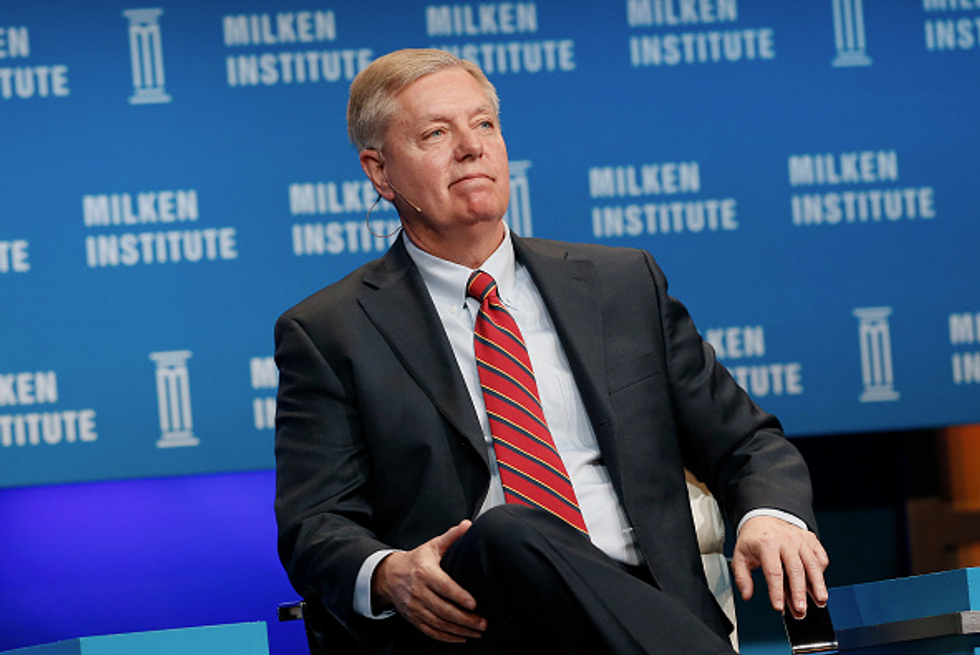 Sen. Lindsey Graham (R-S.C.) listens during the annual Milken Institute Global Conference in Beverly Hills. (Patrick T. Fallon/Bloomberg via Getty Images)
"I have been an Air Force officer for 33 years," Graham said Thursday on "Kilmeade and Friends." "I don't get what [Cruz] is saying."
According to the South Carolina legislator, there is "no substitute" for boots on the ground in the Middle East. Graham said that the U.S. cannot beat the radical Islamist group from the air, but instead must use "an army to beat an army."
Graham told Kilmeade that Cruz needs to listen to retired four-star Gen. Jack Keane, former vice chief of staff of the U.S. Army, who has said in the past that the only way to defeat the Islamic State is with ground troops.
"Name one general who suggested we should carpet bomb as a substitute for a ground component?" Graham said. "[I] like Ted. Ted, you need a ground component. Listen to Gen. Jack Keane."
Graham doesn't believe carpet bombing the Islamic State is an effective strategy because "they hold land the size of Indiana" and he "[doesn't] want to kill everyone in Rocca."
When pressed by Kilmeade as to whether or not he has raised the issue with Cruz, Graham simply said, "He is listening to this show."
"Ted, a more aggressive aerial campaign makes sense, but we are running out of targets," Graham instructed, adding that Cruz needs to take Keane's advice because he was the "architect of the surge" in Iraq.
Watch the interview:
—
Follow the author of this story on Twitter: