Sen. Tom Cotton (R-Ark.), who during his first term has become a leading voice on national security matters, said Friday that Republican presidential candidate Donald Trump raised serious issues about NATO but had the wrong solution.
"He raised some serious questions about the U.S. and NATO. I share some of those questions," Cotton said in an MSNBC interview. "We used to split our costs 50-50 between the U.S. and Europe. Today it's 70-30 between the U.S. and Europe. I would have a different approach. Rather than reducing our spending on what is a critical national security alliance, I would urge European leaders to increase their spending specifically so we can stop the kind of terrorist attacks we've seen in Paris and Brussels."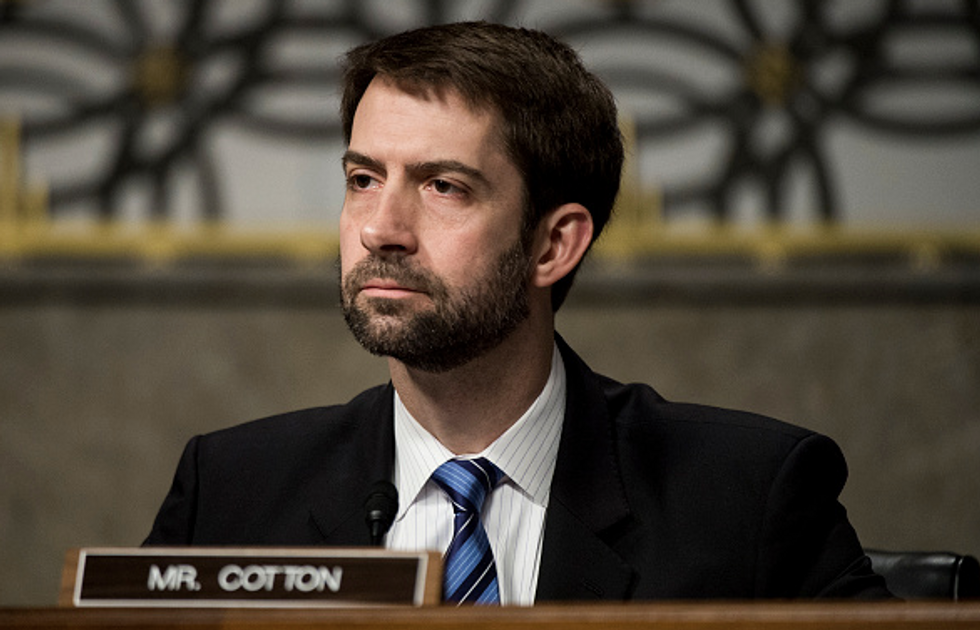 Sen. Tom Cotton (R-Ark.) during a Senate Armed Services Committee hearing on worldwide threats. (Bill Clark/CQ Roll Call)
On Monday, Trump was in Washington where he told the Washington Post editorial board that he questioned the need for the United State's membership in the North Atlantic Treaty Organization because "it's a different world today."
That same day, Trump met with Republican senators and House members on Capitol Hill, including Cotton.
"He identified a serious problem that I've tried to address, along with some of my colleagues," Cotton said. "I would just have a slightly different solution to that problem."
When pressed on whether he believed Trump was capable of being the commander in chief, Cotton said, "I think he could be the commander in chief."
He added that any Republican candidate was superior to former Secretary of State Hillary Clinton.
"They'd be a more serious leader for our country than Hillary Clinton is, who has not only been the architect for Barack Obama's foreign policy, which has left the world aflame, but has shown such a casual disregard for the handling of sensitive national security secrets, that I believe she's disqualified from being the commander in chief," Cotton said.