An investigation by the Daily Mail claims to reveal how British tax money is apparently funding Palestinian terrorism with recipients that include assailants involved in a six-month wave of stabbing attacks against Israelis that began in September.
The report was especially noteworthy given the serious challenge Europe now faces combating violence after four major terrorist attacks in France, Belgium and Denmark since January 2015.
While British law prohibits the funding of terrorism, the Daily Mail reported that Palestinians convicted of terrorist offenses and their families have been receiving the cash from the Palestine Liberation Organization — not the Palestinian Authority, which receives the aid — in an apparent effort to erase the paper trail going back to donor countries, which include the United States.
Among those allegedly receiving such payments: a Palestinian man convicted of a double murder, a Hamas bomb-maker and two cousins from the West Bank who in 2011 stabbed to death five members of the Fogel family, including a three-month old baby.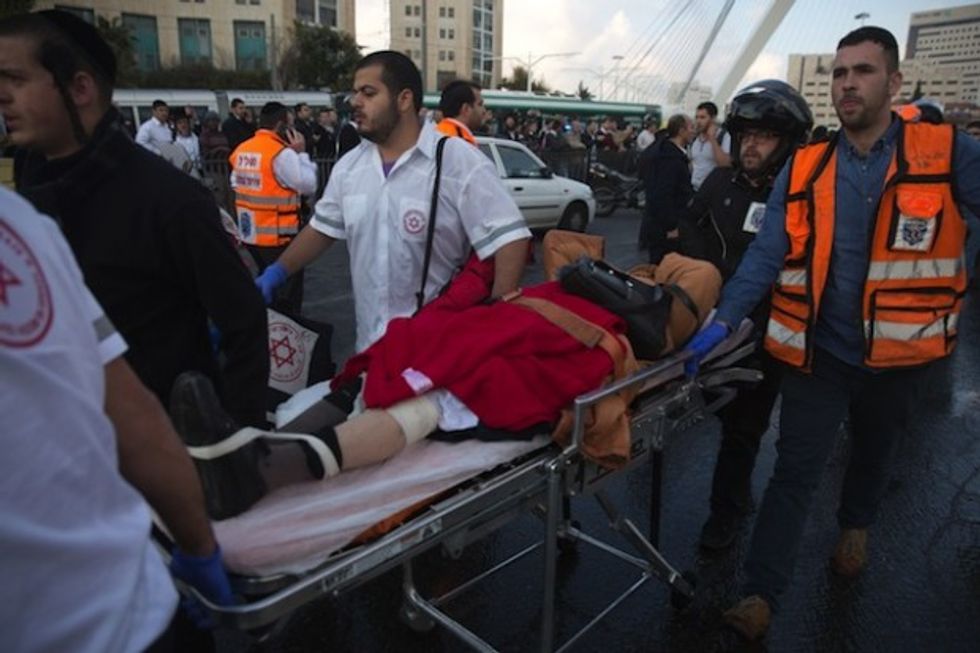 Members of Israeli Magen David Adom rescue service push in a stretcher a woman who was wounded when a Palestinian attacker drove a car into Israelis at a bus stop Dec. 14 in Jerusalem. (Menahem Kahana/AFP/Getty Images)
Members of the U.S. Congress have repeatedly blasted the Palestinian practice of granting of monthly salaries to terrorists convicted in Israel as well as grants to the families of Palestinians killed while perpetrating violent attacks.
The PLO, which is not funded by the U.S., in 2014 was granted the task of handing out monthly disbursements to terrorists, a move described by a Palestinian Authority minister as an effort to "eliminate international pressure" on the prisoner issue, which is considered "holy" to Palestinians.
Another way donor countries are misled, according to the report, is that payments distributed by the PLO are marked as "social welfare" for prisoner families.
Daily Mail correspondent Ian Birrell met one of the convicts, Ahmad Musa, who though given a life sentence was freed following an Israeli-Palestinian agreement. Musa admitted to the Daily Mail that he killed the two men.
"Yes, I shot them dead," he said.
He gets a salary of some $850 per month for life.
The Mail indicated that these payments originate in British and European funding of the Palestinian Authority, even if not paid directly to the hands of the convicts by those governments.
Other convicted murderers who receive salaries are Amjad and Hakim Awad who in 2011 killed Ehud and Ruth Fogel and three of their children: a four-year old, an 11-year old, and a three-month old.
The Mail reported that Amjad is estimated to have been paid nearly $23,000 so far.
Neither cousin — teenagers at the time — expressed remorse for their actions. On the contrary, Amjad told reporters in 2011, "I don't regret what I did and would do it again. … I'm proud of what I did, and I'll accept any punishment I get, even death, because I did it all for Palestine."
The Mail reported that Hamas bomb maker Abdallah Barghouti and his family have received payments of $150,000 so far. He was handed 67 life sentences for attacks, including one that killed 15 diners at a restaurant.
The British government denied its funds reach terrorists. An unnamed government spokesman said that the aid is "subject to rigorous internal and external checks and scrutiny at all stages."
U.S. lawmakers have also complained about the Palestinian Authority's support of terrorists and their families.
"The shocking revelation that thousands of Palestinian terrorists, including men who have masterminded suicide bombings and murdered children, are given cash handouts from aid money will cause anger and disbelief, particularly in the wake of the Brussels massacres," the Daily Mail wrote.
The paper's full investigation can be seen here.
—
Front-page image via Shutterstock.com.