Democratic presidential candidate Hillary Clinton detailed the type of justice she would nominate to the Supreme Court as president during remarks at the University of Wisconsin-Madison Monday and argued that the Republican candidates must not be given that opportunity.
"The Court shapes virtually every aspect of life in the United States," Clinton said, adding that "the next president could end up nominating multiple justices" who could "demolish pillars of the progressive movement."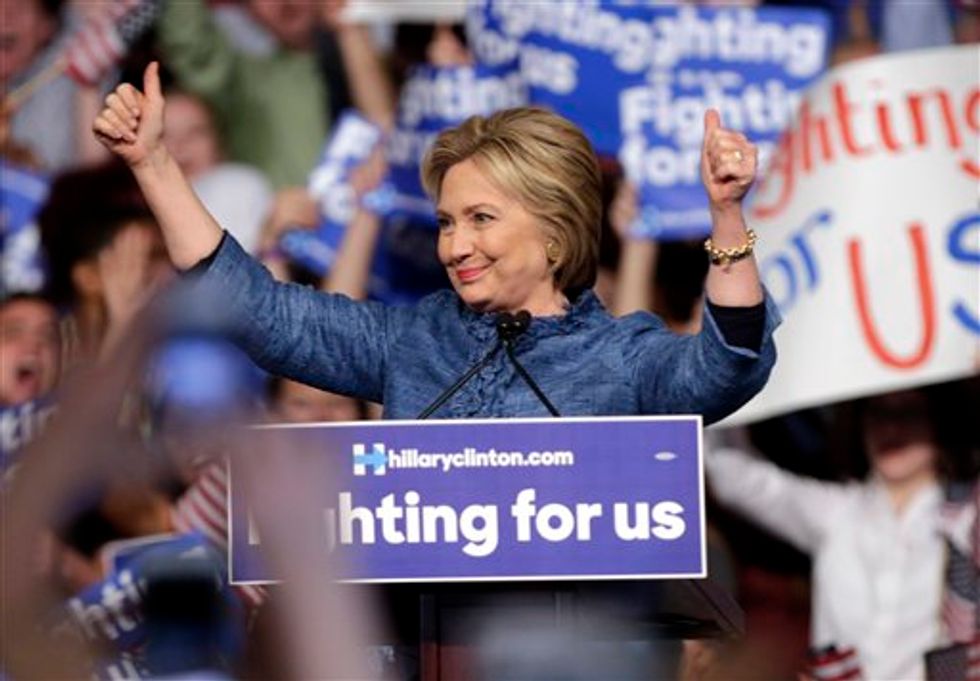 Democratic presidential candidate Hillary Clinton arrives at a campaign rally in West Palm Beach, Florida. (AP Photo/Lynne Sladky)
Clinton said that the power to nominate a justice can't be trusted to the "extremist candidacies of Donald Trump and Ted Cruz."
"What kind of justice would a President Trump appoint?" Clinton asked.
Clinton also called on the Senate to "do their job" and consider President Barack Obama's Supreme Court nominee, Judge Merrick Garland. She called Senate Republicans' position that a new justice should be appointed by the next president "merely an effort to undermine the president."
"We chose a president," she said. "We chose him twice."
She singled out Wisconsin's Republican Sen. Ron Johnson and said that he is "bragging" about his efforts to block the president's agenda.
Clinton said that the "obstruction and recklessness" embraced by Republicans is evidenced by their presidential primary.
"Donald Trump didn't come out of nowhere," Clinton said, blaming the "extremist" tactics of Republicans in Congress, such as when they "shut down the government," "led by Ted Cruz."
Clinton sharply criticized the court's ruling in Citizens United, which she said began as "yet another right-wing attack on me." She said that any justice she would appoint as president would look for opportunities to overturn it.
In a pitch to Wisconsin voters, Clinton asked that they "make sure the court factors into your decision."
Wisconsin's presidential primary will take place April 5.