Taxi and Uber black car drivers in Philadelphia are threatening to refuse service to Democratic National Convention attendees this July unless the party cracks down on ride-hailing apps, such as UberX and Lyft.
The Philadelphia Limousine Association, Philadelphia Cab Association and Philadelphia Taxi Association said their members voted to boycott the political convention because, they allege, the unregulated services against which they compete are illegal and unsafe, WCAU-TV reported.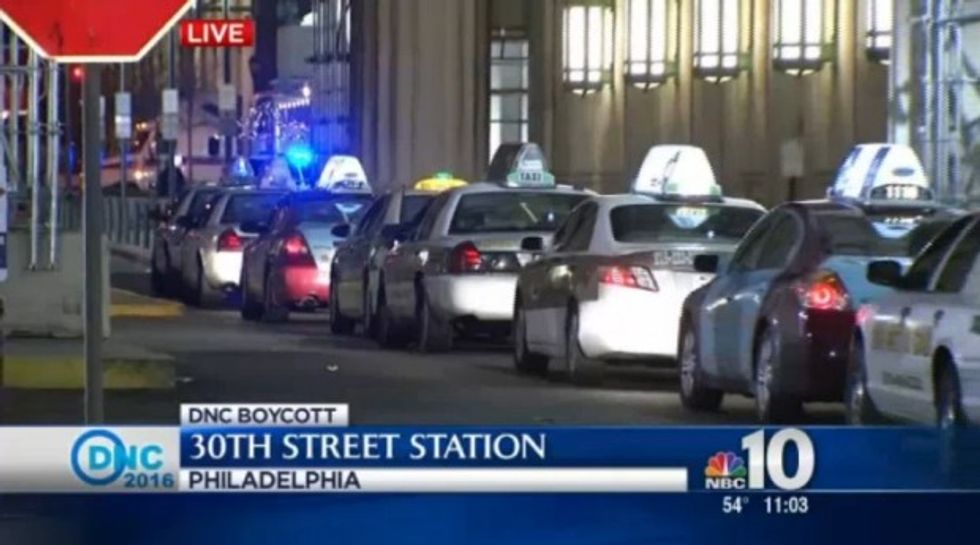 Image source: WCAU-TV
Together, the three groups account for approximately 3,000 drivers in Philadelphia, who say they will also protest outside the Philadelphia Convention Center, where the event is scheduled to take place.
UberX and Lyft are currently exempt from paying annual licensing fees to the Philadelphia Parking Authority because drivers use their own cars. Uber Black Car drivers, like taxi and limousine drivers, are required to pay the fee because they do not drive their own vehicles.
Taxi and Uber Black Car drivers have been battling taxi cab commissions in cities across the country for months for what they say is an unfair advantage to UberX and Lyft drivers. The groups have called on Philadelphia Mayor Jim Kenney and Pennsylvania Gov. Tom Wolf to demand action against the popular ride-hailing services.
"I cannot waive my Mayoral wand and fix this problem that the Parking Authority and the [Pennsylvania Utilities Commission] have responsibility for," Kenney said, adding that it's better to "talk" than to boycott.
Uber, in a statement Monday, called the news "unfortunate," while Lyft said it plans to recruit more drivers to meet the increased demand. An Uber representative further said the groups are placing "their own interests above the needs of the city."
Not all taxi workers, however, will be boycotting the convention.
Ronald Blount, president of the Taxi Workers of Pennsylvania, called the other taxi groups' actions "irresponsible and immature," while adding that lawmakers are "trying to find a solution."
The Democratic National Committee did not immediately respond Tuesday to a request for comment from TheBlaze.
(H/T: WFMZ-TV)
–
Follow the author of this story on Twitter and Facebook: