MSNBC's "All In" host Chris Hayes got into a tense exchange with Trump campaign manger Corey Lewandowski's lawyer Tuesday night after the attorney flatly denied that Lewandowski was guilty of battery against — or even touching — ex-Breitbart reporter Michelle Fields, despite video evidence.
Bradford Cohen — Lewandowski's lawyer — insisted that the alleged crime never actually took place, that Lewandowski never touched Fields and that the video evidence is, at best, "inconclusive."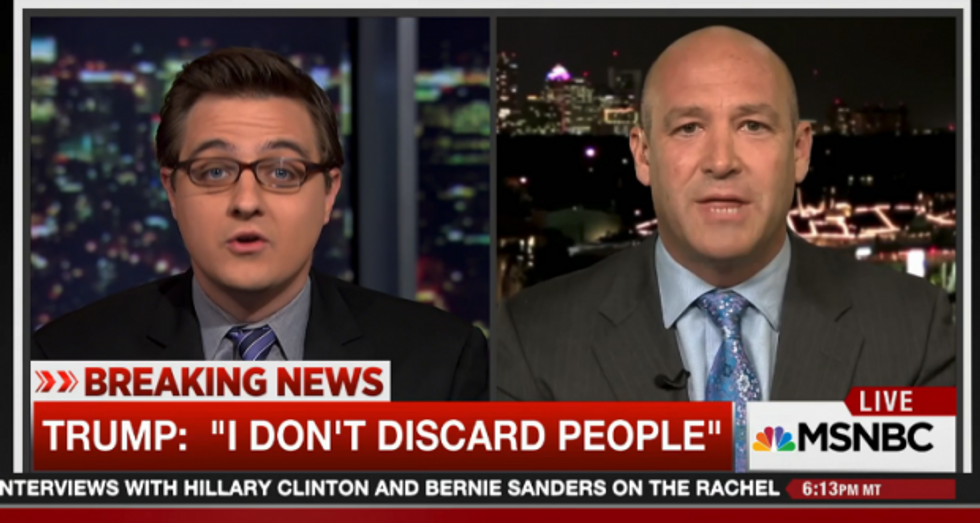 Image source: MSNBC
"Do you realize that denying these basic things make you guys seem crazy, it makes you guys seem delusional if you won't just concede the thing that we're all looking at," Hayes said. "We're all looking at this video."
Hayes continued to press Cohen over the fact that, in the initial days of the controversy, Trump's entire campaign denied that Lewandowski ever came into contact with Fields. Hayes insisted the video proved the campaign was lying then and continues to lie today. Cohen said the only thing the video proved is that the entire case is "ridiculous."
"Just concede the obvious thing, which is that [Lewandowski] saying, 'I never touched you' is not true," Hayes scolded. "That's just a fact about the world."
"The fact is this was not something like what she described," Cohen shot back. "She said she was assaulted, almost pulled down to the ground. That's nowhere on that video tape."
"Between what she described and 'I never touched you,' it's closer to what she described," Hayes said, before concluding the segment.
—
Follow the author of this story on Twitter and Facebook:
[facebook //www.facebook.com/plugins/like.php?href=