"O Romeo, Romeo, wherefore art thou, Romeo?"
What if Juliet had more options than just Romeo? What if the 16th Century romance-starved damsel could have compared and contrasted suitors using the dating app, Tinder?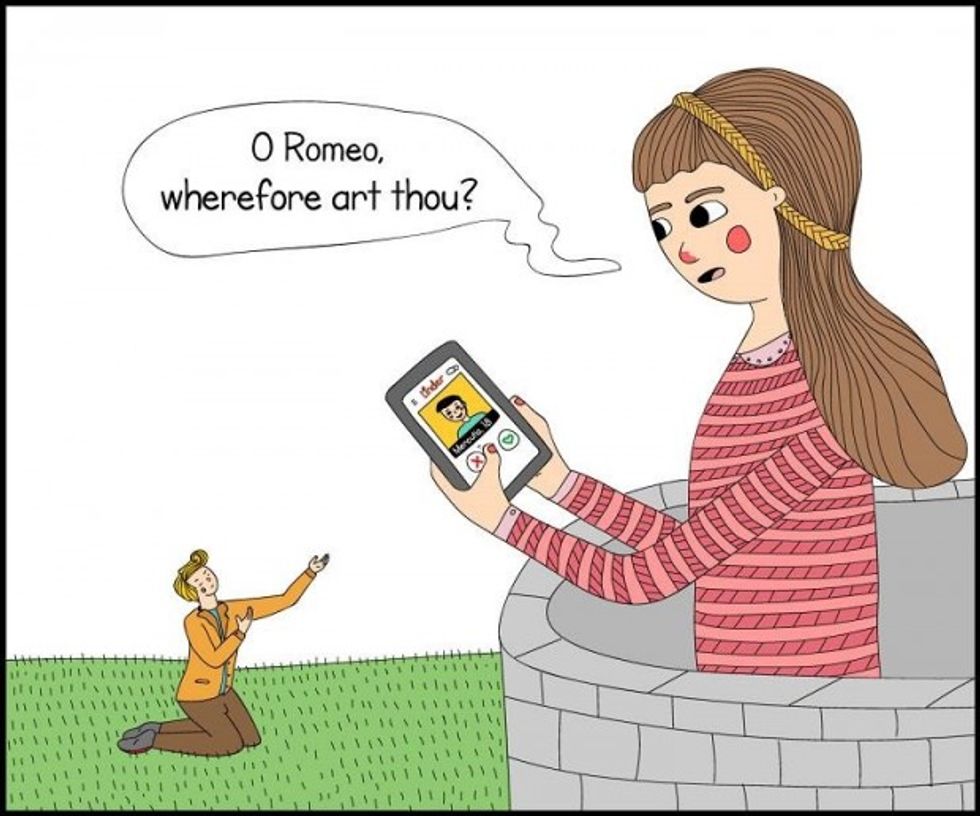 (Image: FlipSnack.com)
A couple of outside-the-box thinkers decided to re-imagine literary classics using a modern-day, technically-enhanced spin. Content strategist Matt Lindley and designer Jazmin Batisti applied their skills on FlipSnack, a website for creating and posting flipbooks.
Contorting classics to fit quirky genre isn't new, of course. Anyone who's seen Jane Austin's nobility or Honest Abe Lincoln match wits with zombies and vampires can attest to that. And fans of Mad Magazine and the National Lampoon are familiar with literary send-ups, as well.
Following in this vein, "What if Literature Logged On?" finds its focus.
According to creators Lindley and Batisti, "We took eight timeless books, a mixture of children's titles and classic literature, and stopped to ask ourselves the question: what if these stories featured the modern technology we rely on today?"
Among the classic books and characters given a modern twist: Willy Wonka checking out Pinterest for ideas for tasty treats; Frodo using Google Maps to make a beeline to Mordor; and the frantic White Rabbit from "Alice in Wonderland" making up for lost time by connecting with Uber.
Check out seven more offerings of "Logged On" literature:
Twist Speaks Out on TripAdvisor...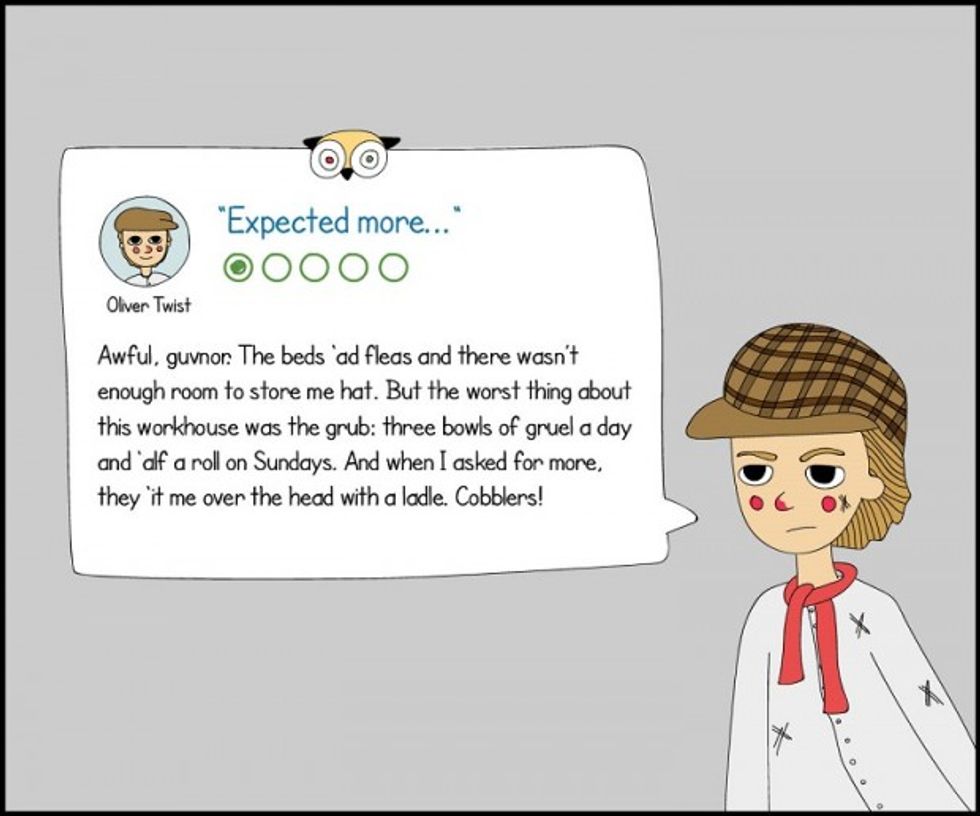 Oliver Twist finally has the chance to speak out on TripAdvisor against the Victorian workhouse he grew up in. (Oliver Twist, Charles Dickens) - Image and caption: FlipSnack.com
Wonka Finds Inspiration on Pinterest...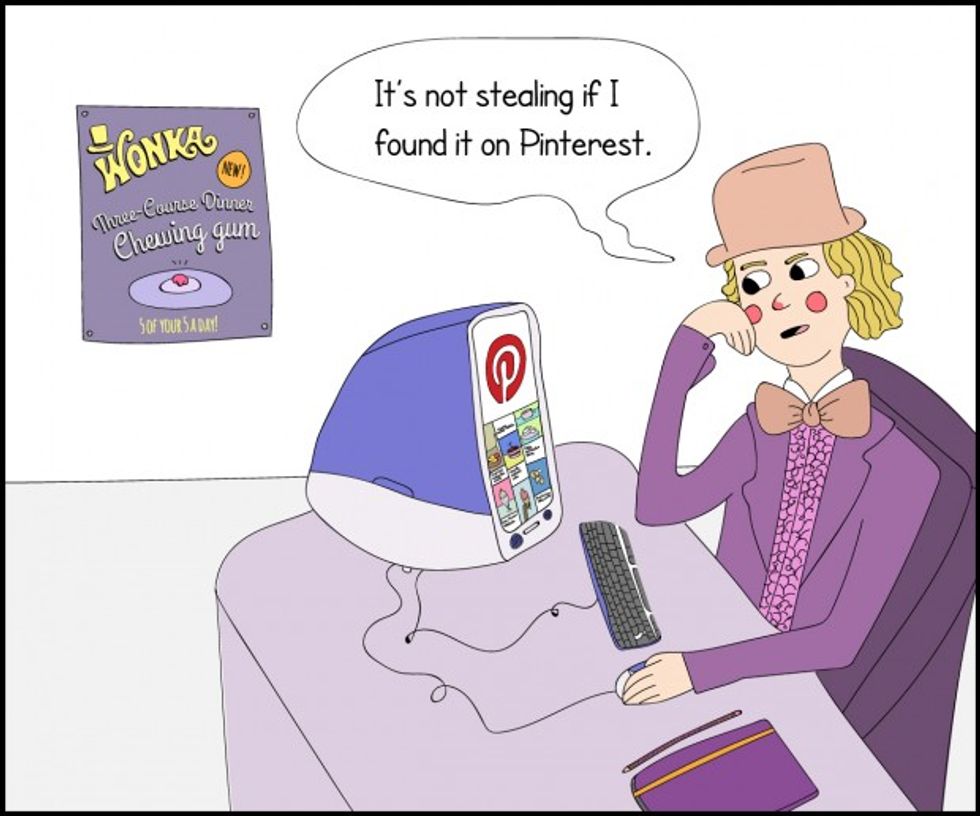 Eccentric? Yes. Creative? Not so much. Many of Willy Wonka's best ideas were stolen from Pinterest while the Oompa-Loompas were asleep. Hair toffee, three-course dinner chewing gum and eatable marshmallow pillows were all someone else's dream originally. (Charlie and the Chocolate Factory, Roald Dahl) - Image and caption: FlipSnack.com
Caterpillar Feasts with GrubHub...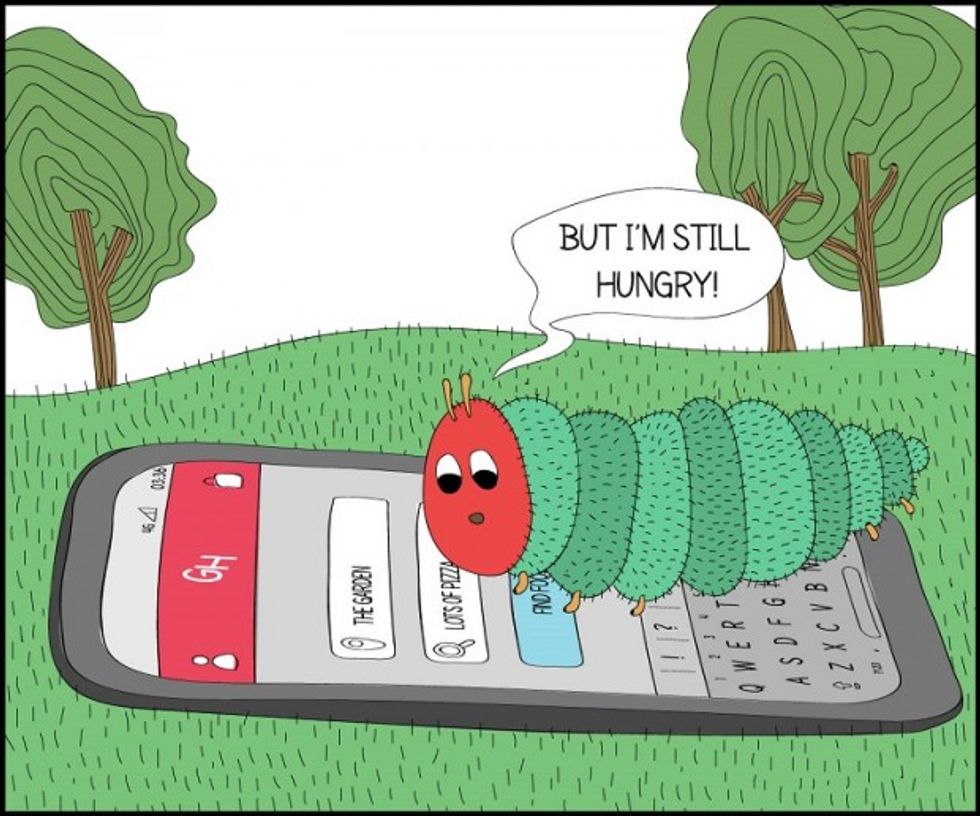 It's hard work turning from a caterpillar into a butterfly – that's why the Very Hungry Caterpillar is always eating. With GrubHub installed on his phone, this caterpillar is taking binge eating to the next level. (The Very Hungry Caterpillar, Eric Carle) - Image and caption: FlipSnack.com
Holden Hates on Twitter...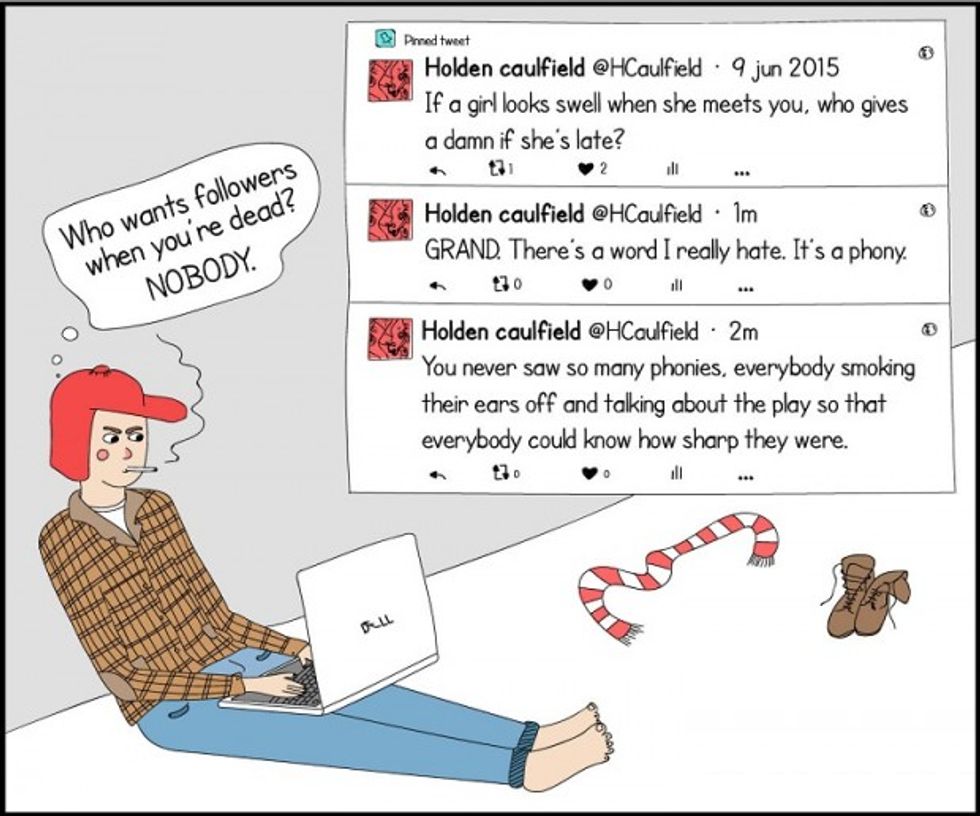 Holden Caulfield is the kid actively on Twitter, complaining about Twitter and telling everyone how "phoney" they are. He can't explain what he means and he's not sure he'd feel like it, but he'd still try in less than 140 characters. (The Catcher in the Rye, J.D. Salinger) - Image and caption: FlipSnack.com
Frodo Returns Ring with Help of Google Maps...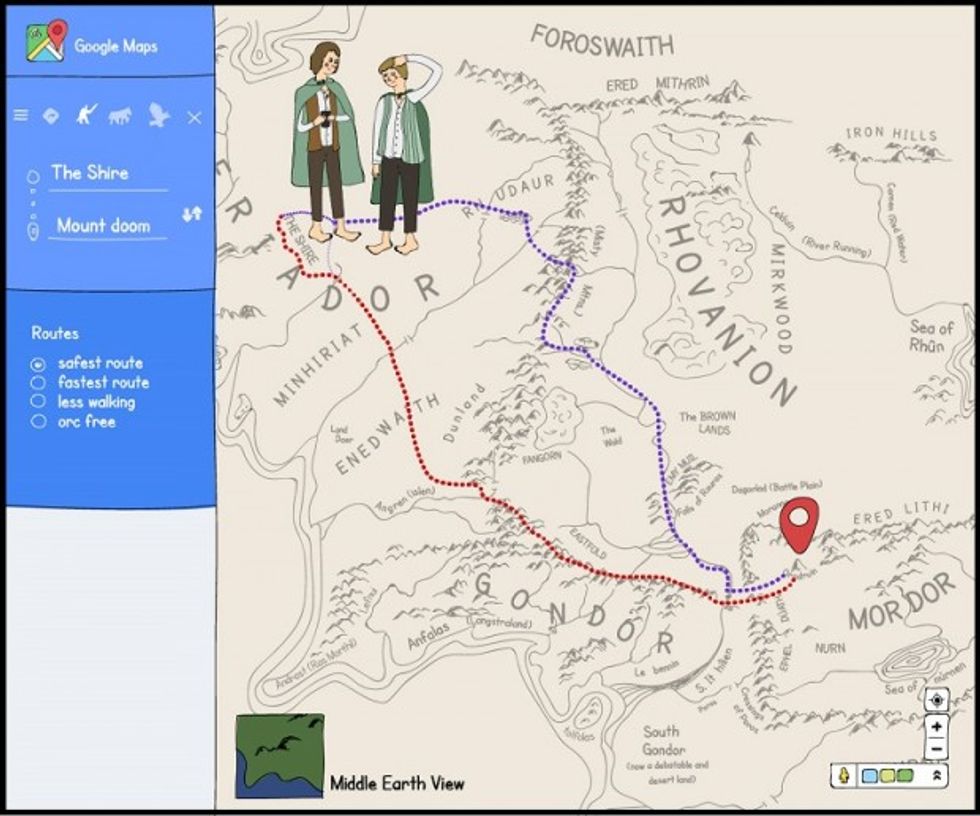 How much easier would the trip to Mordor have been if Frodo had had Google Maps to guide him through a fast, orc-free route? (The Lord of the Rings, J. R. R. Tolkien) - Image and caption: FlipSnack.com
White Rabbit Hails Uber...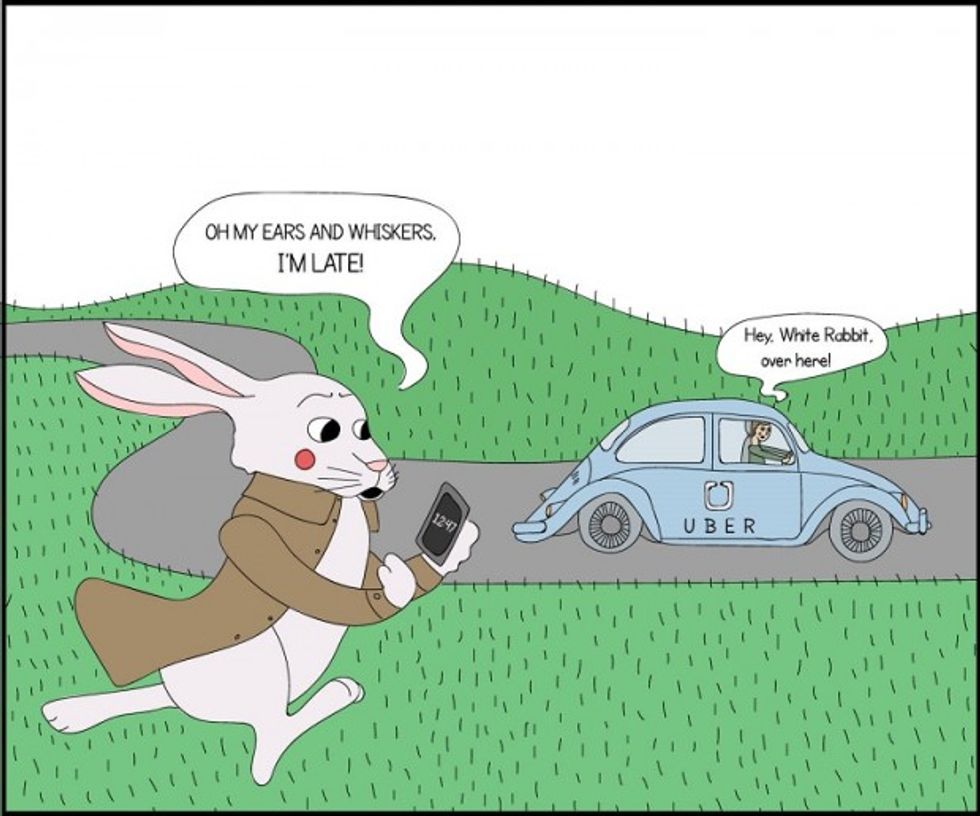 The White Rabbit's life would have been so much easier if he'd swapped his broken pocket watch for a smartphone and Uber. Then he could have hailed a ride and relaxed for the rest of the story. (Alice's Adventures in Wonderland, Lewis Carroll) - Image and caption: FlipSnack.com
Aslan Goes Viral on Instagram...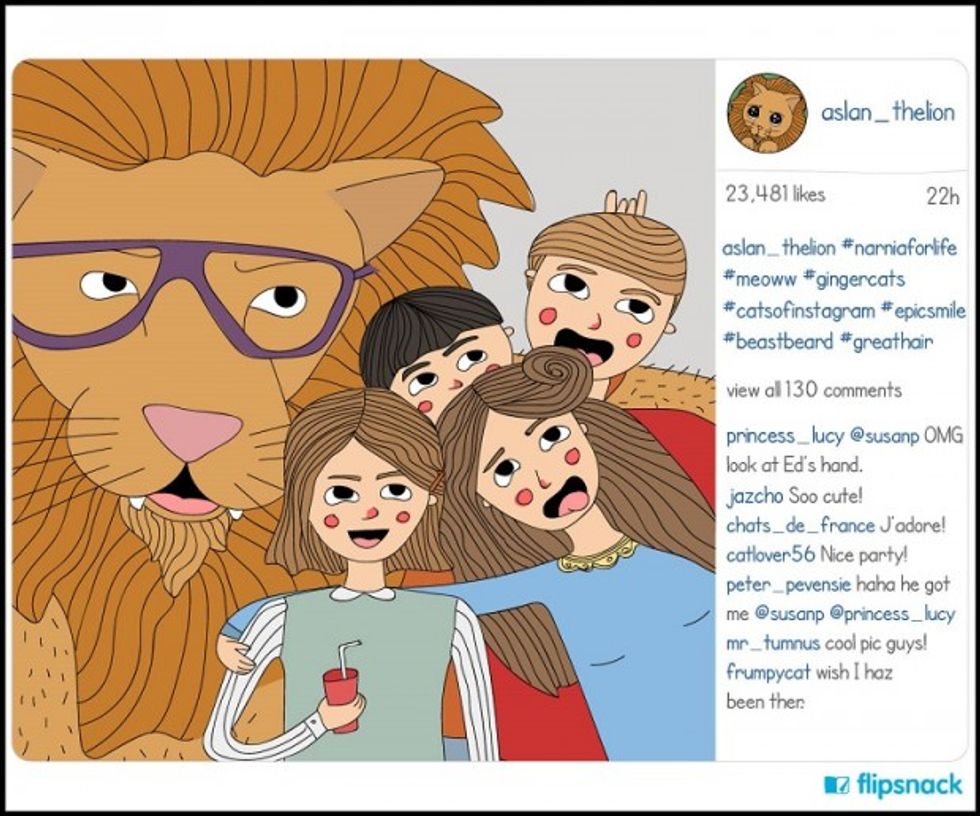 Everyone loves a good cat meme – that's why Aslan has built up such a following on Instagram. People adore his #gingerbeard and #epicsmile, and he now has more followers than Grumpy Cat and Hamilton the Hipster Cat put together. (The Chronicles of Narnia, C.S. Lewis) - Image and caption: FlipSnack.com
To view the collection, check out the website page here.
--