Businessman Donald Trump has a built a massive lead in his home state of New York with less than three weeks to go before the state's April 19 Republican presidential primary, a new Quinnipiac poll revealed Thursday.
According to the poll, Trump has a 36-point lead over rival Texas Sen. Ted Cruz, 56 percent to 20 percent. Ohio Gov. John Kasich is third with 19 percent.
While it's no surprise that Trump is leading in his home state, his massive and growing lead is significant, given the increasing potential of a contested GOP convention this summer. If Trump wants to lock down the nomination before then, padding his lead in the Empire State is one of the keys.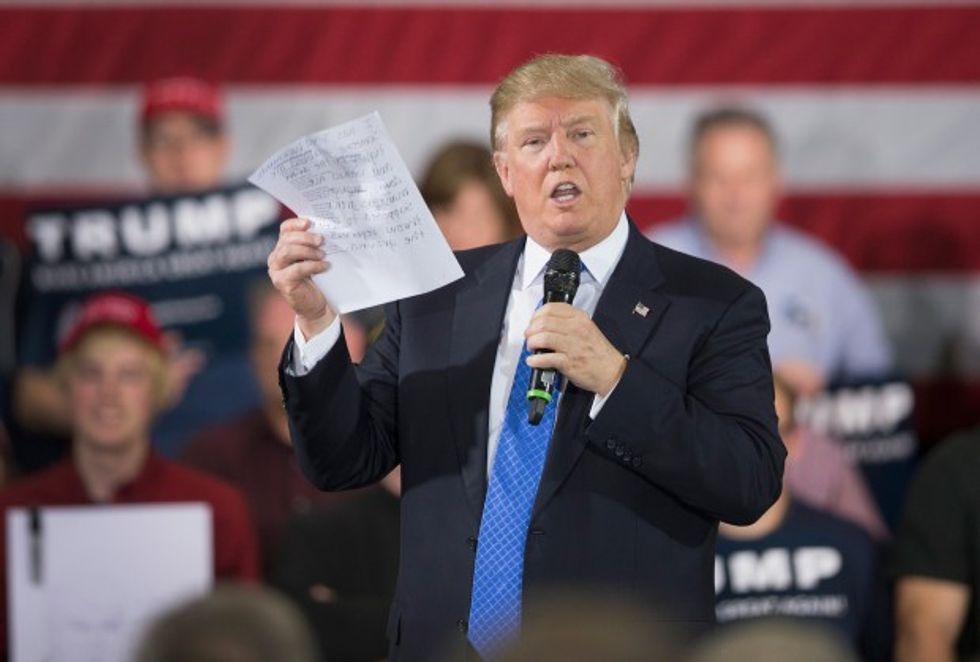 Scott Olson/Getty Images
That's because New York has a "hybrid" delegate-allocation system, meaning the state will award some delegates in a winner-take-all fashion while other delegates will be awarded proportionally. However, if one candidate secures a majority in all of the state's 27 congressional districts, then that candidate will likely win all of the state's 95 delegates.
For Trump, 95 more delegates would go a long way in helping him nail down the nomination before July and escape a contested convention. As of March 31, the Manhattan mogul had won 749 of the 1,237 delegates required to become the nominee. Even though he's the clear front-runner, getting another 488 to secure the nod is arguably a tough proposition given that the majority of the primaries to come award delegates either proportionally or in a hybrid fashion.
If Trump succeeds in winning every New York delegate, he'll be 393 shy of the magic number — a much easier proposition given that he's won 47.85 percent of the delegates thus far. If he continues to win delegates at that same pace — assuming both Cruz and Kasich continue at their current pace — Trump would secure at total of 1,187, just 50 delegates short of a majority. But considering backdoor deals with unbound delegates and those delegates who were bound to a candidate that has since dropped from the race, Trump could secure the nomination in time for the first ballot at the convention. It would be tight, but manageable.
If Trump fails to break the 50 percent threshold April 19, the likelihood of a contested convention skyrockets, given that in California — another delegate-heavy state — Trump is currently neck-and-neck with his Texas rival, according to a recent Los Angeles Times poll.
—
Follow the author of this story on Twitter and Facebook:
[facebook //www.facebook.com/plugins/like.php?href=