Fox News contributor Katherine Timpf was working with federal authorities Friday after she received numerous threatening messages from a man who said he is madly in love with her.
Emails obtained by TheBlaze show a man identified as Tim Sweet writing Timpf a series of incoherent messages and ordering her to "obey my orders" and commit to marrying him.
"I'm madly in love with Katherine Timpf - her tweets are a little offputting, but ... they're almost always funny. Intelligent!!" Sweet wrote.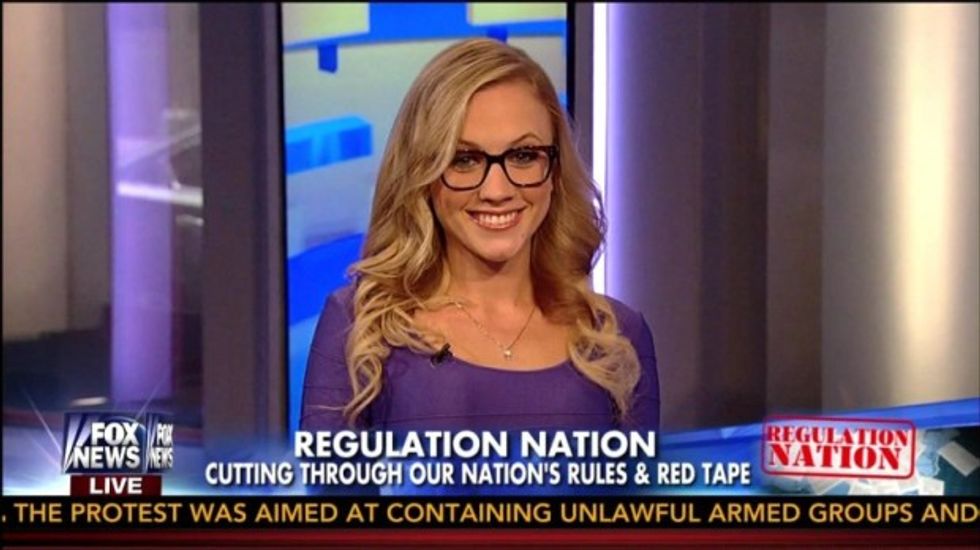 Katherine Timpf (Image source: Facebook)
It was not clear if the author was the same Tim Sweet who Taylor Swift obtained a restraining order against, but the individual did reference the pop-singer in one message, writing that he "could marry her."
It was also not clear why CNN anchor Erin Burnett was carbon copied on the email. Sweet only said that she "may work in my Cabinet one day soon!"

Image source: TheBlaze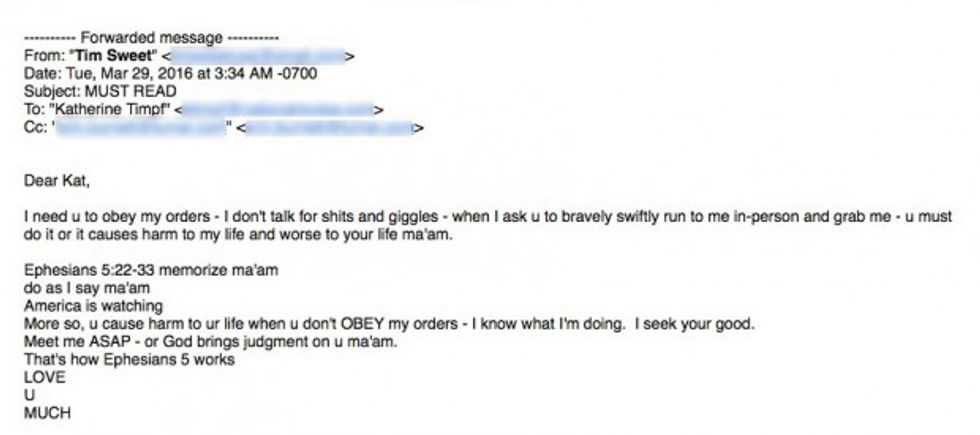 Image source: TheBlaze
When Timf did not reply, Sweet grew angry and warned that ignoring him could "cause harm to ur life."
"I need u to obey my orders - I don't talk for sh**s and giggles - when I ask u to bravely swiftly run to me in-person and grab me - u must do it or it causes harm to my life and worse to your life ma'am," he wrote in a Tuesday email.
[sharequote align="center"]"I need u to obey my orders ... or it causes harm to my life and worse to your life ma'am"[/sharequote]
Sweet told Timpf to "memorize" Ephesians 5:22-33, a Bible verse that calls for women to submit themselves to their husbands.
"More so, u cause harm to ur life when u don't OBEY my orders - I know what I'm doing. I seek your good," he wrote. "Meet me ASAP - or God brings judgment on u ma'am."
In his latest email, Sweet wrote that as a couple they could "make America Great Again."
"Thank you (my wife very soon) for helping Donald J. Trump become the president of these United States - ma'am!" he wrote to Timpf, a National Review reporter who is not pro-Trump.
Sweet added, "I don't expect to do anything more than love u Katherine - I gave up a chance at wealth - and now will be the wealthiest man alive - pass it to my future children."
Sweet also issued some ground rules for his fantasy relationship with Timpf.
"WE WILL NOT TALK ABOUT 'THE VIEW' GIRLIE STUFF - I dated several women in my life. For the sake of the country whether true or not: YOU AND I ARE VIRGINS," he wrote.
He later revealed, "I love u. I saved myself for u."
Sweet has also inundated Timpf with messages on Twitter over the past few weeks.
Traveling thru SC - NC marching on foot #NewYork City.#MarrymeKatTimpf @KatTimpf - today I march, tomorrow I share a rose??? :) GodBlessUS:)

— Tim Sweet (@Tim Sweet) 1459024009.0
.@KatTimpf I make u more famous each time I call - call me back #Baby cakes - let's keep this private, our wedding I LOVE YOU

— Tim Sweet (@RealTimSweet) March 20, 2016
.@KatTimpf You are my bride. #Always sexy charming

— Tim Sweet (@RealTimSweet) March 20, 2016
.@KatTimpf you seem awesome as u usually are how r u tonight baby by the way u gotta see these flowers for u

— Tim Sweet (@RealTimSweet) March 20, 2016
Reached by phone Friday night, Sweet told TheBlaze it was "getting kind of late" and to "call back tomorrow." He then hung up.
Timpf received a message shortly after which informed her he was "not interested" in speaking to the press about his love for her. Sweet again added that he "fell in love" with Timpf "out of the blue" and would like to marry her.
Timpf is no stranger to receiving threats online. When she made a joke about Star Wars fans during a Fox News appearance last year, she received hundreds of vile messages.
—
Follow the author of this story on Twitter and Facebook: