Maine Gov. Paul LePage (R), a supporter of 2016 candidate Donald Trump, is refusing to swear in the Pine Tree State's newly-elected Democratic state senator because her liberal counterparts in the legislature voted down one of the governor's nominees.
Sen.-elect Susan Deschambault won a special election Tuesday in Senate District 32 and when she showed up at LePage's office Friday morning for her scheduled swearing-in, she was informed that the ceremony was cancelled, according to the Portland Press Herald.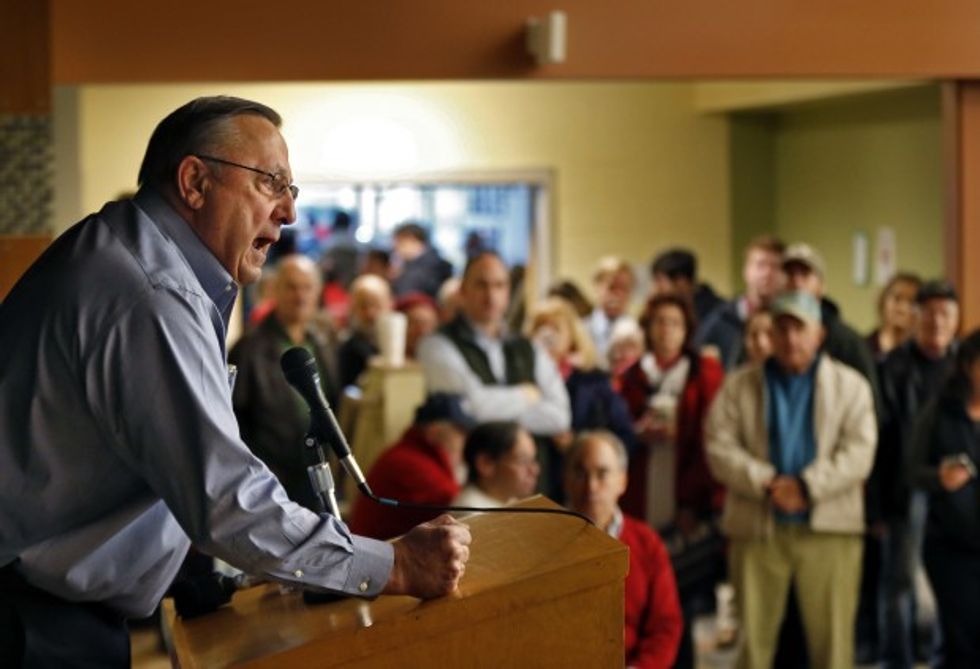 Gov. Paul LePage speaks at a Republican caucus in Chelsea, Maine, Saturday, March 5, 2016. (AP Photo/Robert F. Bukaty)
LePage spokeswoman Adrienne Bennett said the governor cancelled the meeting because the Democrats on the legislature's Labor Commerce, Research and Economic Development Committee denied LePage's nominee, Steven Webster, to the Maine Unemployment Insurance Commission.
The committee vote was 7-6 against Webster along party lines, the Herald reported.
"Democrats treated Steve Webster despicably and it's unfortunate that good people get caught up in political games," Bennett said. "Governor LePage has not sworn Ms. Deschambault in yet. The Governor has five days to do so."
His refusal to swear in Deschambault is not sitting well with Democrats.
"By refusing to seat her, the governor is denying tens of thousands of people in Senate District 32 their elected representative — all as an act of political retribution for something that happened in a committee that Senator Deschambault has nothing to do with and the people of Senate District 32 have nothing to do with," Senate Democrats' spokesman Mario Moretto said.
Maine Attorney General Janet Mills (D) and Secretary of State Matt Dunlap (D) are trying to find a solution to the governor's stubborn decision.
"We are looking for solutions to give the 35,000 people of Senate District 32 their full representation," Mills said.
Following the cancellation, the governor informed Sen. Mike Thibodeau (R), the president of the Maine Senate, that he was withdrawing Webster's nomination along with two other nominees. LePage offered no explanation for his decision.
—
Follow the author of this story on Twitter: