Democratic presidential front-runner Hillary Clinton appeared Monday on ABC's "Good Morning America," during which host George Stephanopoulos asked her various questions about her campaign. What stood out most, however, was that he neglected to mention his personal ties to the Clintons and the F.B.I. investigation into Hillary Clinton's personal email server.
Stephanopoulos, who formerly served as Communications Director to President Bill Clinton and has contributed $75,000 to the Clinton Foundation, failed to disclose his clear conflict of interest at any point in the interview.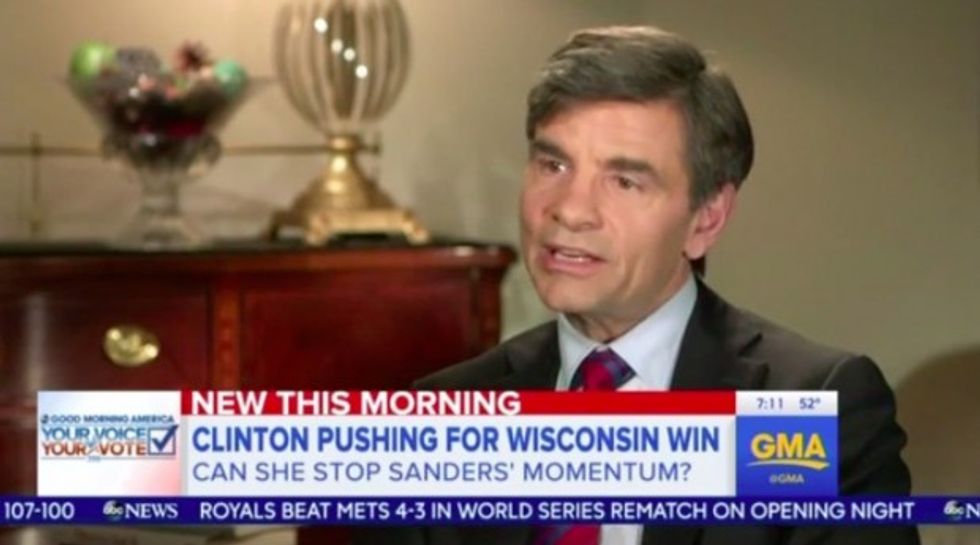 Image source: YouTube
The Media Research Center noted that in his book "All Too Human," Stephanopoulos recalled telling the former secretary of state, "I love you."
On GMA Monday, Stephanopoulos asked Clinton, "Don't you have to win your home state here in New York in two weeks?"
"I have been through this before," a smiling Clinton replied, referring to when Stephanopoulos worked on Bill Clinton's 1992 campaign. "You and I were laughing before we started. I can remember how hard it was when my husband ran in '92."
Stephanopoulos also made no mention of his secret donations to the Clinton Foundation, a decision he hid from his employers at ABC and his viewers until last May when he told Politico he would "not moderate the ABC News-sponsored Republican primary debate in February after failing to disclose those contributions."
But this is not the first time the GMA co-anchor and "This Week" host has failed to mention his Clinton ties when interviewing the Democratic candidate.
Back in January, Stephanopoulos interviewed Clinton on "This Week." He did not bring up his conflict of interest but instead asked the former secretary of state if she had bought a Powerball ticket.
In a December episode of "This Week," Stephanopoulos did offer a limited disclaimer: "[A] reminder for everyone watching, I worked for President Clinton, made charitable contributions in the past to the Clinton Foundation."
On May 15, 2015, Stephanopoulos gave an on-air apology for his donations, which at that point had been exposed.
"I should have made additional disclosures on air when we covered the foundation and I now believe directing personal donations to that foundation was a mistake," he told GMA viewers.
Stephanopoulos on Monday also avoided any talk of the federal investigation into Clinton's private e-mail server.
Clinton appeared Sunday on NBC's "Meet the Press," where host Chuck Todd thoroughly interrogated the her: "This issue of secrecy, or the accusation that you're secretive, has followed you for quite some time. Is there any way you can at least convince Wisconsin voters that that's not the case?"
Todd also touched on the issued of abortion, demanding an answer to the question of "when or if an unborn child" has "constitutional rights." Stephanopoulos did not touch on abortion either during Monday's interview.
Watch:
—