Things got heated outside the University of Wisconsin-Milwaukee on Sunday, where Fox News host Greta Van Susteren was holding a town hall with Republican presidential candidate Donald Trump.
As many as 100 people showed up to protest outside the venue, including one man who gave an interview to Infowars.com while standing on the American flag.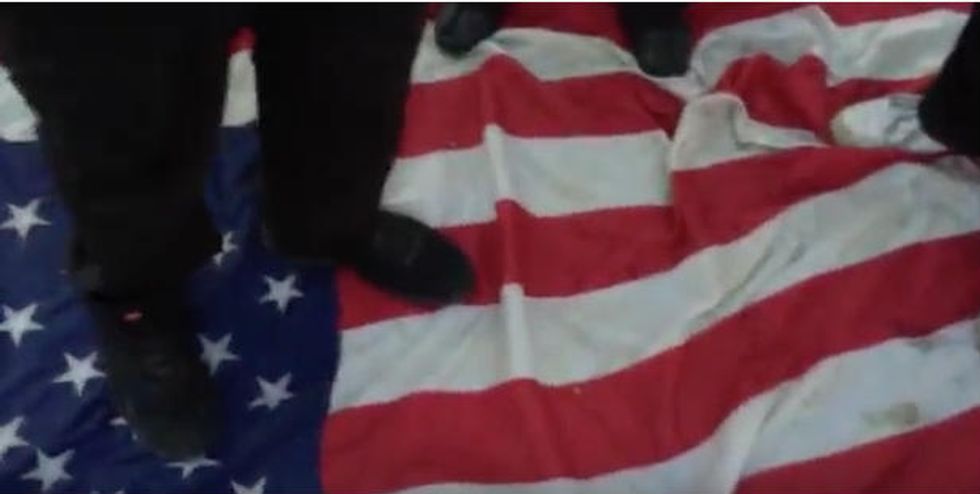 Image source: YouTube
"F*** this flag, f*** this country," the man says in the video."This red white and blue, this s*** is the new swastika." But moments later, the man standing on the flag is confronted by another man trying to get him to pick the flag up off the ground.
"You're here because of America, "the man tells the protester. "I want that f***ing flag off the ground right f***ing now."
Meanwhile, others defend the man standing on the flag, saying, "It's their right to protest."
Warning: Strong language
Things got so heated that police eventually had to form a line to separate Trump supporters from Trump opponents, WITI-TV reported.
"That`s our flag. That`s our country. I mean, that`s -- we`ve got family members, they`ve got family members that died for their right to do that and there is just no gratefulness, no respect," James Turk said.
"There`s no appreciation and it makes me sick. It thoroughly makes me sick. I think it`s sad," Turk added.
It was not clear if Turk was also the man seen in the video telling the protester to pick up the flag off the ground.
At least one person was arrested for disorderly conduct after it was all said and done, according to WITI-TV.
Three more Trump events that were being held in Wisconsin over the weekend ahead of the state's presidential primaries on Tuesday went over without any disruptions from protesters.
-
(H/T: WITI-TV)
Follow the author of this story on Twitter and Facebook: