"God's Not Dead 2," which brought in more than $8.1 million at the box office this weekend, has been criticized by some atheists, among others, as being rooted in a far-fetched, Christian persecution storyline, but one lawyer has a message for dismissive and pessimistic naysayers.
"I think that what happened in the movie illustrates what has happened in classrooms across the country already," Erik Stanley, an attorney with the conservative Alliance Defending Freedom, told Townhall. "Students and people of faith, teachers included, are silenced simply because of their religious beliefs."
The plot of "God's Not Dead 2" centers on fictional character Grace Wesley, a Christian high school teacher who is quiet and subdued, yet finds herself in the middle of a boisterous battle over the separation of church and state after she discusses the historical nature of Jesus Christ.
"When Brooke, a hurting student grieving the loss of her brother, reaches out to Grace, their coffee-shop conversation leads to Grace sharing the hope she finds in Christ," reads an official synopsis. "However, when Brooke asks an honest question about Jesus in the classroom, Grace's reasoned response lands her in big trouble — almost before she finishes giving her answer."
Stanley cited a 2010 case surrounding Professor Kenneth Howell at the University of Illinois, who reportedly fell under scrutiny for a discussion about Catholic views on sexuality during a course he was teaching called "Introduction to Roman Catholicism," Townhall reported.
Howell was initially fired from his position, but was later reinstated, according to the Alliance Defending Freedom.
Stanley also cited the much-publicized rift between pastors and officials in Houston, Texas, who subpoenaed preachers' sermons, and then backed away amid national controversy over the move, with Stanley calling the scenario "unique in the sense that we had not seen that before."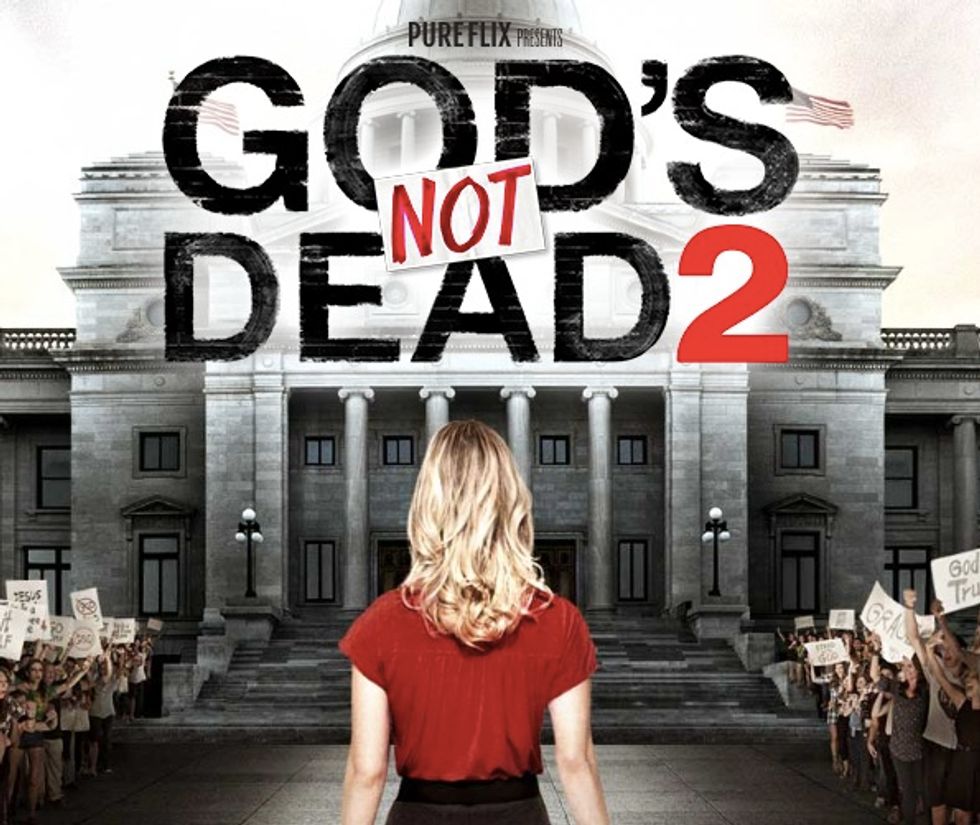 Pure Flix Entertainment
"It really was nothing more than an intimidation tactic intended to silence the pastors, to send a message: you better not stand up, you better not express your faith in this way," he said. "The city withdrew the subpoenas because the outcry was so great from all across the country."
Stanley continued, "That was certainly a unique situation, but I think it illustrates some of the links that some people in power and governmental officials will go to to silence those people of faith."
In the end, the attorney believes that attacks on religious freedom are poised to be "broad and varied."
"Last I checked, the attacks are only going to increase in number and in intensity," he told Townhall.
As TheBlaze previously reported, actor, producer and Pure Flix Entertainment founder David A.R. White recently responded to atheists' claims that "God's Not Dead 2" is misleading and "full of fake Christian persecution," as one atheist blogger charged last year.
"It's an interesting thing, because, if it wasn't real, why do they get so offended by it?" White told TheBlaze on Wednesday. "I don't think it would annoy people if it wasn't true."
He continued, "At the end of "God's Not Dead 1′ and even part two, we throw up about 50 different court cases that are dealing with similar issues right now."
And aactress Melissa Joan Hart, who plays Wesley in "God's Not Dead 2," told TheBlaze on Friday that she is ready for any negative feedback from critics.
"I was ready day one for the persecution for this one, the spiritual warfare," she said. "I felt it mostly from my inner circle in the beginning."
Either way, Hart "expects persecution from all sides" and isn't at all dissuaded by the prospect, as she openly discussed her deeply rooted Christian faith, and shared her excitement over Friday's nationwide release of "God's Not Dead 2."
Read more from our interview with Hart here.
(H/T: Townhall)
--
Follow the author of this story on Twitter and Facebook: