A construction worker hung a Mexican flag at the top of the Trump International Hotel in Vancouver, Canada Saturday.
Diego Saul Reyna posted a photo of himself to Facebook, along with a message explaining his thoughts on Republican presidential front-runner Donald Trump and his proposed immigration policies.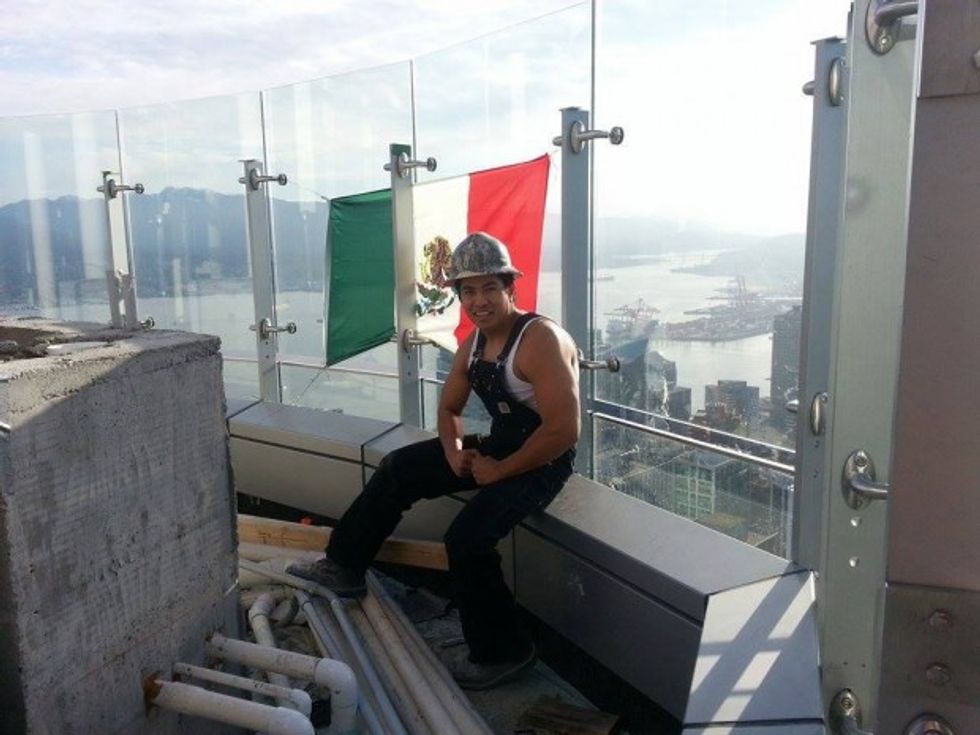 Image via Facebook / Diego Saul Reyna
In his post, Reyna, a steel frame worker, explained the symbolism of his action. He said he hung the flag "because from the concrete pouring, finishing, drywall, taping, wood forming and general labor, Mexicans were there, building it, doing good work."
"The comments Trump has made about us, did not stop us from doing the high quality work we have always done, in our home country or when we migrate to the US/Canada," he continued.
According to ABC News, the flag has since been removed, but Reyna's photo has received thousands of shares.
"I put a Mexican flag on the roof of the Trump Tower in Vancouver, just to show that he is benefiting from us and that we are working hard on his projects and that we are not all criminals," Reyna told the Canadian Broadcasting Company Sunday.
In his post Reyna wrote that "while working on your tower Mexicans didn't steal anything nor raped anyone, we just did the best work we could possibly do, for … ourselves, our families and the future tenants in your building."
His references to raping and stealing presumably refer to the speech Trump gave when announcing his bid for the United States presidency:
"When Mexico sends its people, they're not sending their best," Trump said last June. "They're sending people that have lots of problems. They're bringing drugs. They're bringing crime. They're rapists."
Reyna, who was born in Chiapas, Mexico, told Huffington Post Canada that he has not personally worked on the hotel but has several Mexican and Muslim friends who do. He said he hung the flag after hearing them express their "frustration," "anger" and "hurt" over Trump's past comments about Muslims and illegal immigrants.
"They kept telling me their frustration, their anger and their hurt but they can't say anything," Reyna, 30, said. "So I did it because I don't work there."
The Trump International Hotel in Vancouver, scheduled to open this fall, will have 147 guest rooms, 218 private residences, a champagne lounge and "Vancouver's first pool bar nightclub," according to the hotel's website.