BROOKLYN, N.Y. — Democratic presidential candidate Hillary Clinton levied a bold accusation against her Republican counterparts today — they all want to "punish" women who have abortions.
GOP presidential front-runner Donald Trump was widely criticized after he initially advocated for a punishment for women who had abortions, should the act become illegal. Trump has since walked back those comments, but Clinton said Tuesday that voters should not be "misled."
"Trump may be the most outrageous of the Republicans, but he is saying what all of them believe," she said during a campaign event focusing on women's' issues at Medgar Evers College in Brooklyn. "They want abortion to be illegal, and they do want to punish women and doctors. Trump just committed the sin of having telling people what they think."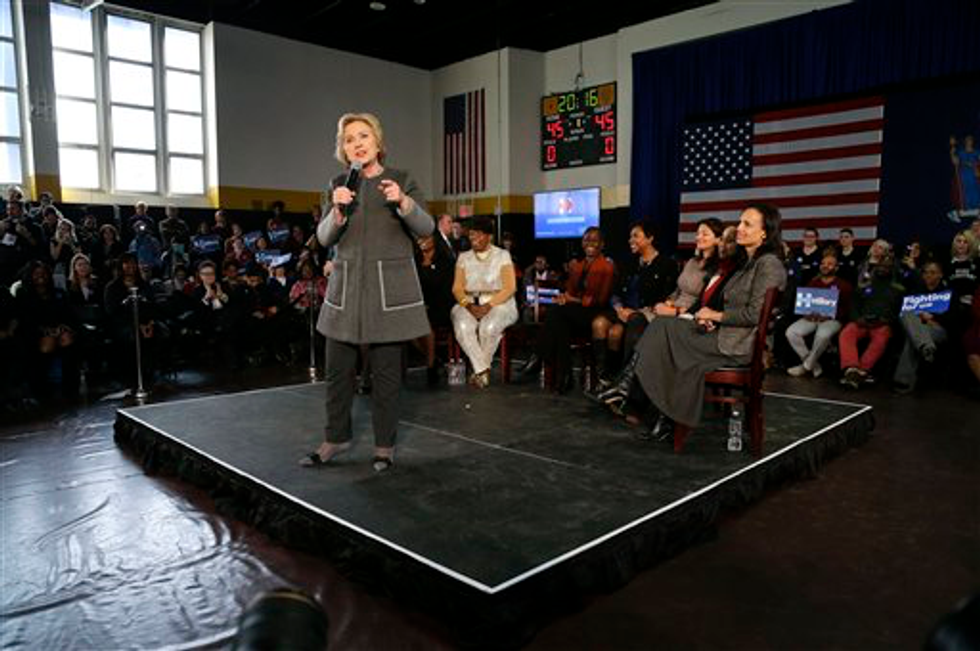 Democratic presidential candidate Hillary Clinton speaks during a campaign stop, Tuesday, April 5, 2016, in New York. (AP Photo/Julie Jacobson)
However, the two other remaining GOP presidential candidates were quick to condemn Trump's initial remarks.
"On the important issue of the sanctity of life, what's far too often neglected is that being pro-life is not simply about the unborn child; it's also about the mother — and creating a culture that respects her and embraces life," Texas Sen. Ted Cruz said in a statement last week. "Of course we shouldn't be talking about punishing women; we should affirm their dignity and the incredible gift they have to bring life into the world."
Ohio Gov. John Kasich said Trump's comments revealed he was not "prepared" to become the next president.
"I believe you can be a defender of life while respecting women, you can defend our country without alienating our allies and basic human rights and you win against Hillary Clinton without using outlandish rhetoric," he added.
Even Trump himself later said he actually believed that abortion doctors, not women, should be punished for the procedure. Then he added that the issue should be left up to the states.
Clinton appeared at the rally at the Brooklyn college alongside the First Lady of New York City Chirlane McCray and Rep. Yvette Clarke (D-N.Y.) to advocate for women's issues, from decrying the gender pay gap to praising Planned Parenthood.
"We have to defend Planned Parenthood against partisan attacks hurled against it," Clinton said.
During an earlier interview with "The View" Tuesday, Clinton contended that feminists could be pro-life.
Clinton and Vermont Sen. Bernie Sanders, her competition for the Democratic nomination, both have ties to New York, but the former secretary of state is leading by an average of 11 points ahead of the April 19 primary.
—
Follow Kaitlyn Schallhorn (@K_Schallhorn) on Twitter