An inmate who was given a double life sentence and served three decades behind bars before being released in 2014 has been installed as a pastor at Saddleback Church in Lake Forest, California.
The move came after famed Saddleback pastor Rick Warren wrote a letter to the parole board on Danny Duchene's behalf, helping, in part, to push along his release after he served 32 years of his sentence.
Warren, who worked with Duchene when he was incarcerated and helped him minister to his fellow inmates, has subsequently decided to install him as a pastor at the popular megachurch, allowing the former prisoner to share his testimony with the congregation over the weekend.
Duchene explained that his faith journey began after his arrest in the 1980s. Later, about 20 years into his sentence at California's Sierra Prison, he discovered Warren's monumentally popular book, "The Purpose-Driven Life." And that changed everything.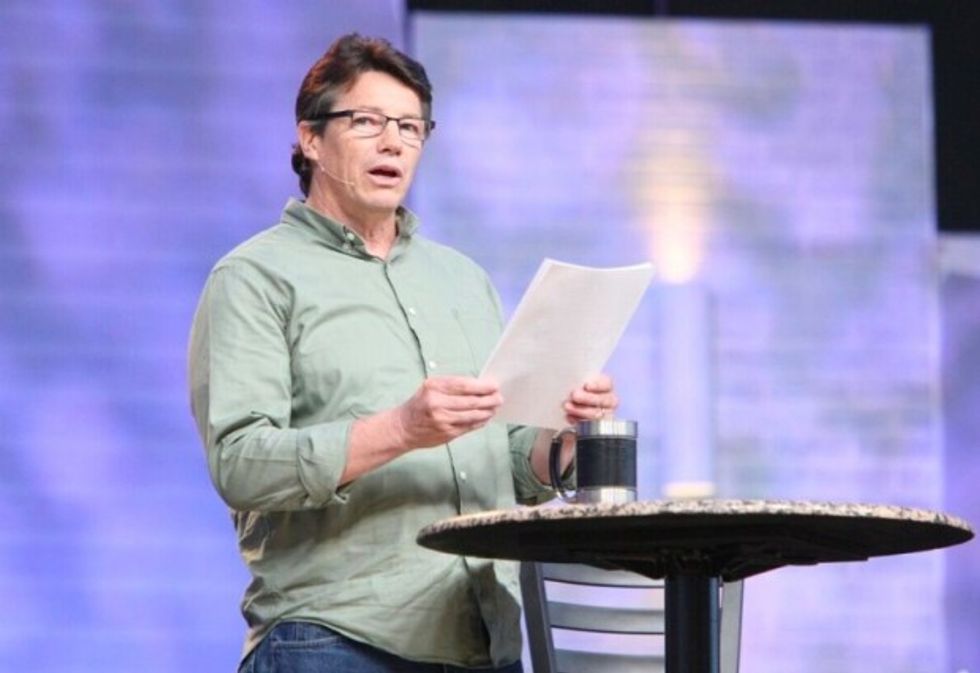 Danny Duchene speaks at Saddleback Church (Saddleback Church)
In sharing his testimony, Duchene recounted a difficult childhood that consisted of reportedly seeing his parents' shocking arrest and incarceration, and of his later fall into drug addiction — a vice that took a hold of his life.
"At sixteen years old, I didn't know if I would ever see my parents again and, feeling abandoned as a teenager, I stuffed all my pain using drugs and alcohol," he said. "I became more and more impulsive and began a downward spiral of one bad decision after another. I started committing crimes to support my drug habits."
Eventually, he said that his life spun "out of control" and that he would regularly hurt others by robbing and stealing. The chaos all came to a head when he was 19 years old and was found guilty of crimes that landed him behind bars with two life sentences.
"I was reckless and never worried about getting caught for my crimes, and I certainly didn't consider the consequences to others. I was only thinking of myself," Duchene continued. "All this came to a crisis when I was part of a crime in which two men were killed."
After his arrest in 1982, he said that he sobered up and that the true weight of his crimes was difficult to handle, saying, "I believed I was lost and going to hell, and I was truly, truly afraid." It was later that same year that Duchene said that he accepted Jesus and became a Christian.
And it was after he read "The Purpose-Driven Life" that the former inmate reached out to Warren in 2003 and explained that a small group of about 20 inmates wanted to be a part of Saddleback's "40 Days of Purpose" campaign.
Warren was excited and sent information to the men in the prison.
"We thought perhaps 50 men would participate in the small groups, but as we went door to door asking if men in the prison were interested, more than 200 guys signed up," Duchene said. "Within a few weeks, our prison was buzzing with 'cell' groups – which had a double meaning in our context!"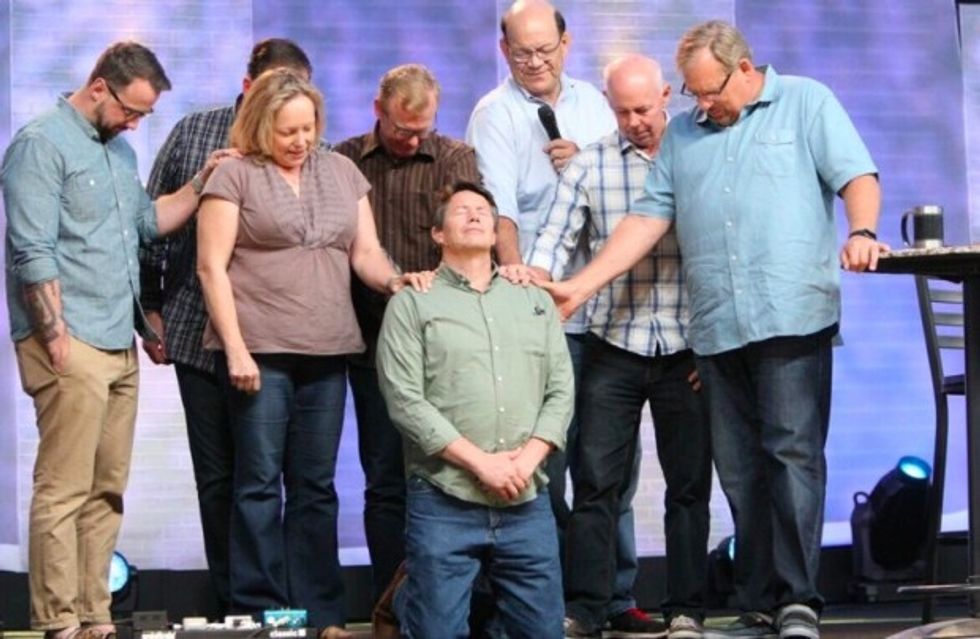 Danny Duchene speaks at Saddleback Church (Saddleback Church)
What followed were pastors from Saddleback coming to the prison baptize inmates as well as hold a service in the prison yard — acts that Duchene said profoundly inspired the men. In the end, Duchene began running a church within the prison, and his efforts gained the attention of media outlets who were interested in the life transformation that was unfolding inside.
Now that he's been released, Duchene will be serving as a pastor — something that seemed highly improbable at one point in his life.
"You know, as far back as 2003, Rick told me he wanted me to be a Pastor at Saddleback, but I never imagined it would happen since I was given a double life sentence," he said. "But, you know, as Pastor Rick preached last week in his Easter message — God specialized in making the impossible possible!"
Watch Duchene share his testimony — and see comments from Warren below:
Duchene continued, "And in 2014, I guess Rick got tired of waiting, and he wrote a passionate letter to the Parole Board saying 'PLEASE parole Danny Duchene. I need to hire him as a Pastor at Saddleback and I need him NOW!'"
He was subsequently released on Dec. 24, 2014. Since, he has gotten married and will now serve as Saddleback's pastor of prison ministries.
--
Follow the author of this story on Twitter and Facebook: