Republican presidential aspirant Donald Trump doesn't get much sleep, and he likes it that way.
But left-leaning media mogul Arianna Huffington says the billionaire businessman's lack of sleep is leading him to campaign like a drunk man — and that might be the reason he says such controversial things.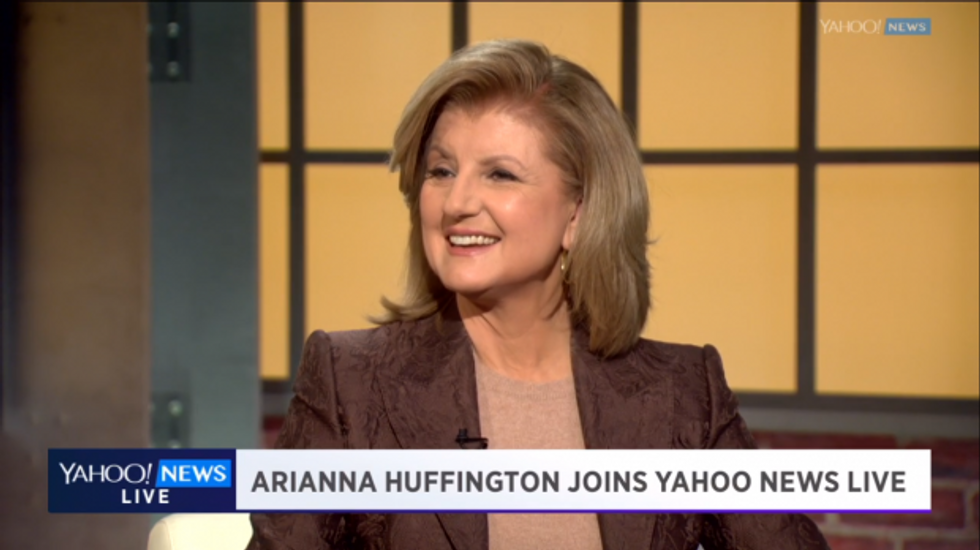 Image: Screen grab
"He actually has said that he only sleeps about four hours a night, and he sleeps with his phone because he doesn't want to be disconnected from what's happening," Huffington, author of the new book "The Sleep Revolution," told Yahoo News Live host Katie Couric.
Trump, in fact, gets so little sleep that at one point while campaigning in New Hampshire, the real estate developer only managed to log one hour of sleep — which Trump said lead conservative radio show host Mark Levin to ask him where he gets the energy.
"The question is not where do you get the energy," Huffington insisted, "the question is what is it like to operate as though you're drunk?"
Huffington went on to say being so sleep deprived "is the equivalent to being legally drunk" and that his lack of sleep is causing Trump's momentum to "slow down."
"Last week there was a shift," she said. "I think there was some slowing down of his momentum."
Additionally, Huffington offered praise to journalists "who are asking the tough questions." And, in particular, she liked when CNN host Anderson Cooper told Trump that he was "acting like a 5-year-old."
"I thought Anderson Cooper was fantastic when he compared him to a 5-year-old," she told Couric. "The only problem is he's a 5-year-old whose little hands may be on the nuclear button."
.@ariannahuff shared her thoughts on #Trump's frontrunner status. https://t.co/CdLKn0VBoDhttps://t.co/7pXEsRGbuv

— Katie Couric (@katiecouric) April 5, 2016
—
Follow the author of this story on Twitter: