Democratic presidential candidate Hillary Clinton, an outspoken critic of dark money in politics, is actually one of its "greatest beneficiaries," according to an investigation by the Center for Public Integrity.
"Clinton's massive campaign machine is built of the very stuff — super PACs, secret cash, unlimited contributions — she says she'll attack upon winning the White House," Dave Levinthal, a senior political reporter at the Center for Public Integrity, wrote in the report published Thursday.
As a candidate, Clinton has vowed to appoint justices to the Supreme Court who would overturn its decision in the case Citizens United v. Federal Election Commission.
The Court ruled in 2010 that the government may not prevent corporations or unions from spending money to support or oppose candidates for public office in elections, although they may not give money directly to campaigns.
The ruling led to the creation of Super PACs, organizations that exit to support or oppose candidates or parties in elections. Candidates are barred by law from coordinating campaign efforts with Super PACs that exist to support certain campaigns.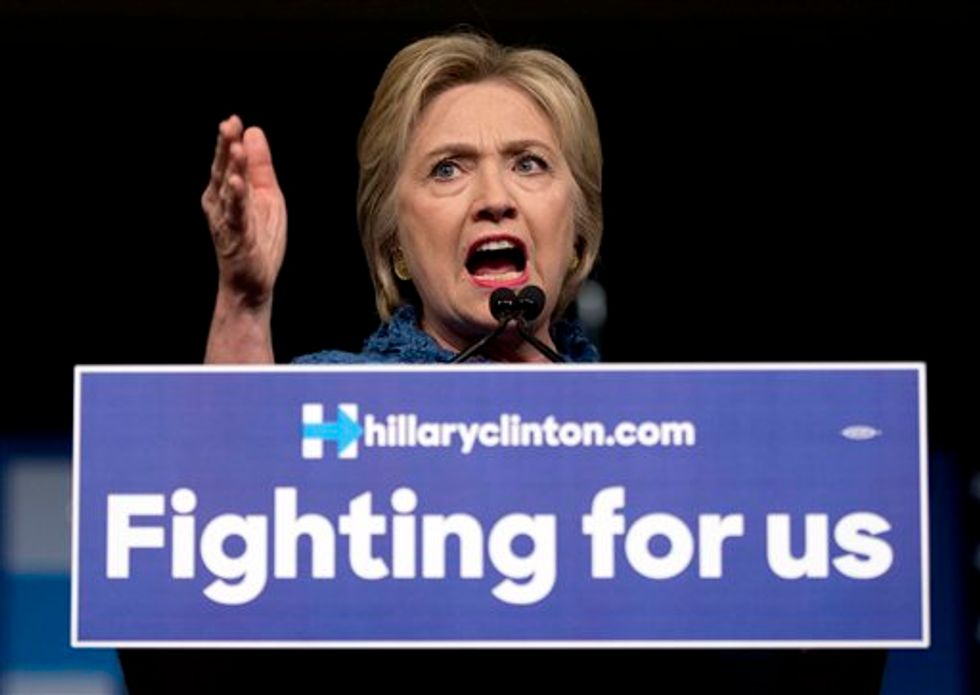 Democratic presidential candidate Hillary Clinton speaks during an election night event at the Palm Beach County Convention Center in West Palm Beach, Fla., Tuesday, March 15, 2016. (AP Photo/Carolyn Kaster)
Public opponents of the ruling, like Clinton, argue that unregulated money in politics is a threat to democracy.
"We have to end the flood of secret, unaccountable money that is distorting our elections, corrupting our political system, and drowning out the voices of too many everyday Americans," Clinton said at a campaign event last September. "Our democracy should be about expanding the franchise, not charging an entrance fee."
But according to the Center for Public Integrity's report, Clinton has "three cash-flush super PACs, stacked with Clinton allies" which "exist almost exclusively to strengthen Clinton's presidential effort."
Priorities USA Action has spent millions on Clinton's behalf. Ready PAC collects data about her supporters. And Correct the Record attacks her opponents. Clinton has also praised an additional PAC, American Bridge 21st Century, which conducts opposition research for Democrats.
According to the report, the four PACs have raised a combined $86 million for the 2016 presidential election.
And other PACs are offering Clinton their support as well. Planned Parenthood Action Fund has endorsed her, and its affiliated super PAC, Planned Parenthood Votes, has already spent "more than $1.2 million on pro-Clinton efforts."
Her former Democratic rival, former Rhode Island Gov. Lincoln Chafee, described the network of PACs supporting Clinton as a "galaxy."
"She doesn't just have a constellation, she has a galaxy — a Milky Way — of this outside funding," Chafee told the Center for Public Integrity.
Clinton's only remaining Democratic rival, Vermont Sen. Bernie Sanders, doesn't have any super PACs supporting his campaign.
"We found a way to raise significant amounts of money from small donors," Michael Briggs, a spokesman for Sanders, told the Center for Public Integrity. "Clinton's super PACs — it's clearly a way for her to raise a lot of special interest money from a system that's corrupt."
Ironically, the original Citizens United case itself was sparked by a conservative group that wanted to air an anti-Clinton movie during the 2008 presidential primaries.
"Wouldn't you know that Hillary Clinton has become one of the greatest beneficiaries of the Citizens United Supreme Court decision," Citizens United President David Bossie told the Center for Public Integrity. "It is an irony that is not lost on me."